This Southern Sweet Potato Pie is an heirloom recipe loved for generations! A delicious Southern favorite made with simple ingredients and perfect for Thanksgiving!
Sweet Potato Pie has been a well-loved dessert here in the South for generations and is gaining popularity in other regions now, too. I think it's wonderful that many more people are trying – and loving – this classic southern pie!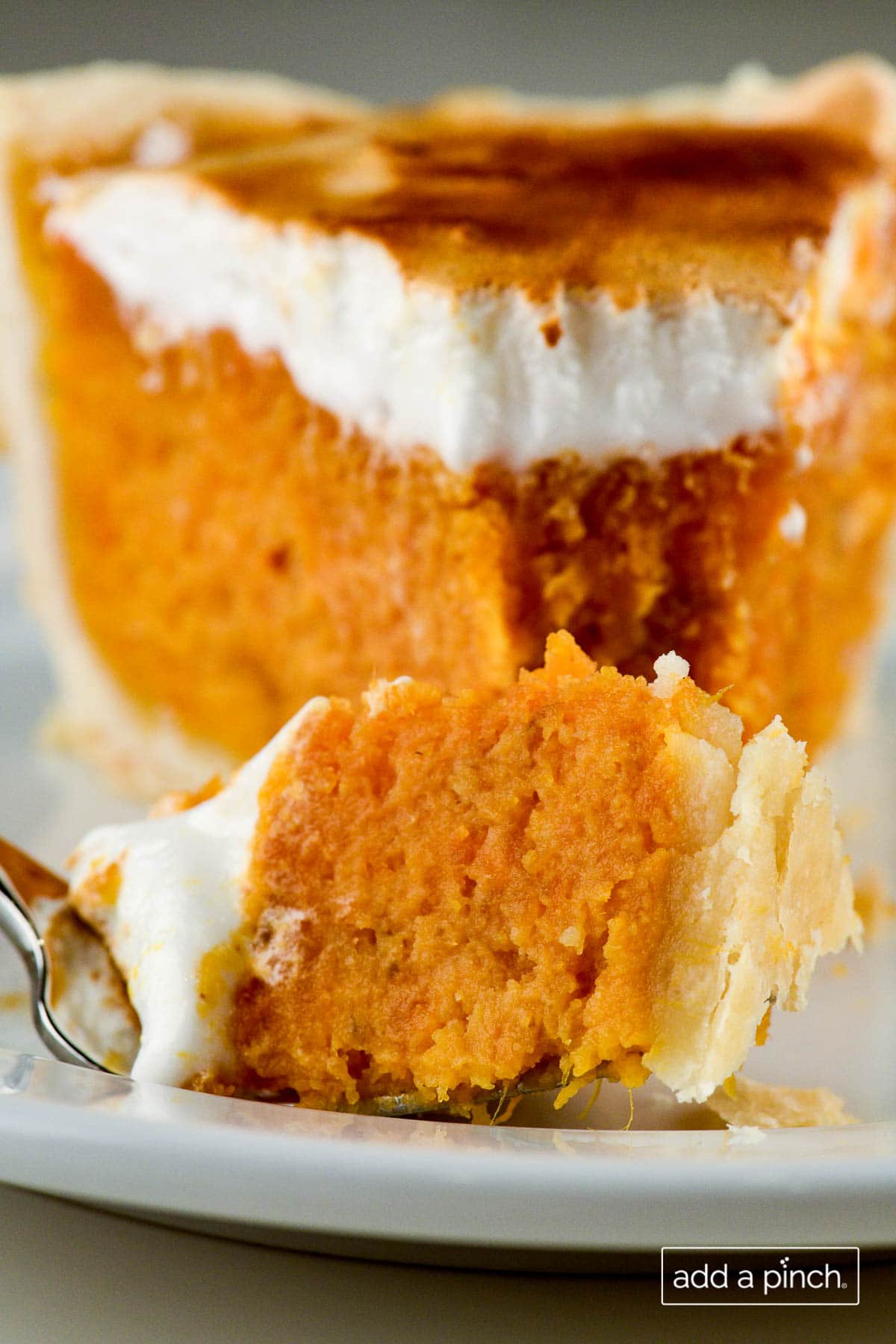 Southern Sweet Potato Pie
Sweet Potato Pie is a delicious southern classic and one of my favorite pie recipes! It's simple, creamy and delicious and is absolutely perfect in the fall – or anytime! This pie recipe is a family recipe passed down from my great grandmother. It's a favorite at family suppers during the fall and has always been a part of my family's Thanksgiving dessert table!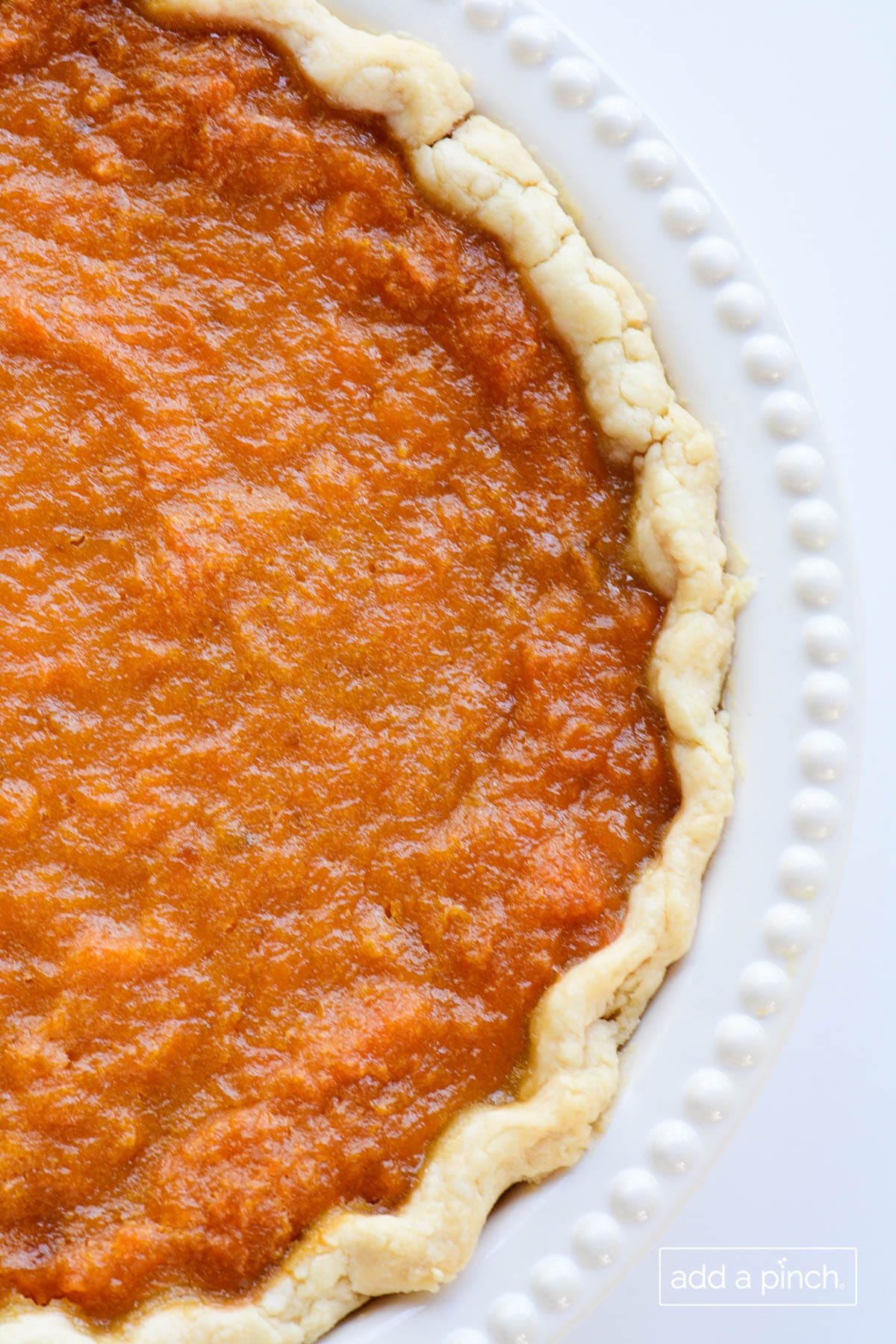 What Makes Sweet Potato Pie a Favorite Pie Recipe?
Easy to Make Ahead: Time is precious during the holidays or before big family meals and this is easy to make ahead of time!
Made with a Few Simple Ingredients: There are only a few simple ingredients in the filling for this pie. Chances are, if you have sweet potatoes on hand, then you probably already have the other ingredients for the filling in your pantry, too!
Mild, Simple Flavors: There are no spices added to this pie. The flavor comes from the creamy sweet potatoes and the buttery, flaky pie crust. My recipe is like many other traditional, old fashioned southern sweet potato pies in this way. Other recipes may use various spices, making them very similar to pumpkin pie. While I make and love pumpkin pie too and do put my own pumpkin pie spices in that recipe, I don't use those same spices in this pie. If you prefer, you can absolutely add ground cinnamon and/ or ground nutmeg or even a teaspoon of my pumpkin pie spice to this recipe.
Baked Sweet Potatoes Make the Best Pie
First things first. You will want to bake sweet potatoes for the sweet potato pie. Baked sweet potatoes provide a deeper flavor and richness to the pie that boiled sweet potatoes just does not provide in my opinion.
How to Make the Best Sweet Potato Pie
Ingredients for Sweet Potato Pie
Sweet Potatoes – I like to use medium sweet potatoes.
Butter – Softened butter will mix more easily into the baked sweet potatoes when making this pie.
Sugar – My family has traditionally used granulated sugar for this pie.
Vanilla extract – The vanilla extract enhances the flavor of the pie. I do recommend using pure vanilla extract rather than imitation vanilla flavoring as I believe you can taste the difference in the baked pie. 
Eggs – You'll need 2 large eggs for this pie recipe. I also like to have them at room temperature to mix into the pie filling more easily. 
Milk – Use whole milk or evaporated milk in this recipe. You will not want to use a lower fat content milk.
Unbaked Pie Crust – There is NO need to pre-bake these pie crusts. While I hope you try my homemade pie crust recipe, you can also use your favorite 9-inch pie crusts from the store if you wish.
Step by Step Instructions
Sweet Potato Pies are so simple to make. Here's how I make it:
Bake Sweet Potatoes. Once baked and slightly cooled, peel the skins off of the sweet potatoes and place them into a large mixing bowl.
Make the Pie Filling. Heat oven to 350º F. Mash the peeled sweet potatoes with the butter. Add the sugar(s) and the vanilla extract and mix until well combined and pour in the milk and eggs. Mix until the mixture is well combined. I use a simple potato masher, but you can also use an electric mixer if you prefer.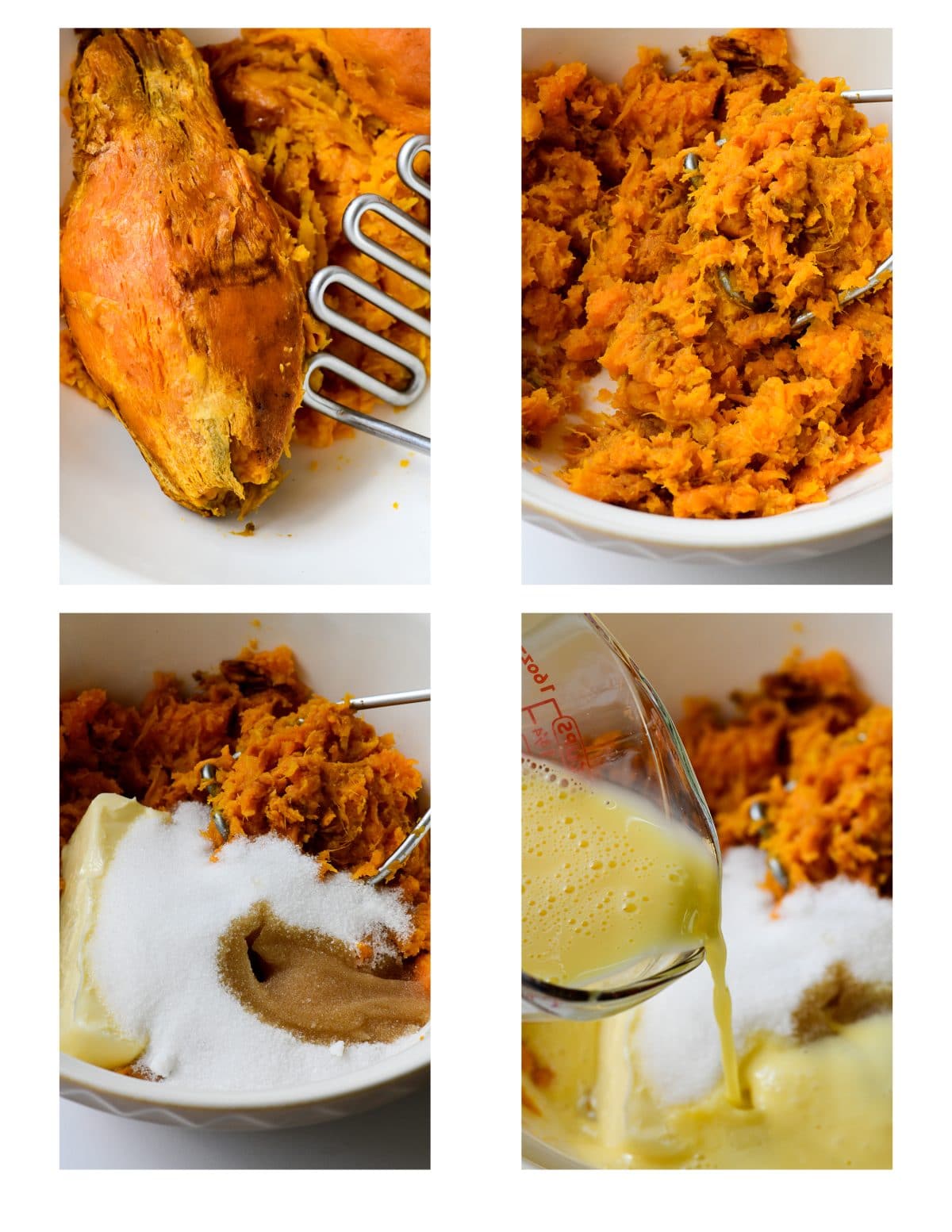 Bake the Pie. Pour the pie filling mixture into unbaked pie crust. Bake until the center of the pie is just set and does not jiggle in the center when moved, about 60 minutes. Allow to cool on a wire rack.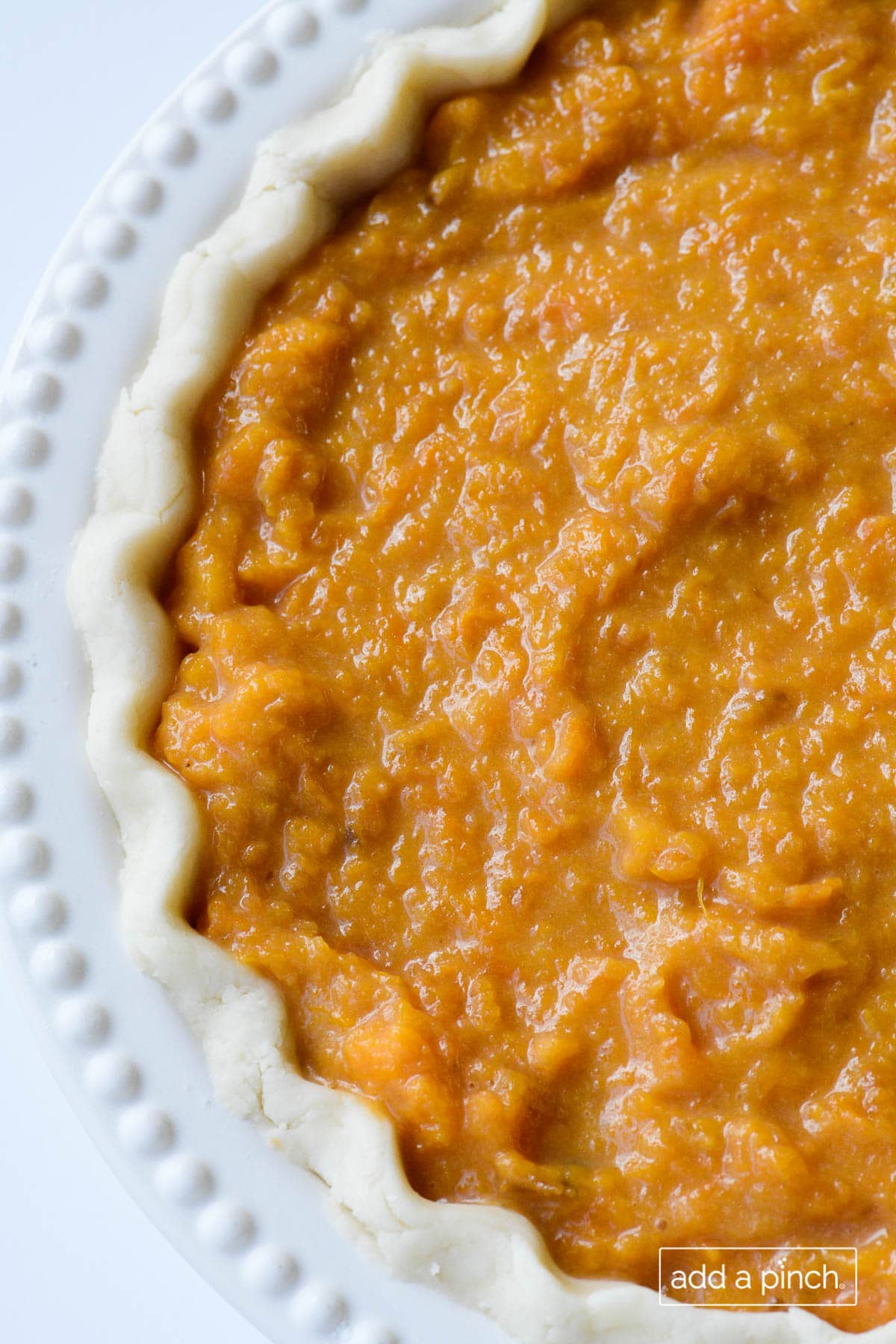 Serve. Serve slightly warm or allow to cool to room temperature store in the refrigerator to serve later.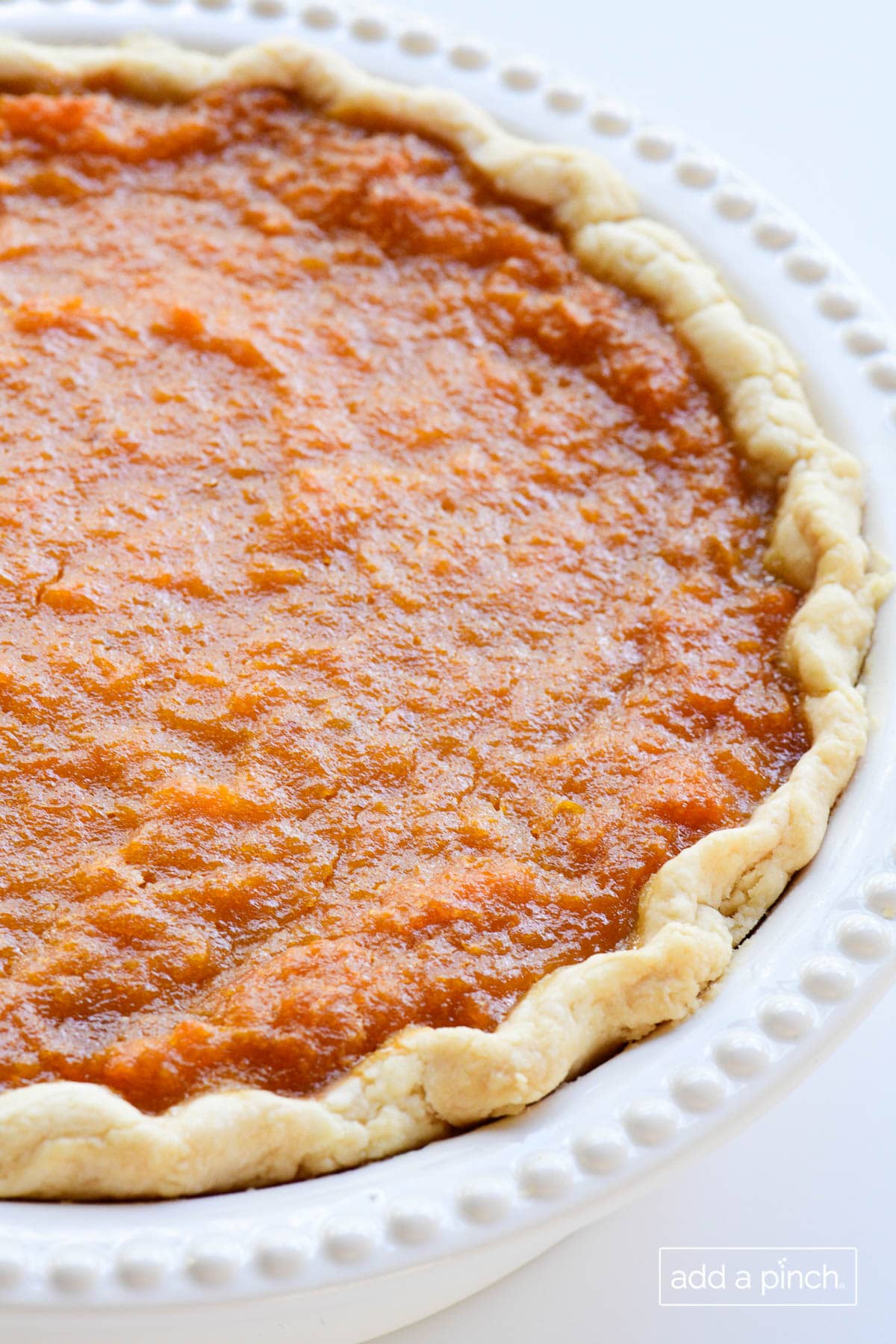 How to Serve Sweet Potato Pie
This pie is delicious served perfectly plain, but I also love to serve this pie with a few toppings: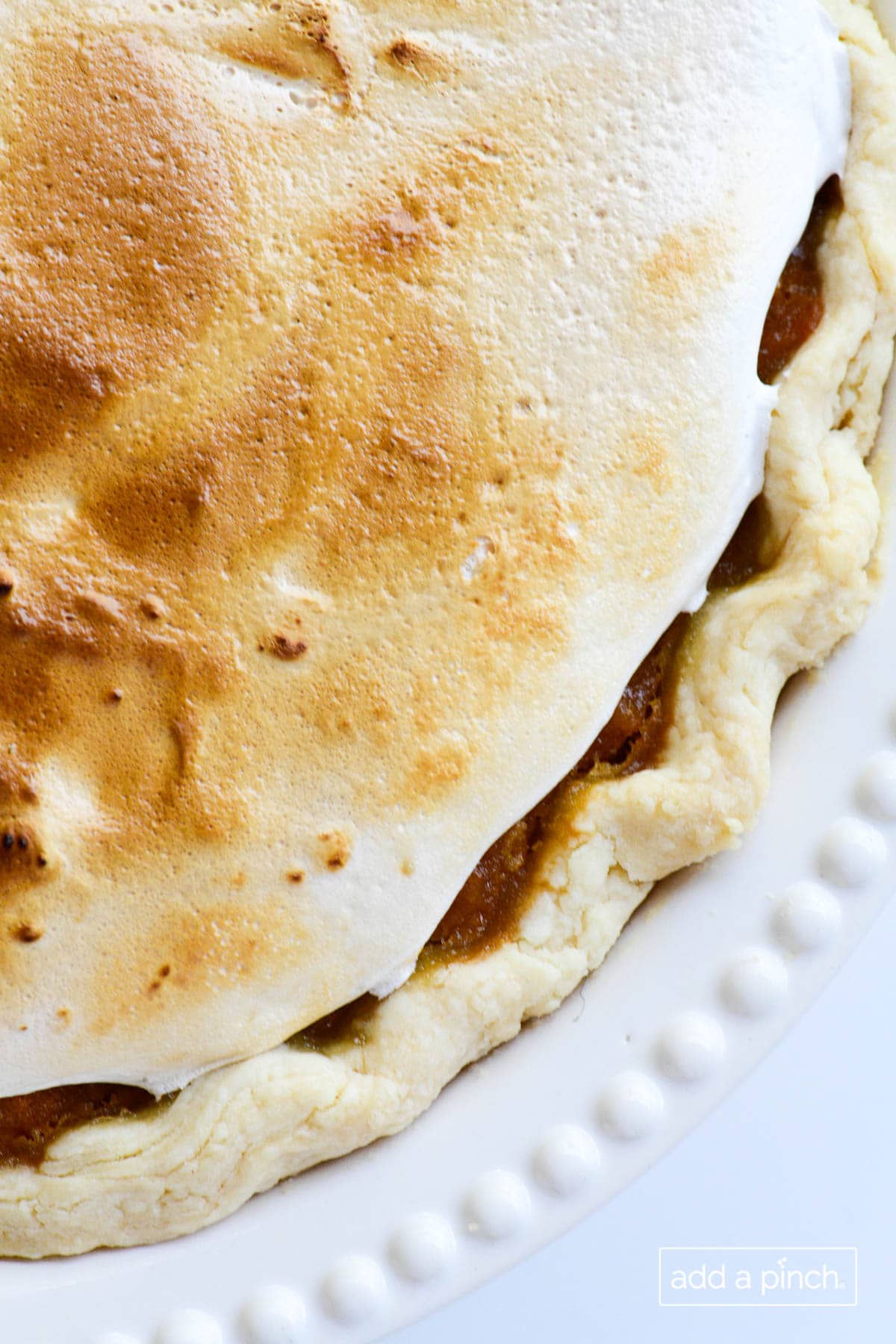 Perfect Make Ahead Dessert!
You cake easily make your pie ahead of time. Allow it to cool completely and then store covered in the refrigerator for up to 3 days.
Can You Freeze Sweet Potato Pie?
Yes! Sweet Potato Pie freezes beautifully!
Allow the pie to cool completely and then store the pie in a freezer-safe container covered well with foil and freeze for up to 3 months. To serve, thaw the frozen pie in the refrigerator overnight. Then, slice and serve as normal.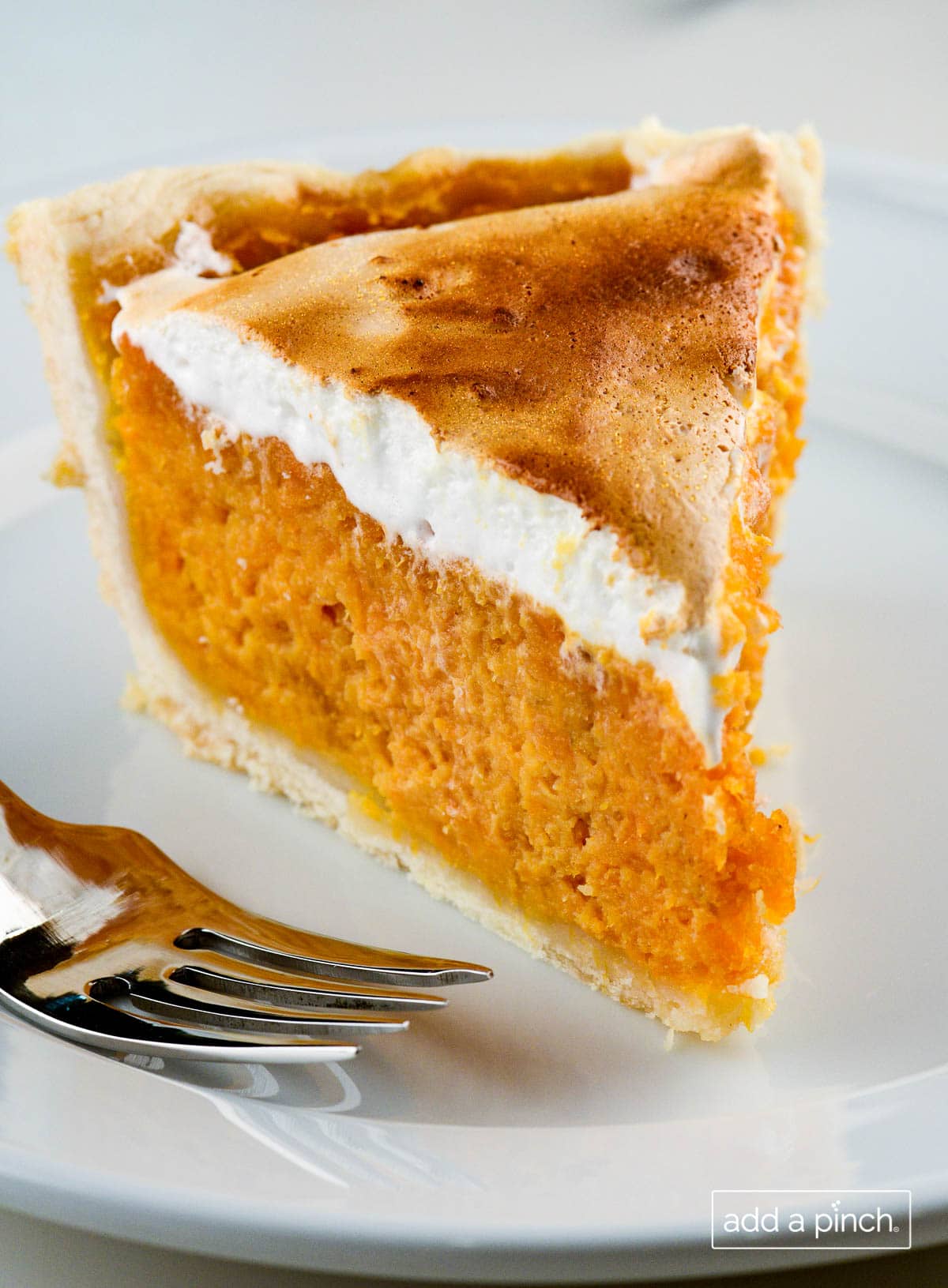 Brown Sugar Sweet Potato Pie
To make this pie a brown sugar sweet potato pie, you simply have to modify the sugar used. Rather than 1 cup of granulated sugar, use instead:
¾ cup brown sugar (light or dark)
Follow the rest of the recipe as given.
More Favorite Fall Pie Recipes
Here's the recipe for my family's Sweet Potato Pie. I hope you love it as much as we do.
Southern Sweet Potato Pie Recipe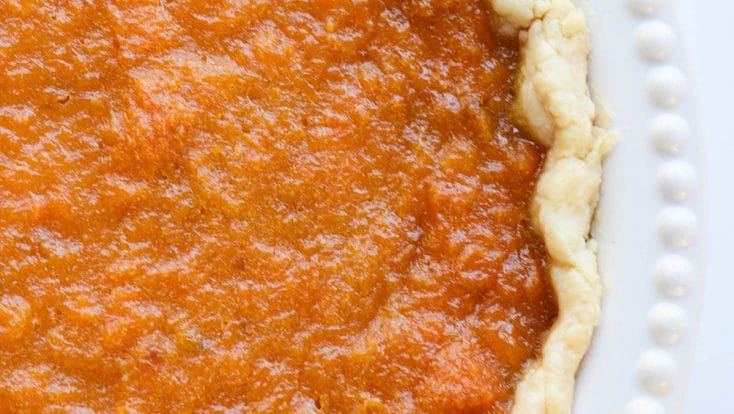 This Classic Southern Sweet Potato Pie Recipe is an easy and delicious favorite made with baked sweet potatoes, butter, milk, eggs, and sugar!
Instructions
Bake the sweet potatoes. Preheat the oven to 400º F. Scrub the sweet potatoes until clean, prick them 4 to 5 times with a fork. Place onto a baking sheet and bake for 45 – 50 minutes until the sweet potatoes are tender when pricked with a toothpick. Remove from the oven and allow to cool until they can easily be handled. Peel the skin from the sweet potatoes and place the sweet potatoes into a large mixing bowl. Reduce the oven heat to 350º F.

3 medium sweet potatoes, baked

Make the Pie Filling. Add butter to the sweet potatoes and mash until smooth. Add the sugar(s) to the sweet potatoes and mix until well combined. Add the vanilla extract, milk, and the eggs. Mix until well combined. Pour into the unbaked pie crust.

½ cup butter,

1 cup granulated sugar,

2 teaspoons vanilla extract,

2 large eggs,

½ cup milk,

1 (9-inch) unbaked pie crust

Bake the Pie. Bake the pie until the center of the pie is set, about 1 hour. Remove the pie from the oven and allow to cool slightly.

Serve. Serve the pie warm or allow to cool before slicing. Top with whipped cream (or your favorite topping) and serve.
Notes
Brown Sugar Sweet Potato Pie Option
You can also use ¾ cup brown sugar in this pie recipe for a Brown Sugar Sweet Potato Pie version. You can use either light or dark brown sugar, based on your preference. 
Note: Nutrition Information does not include topping.
Nutritional Information
Calories:
282
kcal
|
Carbohydrates:
38
g
|
Protein:
3
g
|
Fat:
13
g
|
Saturated Fat:
8
g
|
Polyunsaturated Fat:
1
g
|
Monounsaturated Fat:
4
g
|
Trans Fat:
1
g
|
Cholesterol:
79
mg
|
Sodium:
161
mg
|
Potassium:
252
mg
|
Fiber:
2
g
|
Sugar:
29
g
|
Vitamin A:
8491
IU
|
Vitamin C:
1
mg
|
Calcium:
56
mg
|
Iron:
1
mg
Enjoy!
Robyn
From the Add a Pinch recipe archives. Originally published October 2011, updated 2021.