This Southern Sweet Potato Pie is an heirloom recipe loved for generations! A delicious Southern favorite made with simple ingredients and perfect for Thanksgiving!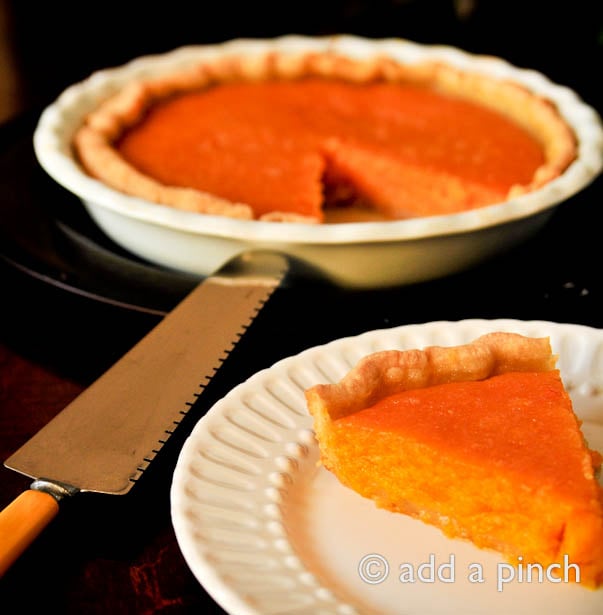 Sweet Potato Pie is a delicious southern classic and one of my favorite pie recipes! It's simple, creamy and delicious atop my flaky homemade pie crust and is absolutely perfect in the fall – or anytime! My Southern Sweet Potato Pie is a family recipe passed down from my great grandmother. It's a favorite at family suppers during the fall and is always part of our Thanksgiving dessert table!
Southern Sweet Potato Pie
Sweet Potato Pie has been a well-loved dessert here in the South for generations and is gaining popularity in other regions now too. I think it's wonderful that many more people are trying – and loving – this classic southern pie!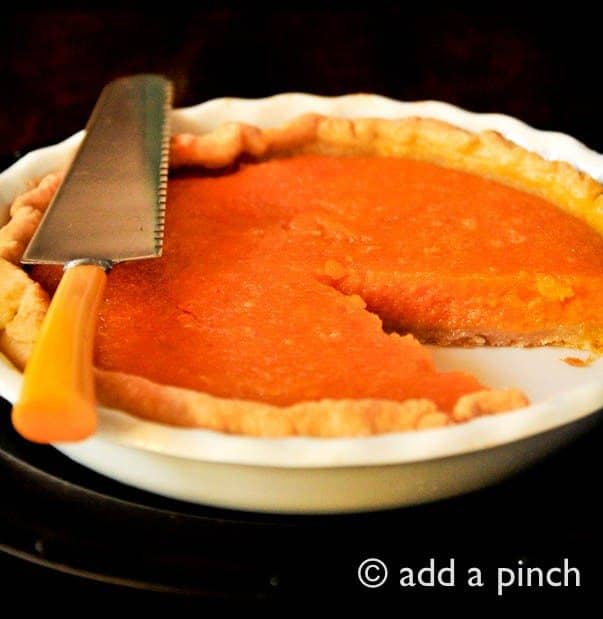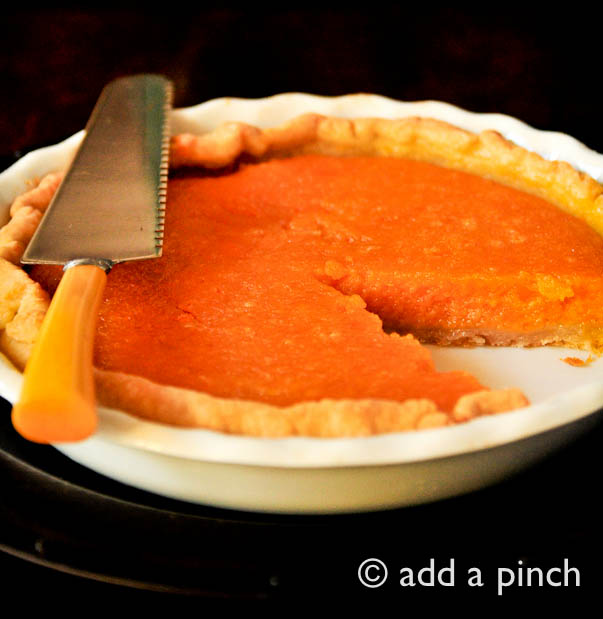 What Makes It a Favorite Pie?
Easy to Make Ahead: Time is precious during the holidays or before big family meals and this is easy to make ahead of time!
Made with a Few Simple Ingredients: There are only six ingredients in the filling for this pie. Chances are, if you have sweet potatoes on hand, then you probably already have the other 5 ingredients for the filling in your pantry too!
Mild, Simple Flavors: There are no spices added to this pie. The flavor comes from the creamy sweet potatoes and the buttery, flaky pie crust. My recipe is like many other traditional, old fashioned southern sweet potato pies in this way. Other recipes may use various spices, making them very similar to pumpkin pie. While I make and love pumpkin pie too and do put my own pumpkin pie spices in that recipe, I don't use those same spices in this pie.
How to Make Sweet Potato Pie
This pie is absolutely scrumptious – yet surprisingly simple. It's just how southern cooks from generations ago cooked. (It's how I like to cook too.) So, if you've never tried sweet potato pie, or even if you have, I hope you give this a try and enjoy it with your family like mine has. Here's how I make it.
First, let's talk about the Sweet Potatoes. You will need them cooked for this pie.
How to Cook Sweet Potatoes
You can prepare your sweet potatoes for using in the pie by baking or boiling them. The method is really based on personal preference. I will say that I love the deep flavor from baked sweet potatoes, but use boiled sweet potatoes too.
Baked Sweet Potatoes
Preheat the oven to 425º F. Scrub the sweet potatoes until clean and place onto a baking sheet. Prick the potatoes 4 to 5 times all over and bake until the potatoes are tender, about 45 minutes. Remove from the oven and peel.
Boiled Sweet Potatoes
Peel the sweet potatoes and cut into 2-inch cubes. Add the sweet potatoes to a Dutch oven or large pot. Rinse the potatoes and then add enough water to cover them. Bring to a boil and boil until very tender, about 20 minutes. Remove from the heat and drain well.
Ingredients for Sweet Potato Pie:
Sweet Potatoes – cooked
Butter – at room temperature
Sugar
Vanilla
Large Eggs – beaten
Milk
Two Unbaked Pie Crusts – There is NO need to pre-bake these pie crusts. While I hope you try my homemade pie crust recipe, you can also use pie crusts from the store if you wish.
First, cube the tender, cooked and peeled sweet potatoes. Make sure any extra water from cooking is drained away.
Then add the butter (at room temperature)to the cubed sweet potatoes and mash. Add the sugar and the vanilla. Mix all well.
Pour the milk into a large measuring cup and add the beaten eggs. Mix well. Then pour the milk and egg mixture into the mashed sweet potatoes. Combine until well blended.
Finally, pour the sweet potato pie filling into the prepared, unbaked pie crusts, making sure to divide equally between the two crusts.
Bake at 350 degrees for about 1 hour or until pie is set in the center. Allow to cool completely before slicing. This will make it easier to slice the pie.
Slice and Serve! Add a dollop – or two – of homemade Whipped Cream to the top of slices as you serve if you wish.
Perfect Make Ahead Dessert!
You cake easily make your pie ahead of time. Allow it to cool completely and then store covered in the refrigerator for up to 3 days.
Can You Freeze Sweet Potato Pie?
Cool. Allow the pie to cool completely.
Wrap. Wrap the pie plate entirely in foil and then place into a freezer-safe zip top bag.
Freeze. Freeze for up to 3 months. To serve, thaw in the refrigerator overnight, then slice and serve as normal.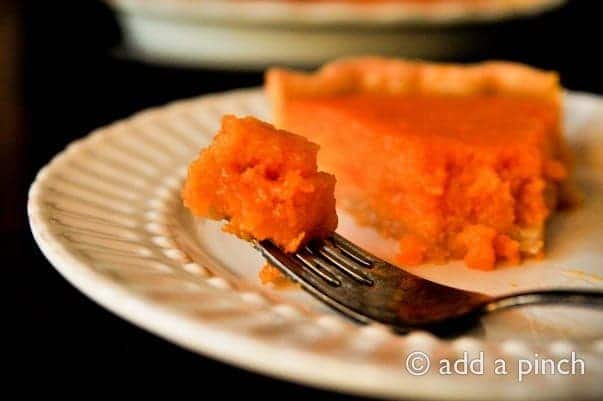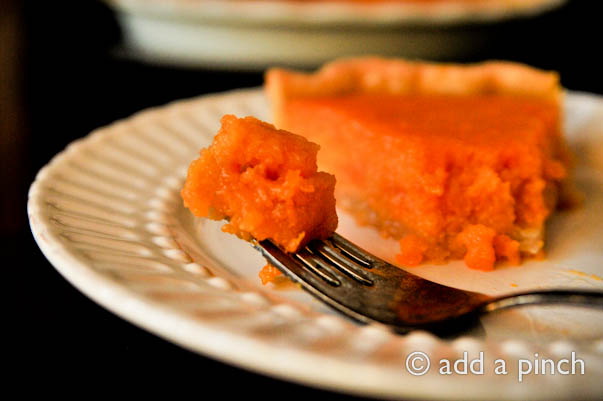 Other Fall Favorite Pie Recipes
Here's my family's Sweet Potato Pie Recipe. I hope you enjoy it as much as we do!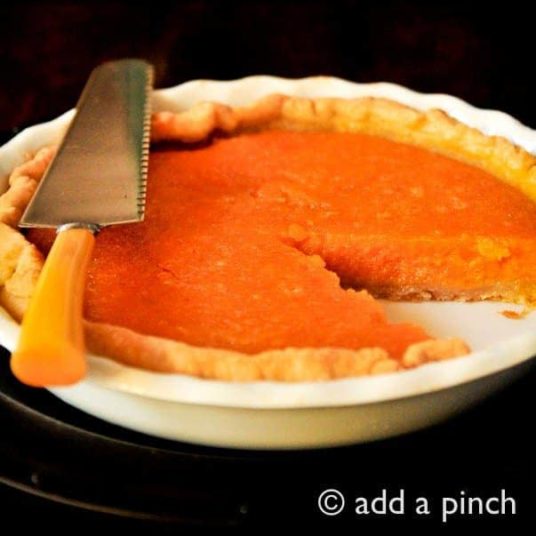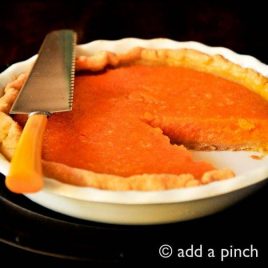 Southern Sweet Potato Pie Recipe
A delicious recipe for Southern sweet potato pie
Ingredients
3

cups

sweet potatoes

1/2

cup

butter

3

cups

sugar

2

teaspoons

vanilla

3

large

eggs

beaten

1

cup

milk

2

unbaked pie crusts
Instructions
Peel and cube sweet potatoes. Boil until very tender. Remove from heat and drain. Add butter and mash. Add sugar and vanilla. Mix well.

Pour milk into a measuring cup add in eggs and mix well with a fork. Pour milk and egg mixture into sweet potatoes. Combine until well-blended.

Pour into unbaked pie crusts.

Bake each pie at 350 degrees for about 1 hour or until set in the center.
Enjoy!
Robyn