Southern Potato Salad Recipe
Southern Potato Salad  – Potato salad is a classic recipe perfect for every possible summer celebration! Made with potatoes, pickles, onions, and eggs, this potato salad is an all-time favorite!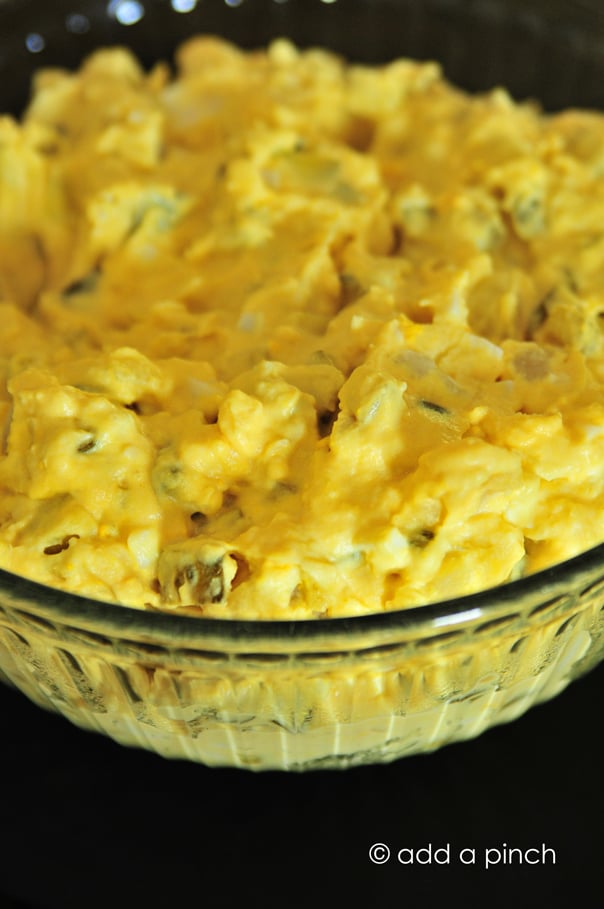 I grew up being the official taste-tester when my Mama made her potato salad. I'd pull the kitchen stool as close to the area of the bar where she was making her potato salad as I possibly could so that I could oversee the process. With my short, little girl legs swinging, I didn't want to miss a single step of it.
Southern Potato Salad Recipe
Potatoes were cooked and drained, eggs were boiled and carefully peeled, an onion was diced, and then came the pickles. Oh how I couldn't wait for those pickles. They symbolized coming to the part of the potato salad recipe where I was most needed.
As Mama would walk over to the refrigerator for the mayonnaise and mustard, I was in charge of making sure my tasting spoons were at the ready. Of course they were, I had them precisely lined up on the bar just ready for the time when Mama would need one to scoop up a bite of her potato salad for my first sampling.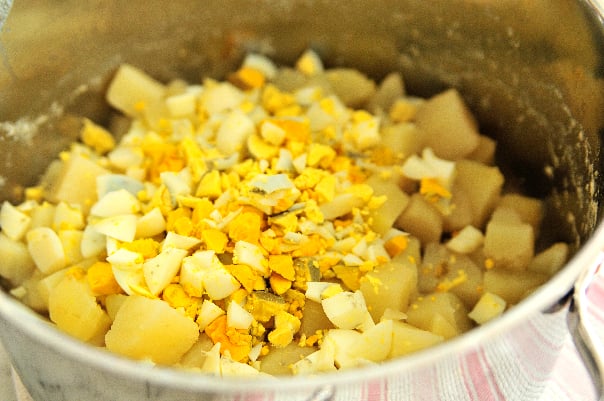 Now Mama and I laugh about how serious I took my job of taste-testing the potato salad as a little girl.
She tells the story of how she would do the same thing as a little girl with her Grandmother, knowing now that her Grandmother would purposefully not add enough of certain ingredients so my Mama could help her perfect it before serving. I haven't gotten the courage to ask Mama if she did the same with me, it might somehow take away from one of my favorite memories.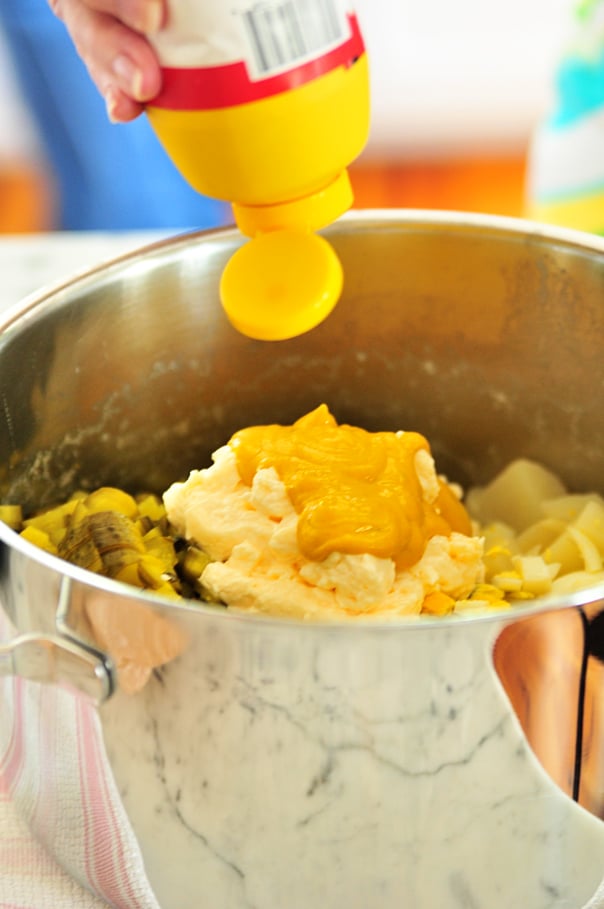 And ya know, I still have my spoons all lined up ready to taste when the potato salad making is in progress.
What is it about the job of taste-testing? It just never gets old.
You'll find this dish served at most family get-togethers in my family – from holidays to reunions to Sunday suppers! Potato salad is delicious with chicken, beef, pork, and is a dish that everyone in my family loves!
My family's Southern Potato Salad recipe is one that is delicious made the day of serving, but is a great make-ahead dish as well. Just keep it tightly covered and refrigerated until ready to serve.
Here's my family's Potato Salad recipe. It's a favorite.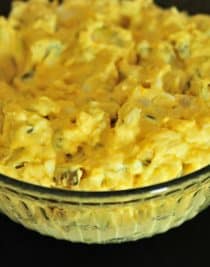 Yield:
12
Course Salad, side
Cuisine American
Keyword potato salad, potato salad recipe, southern potato salad
Southern Potato Salad Recipe
Total Time 40 minutes
Prep Time 10 minutes
Cook Time 30 minutes
Southern Potato Salad - Potato salad is a classic recipe perfect for every possible summer celebration! Made with potatoes, pickles, onions, and eggs, this potato salad is an all-time favorite!
Ingredients
3 pounds boiled potatoes peeled and cubed
6 boiled eggs chopped
1 medium onion diced
4 medium dill pickles diced
1 cup mayonnaise
1/2 cup yellow mustard
1/4 teaspoon salt
Directions
Combine all ingredients together and mix until well-combined and creamy. Add more mayonnaise and mustard depending on tastes.
Notes
Make-Ahead:
Store potato salad in an airtight container in the refrigerator for up to 3 days. 
Nutrition Facts
Southern Potato Salad Recipe
Amount Per Serving (1 cup)
Calories 242 Calories from Fat 153
% Daily Value*
Total Fat 17g 26%
Saturated Fat 3g 15%
Cholesterol 101mg 34%
Sodium 330mg 14%
Potassium 531mg 15%
Total Carbohydrates 15g 5%
Dietary Fiber 3g 12%
Sugars 1g
Protein 6g 12%
Vitamin A 3%
Vitamin C 16.7%
Calcium 5.6%
Iron 23.3%
* Percent Daily Values are based on a 2000 calorie diet.
All images and text © Robyn Stone for Add a Pinch
Enjoy!
Robyn xo

From the Add a Pinch recipe archives. Originally published in 2011.