Warm Potato Salad with Bacon and Onion Recipe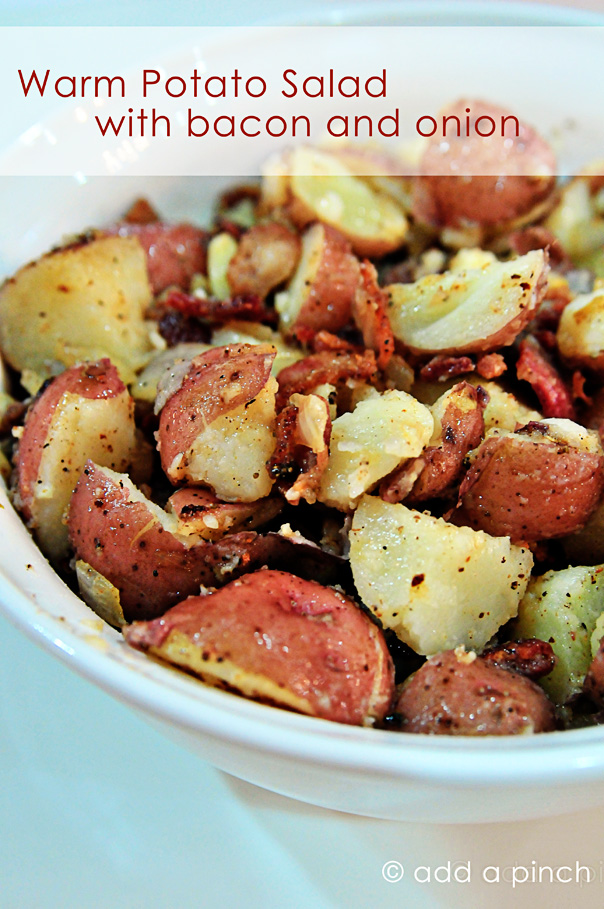 Since I posted the recipe for  my Mama's Southern Potato Salad I haven't been able to stop thinking about the other potato salad. The one  I loved so when we traveled in Germany. Warm, bacon-y, light, and oddly enough it had no mayonnaise, eggs, or mustard. I decided as soon as I published the Southern Potato Salad that I would work until I created a recipe as similar to the one I enjoyed on that trip as possible.
Ladies and Gentlemen, after trying and trying again and again, I finally have it!
The best part?
It couldn't be any simpler to make and since it doesn't contain mayonnaise and eggs, it travels incredibly well. Perfect for picnics, days at the beach, and camping.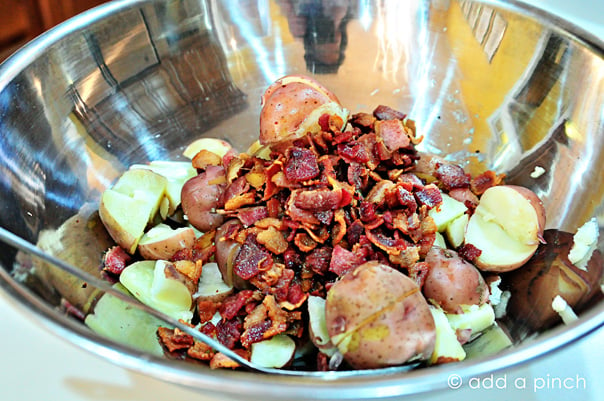 Boil your red potatoes until they are fork tender, about 20 minutes. Drain your potatoes and cut into large wedges. Add to a very large bowl.
For the last 15 minutes or so that your potatoes are cooking, cook bacon until crispy and crunchy. Then using a slotted spoon, remove your bacon from the skillet and add to a large bowl with your potatoes.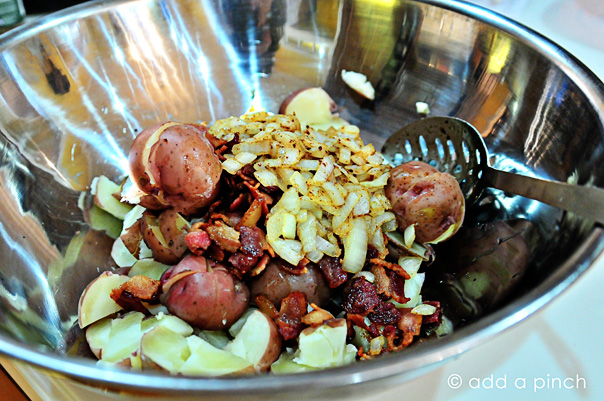 Now, throw a diced onion into the skillet with the bacon grease to cook until just tender. Remove them from the skillet with a slotted spoon and add to the bowl with the potatoes and bacon.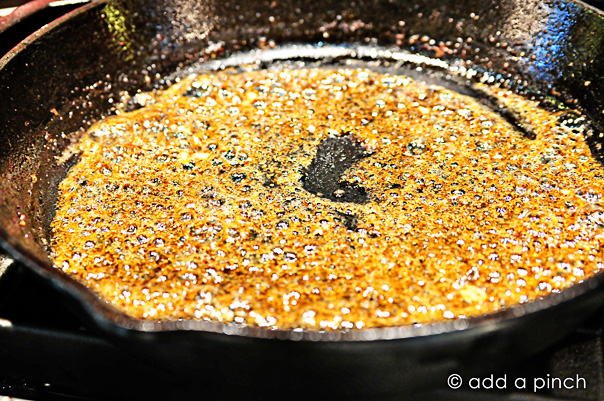 Now it's time to make the dressing!
In the skillet, add white vinegar, water, a little sugar, celery seed, and salt and pepper. Cook until it has thickened and then pour over potatoes, bacon and onions.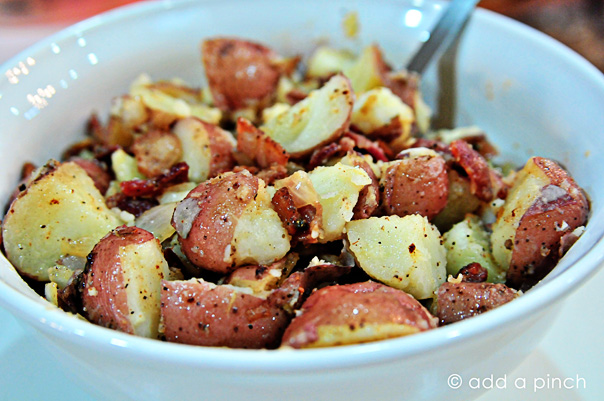 Toss until all well-coated and serve warm.
Here's my recipe you can easily print or save to your recipe box. This is a potato salad you'll definitely want to try this summer!
Warm Potato Salad with Bacon and Onion Recipe
Warm Potato Salad with Bacon and Onions is a simple potato salad to pull together and perfect for summertime entertaining and camping trips!
Cook Time30 mins
Total Time30 mins
Servings: 6 -8 servings
Ingredients
3 pounds red potatoes
8 slices of bacon diced
1 onion diced
1/4 cup white vinegar
2 tablespoons water
1 tablespoon granulated sugar
1 teaspoon salt
1/2 teaspoon ground black pepper
1 teaspoon celery seed
Instructions
Boil red potatoes until fork tender, about 20 minutes. Drain and cut potatoes into wedges. Add to a large bowl for mixing.

In a large skillet, add diced bacon and cook until crispy, about 5 minutes. Remove from skillet with a slotted spoon and add to potatoes.

Add diced onion to skillet and cook until tender, about 3-5 minutes. Remove from skillet with a slotted spoon and add to potatoes and bacon.

Combine vinegar, water, sugar, salt, pepper, and celery seed in a small bowl. Pour into skillet with the bacon drippings and cook until it thickens, about 1-2 minutes. Pour over potatoes and toss until all ingredients are well-coated. Serve warm.
Of course, my first potato salad love will have to be that I grew up eagerly taste-testing and gobbling up, but I dare say, this version filled my craving for that elusive potato salad from our trip and will definitely be made time and again.
I hope you have a great weekend!
Enjoy!
Love ya,
Robyn xoxo
For more great Potato Salad recipes, you might like: