Cucumber and Tomato Salad Recipe
Cucumber Tomato Salad Recipe – A quick and easy summer staple, this cucumber and tomato salad goes well with fish, chicken, pork, or a plate filled with veggies! Add in onions too if you like!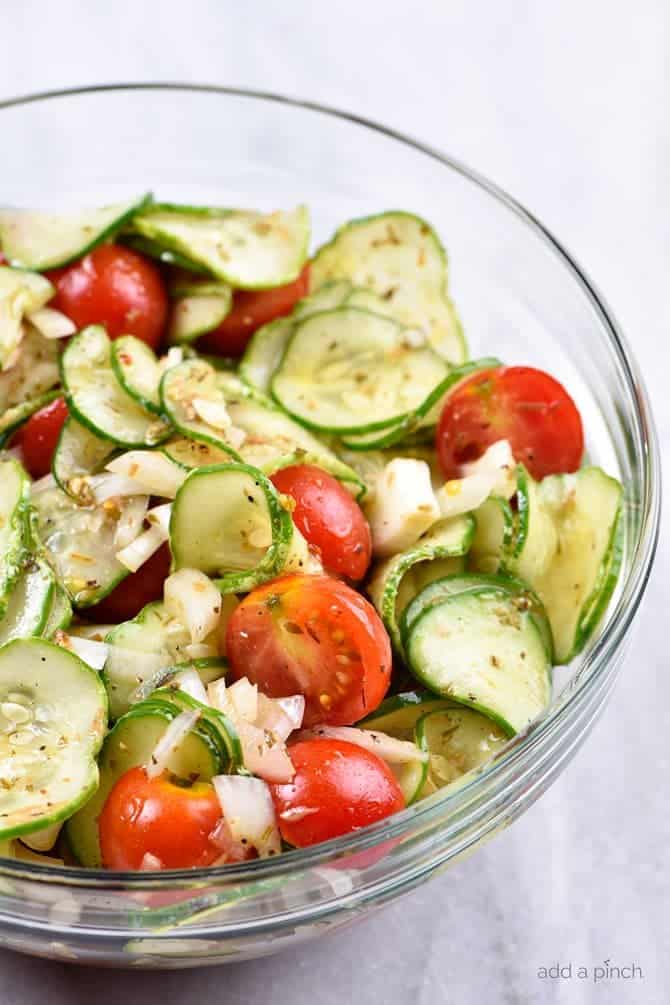 The smell of the garden is pretty heady and intoxicating. As much as I sometimes dread having to go out and water, weed, and tend to our garden, once I am within a few feet, the smell of the plants draws me in. I didn't always think so. I used to dig in my heels as firmly as possible about a garden. I felt sure when I grew up I wouldn't have anything to do with one. No sir. I would steer clear of any gardens.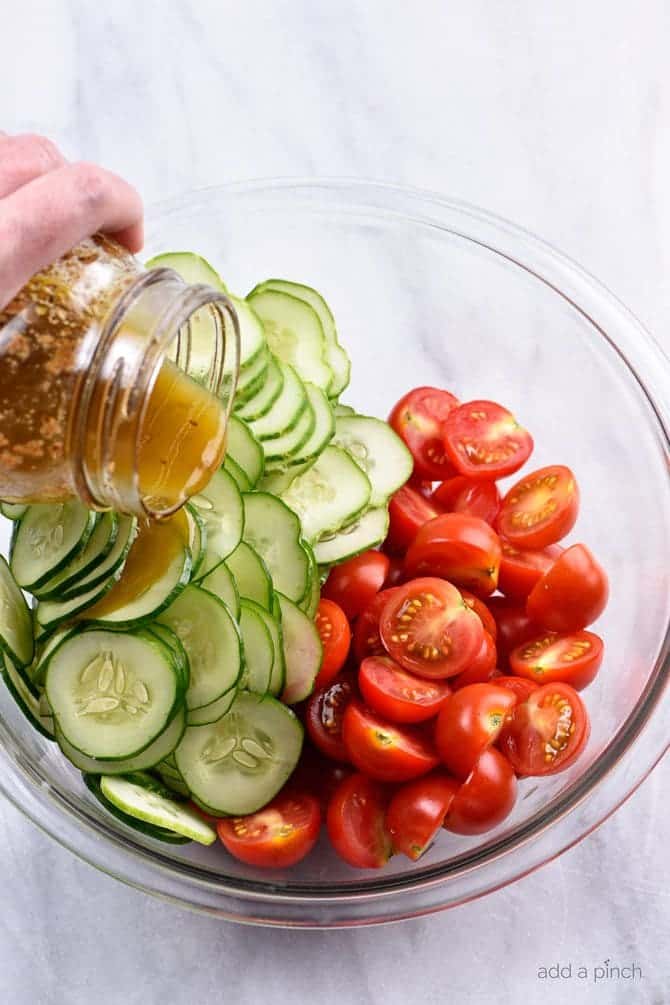 Flash forward 30 or more years and you'll find me drawing out garden plans in the dead of winter, studying over seed packets, devouring the Farmer's Almanac, and calling my great uncle to find out when he's planting his beans. I'll dilly and dally until finally getting the garden in and then I'll stalk it like a criminal until the first blooms appear. Then, I'll baby them like the most overprotective mother they could possibly be cursed with.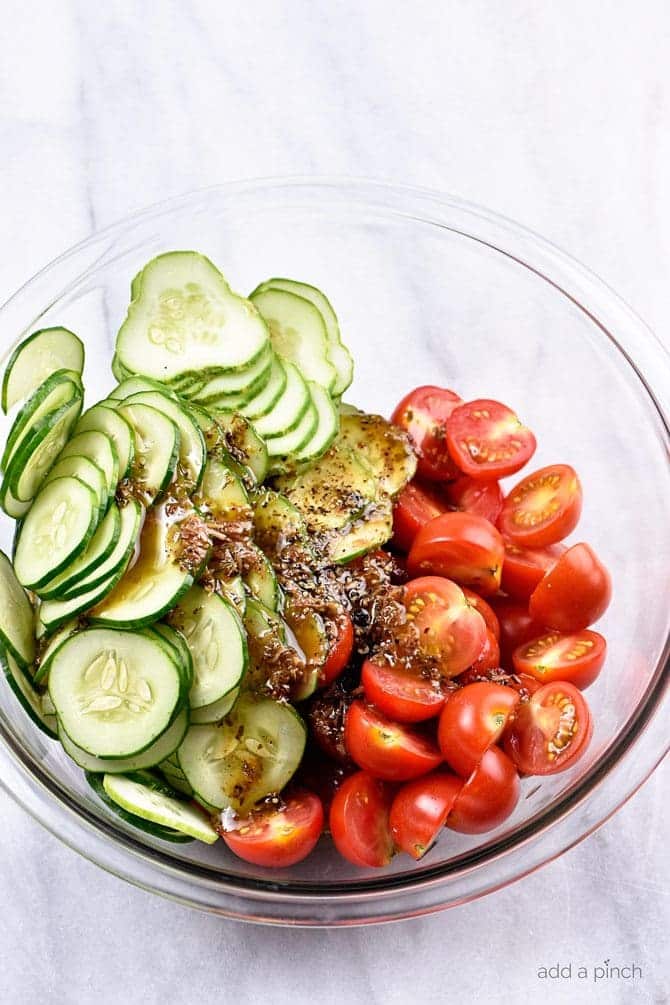 But once my garden starts producing cucumbers and tomatoes, this salad is an immediate must-make in my kitchen.
It goes with everything, from a pinto bean supper, a light topping on a grilled fish, alongside BBQ chicken, or any other summertime menu you can think of. It just works it's little heart out to satisfy.
My Grandmother would love to just eat it right by itself for lunch many days. Maybe that's why she was always so thin.
For years, I made this salad with the dressing she always used (I've included it in the recipe notes, if you'd like to use it). But, last year as I was making it, I just grabbed the jar of homemade Italian dressing from the refrigerator to give it a try. Talk about delicious and so easy!
So, I've updated the recipe to give that option as well! Two ways to enjoy this oh so easy salad. I think you'll love them both!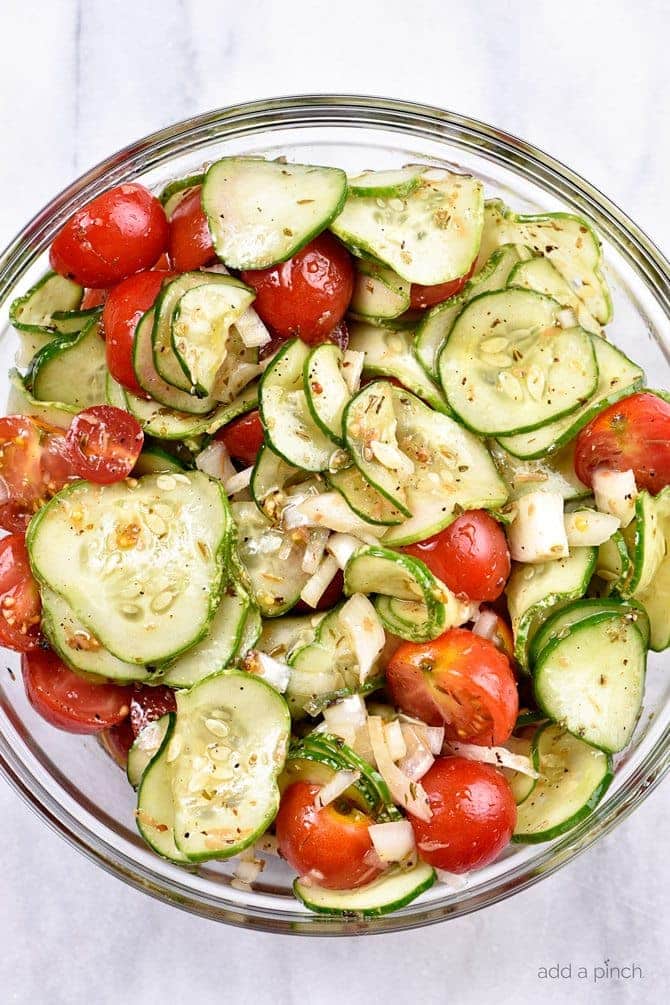 Even if you do not have a garden yourself, this salad is definitely begging to be made.
Just support your local farmer's market, produce stand, or hang out in the produce aisle at your grocery store until you find the freshest tomatoes and cucumbers you can find. Then, make this salad for yourself – and even for those you love.
You'll be so glad you did.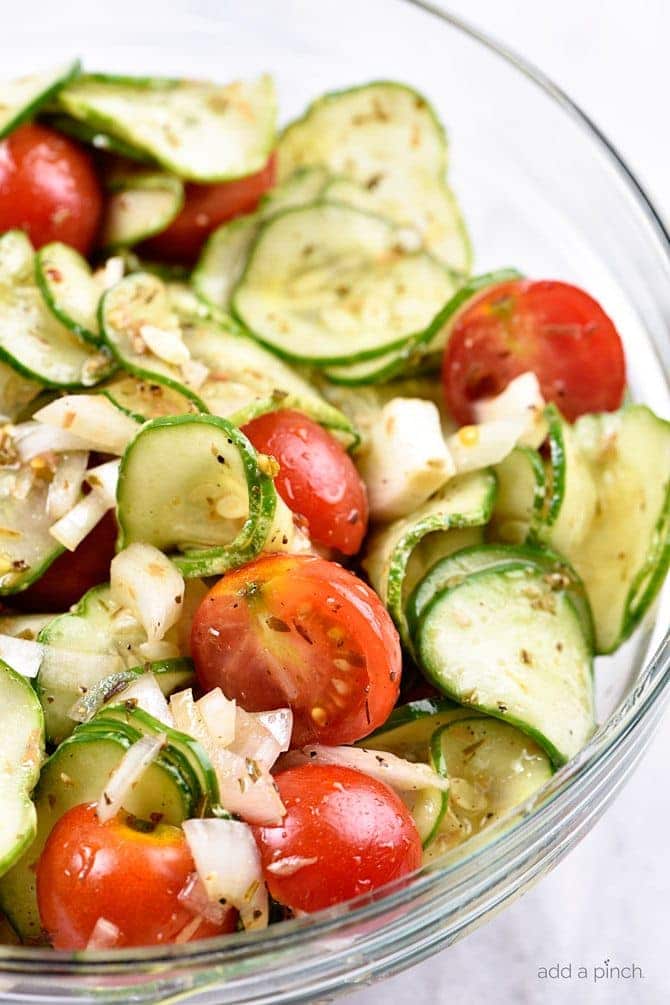 Here's my quick and easy cucumber and tomato salad recipe. I hope you love it as much as we do!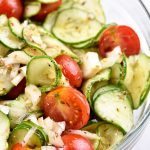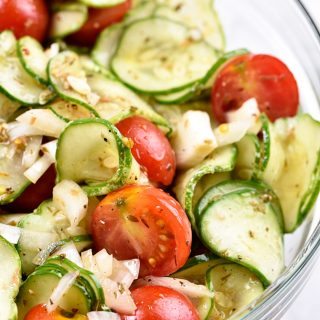 Yield:
8
servings
Course Salad
Cucumber and Tomato Salad Recipe
Total Time 10 minutes
Prep Time 10 minutes
Cucumber Tomato Salad Recipe - A quick and easy summer staple, this cucumber and tomato salad goes well with fish, chicken, pork, or a plate filled with veggies! Add in onions too if you like!
Ingredients
2 cucumbers sliced
1 pint cherry tomatoes halved or 2 medium tomatoes, diced
1 medium onion diced, optional
1/2 cup Italian dressing homemade or store-bought
Directions
Add the sliced cucumbers, tomatoes, onion (if using), and dressing to a large bowl. Gently toss all of the ingredients together to coat with the dressing.
Notes
Grandmother added the following apple cider vinegar dressing for her salad rather than using Italian dressing:
1/4 cup apple cider vinegar
1/4 cup water
3 tablespoons sugar
1/2 teaspoon kosher salt
1/4 teaspoon freshly ground black pepper
Make-Ahead:
Store Cucumber Tomato Salad in an airtight container in the refrigerator for up 7 days. 
Nutrition Facts
Cucumber and Tomato Salad Recipe
Amount Per Serving (0.5 cup)
Calories 60 Calories from Fat 27
% Daily Value*
Total Fat 3g 5%
Sodium 154mg 6%
Potassium 263mg 8%
Total Carbohydrates 7g 2%
Dietary Fiber 1g 4%
Sugars 4g
Protein 1g 2%
Vitamin A 6.9%
Vitamin C 20.5%
Calcium 2.2%
Iron 3.5%
* Percent Daily Values are based on a 2000 calorie diet.
All images and text © Robyn Stone for Add a Pinch
Enjoy!
Robyn xo

From the Add a Pinch recipe archives. Originally posted 2012.