Homemade Fruit and Vegetable Wash – An essential, all-natural, inexpensive recipe for making your own fruit and veggie wash! Wash away pesticides, dirt, germs, and more!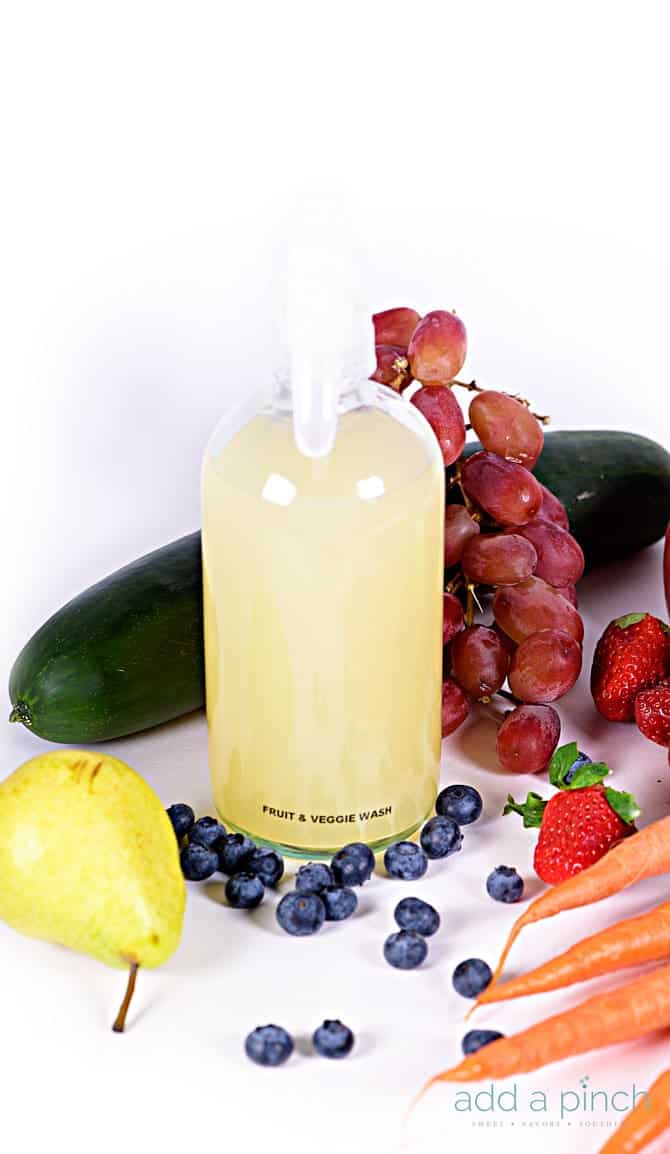 Whether the fruits and vegetables come from our garden here on our farm, our local CSA, or the grocery store, I always make sure to wash them as soon as I get them into my kitchen.
For years, I just used plain water, but I had an allergic reaction to pesticides on grapes and learned the hard way that a little bit more than just water was needed for my family.
My homemade fruit and vegetable wash is simple to make and uses all-natural ingredients that you most likely already have at home!
Organic apple cider is antibacterial, antifungal, and antiviral, making it a great ingredient for this fruit and vegetable wash. It has been shown even to be effective against E. coli. The Journal of Food Science also reported that apple cider vinegar combined with fresh lemon juice has also been helpful in fighting against salmonella.
I keep a spray bottle filled with my fruit and veggie wash in the refrigerator, ready to wash my produce, especially those listed by the Environmental Working Group (EWG) as their Dirty Dozen, so it is ready to use in recipes and to grab for snacks!
Once I spray my fruits and vegetables, I let the spray stay on them for about 30 seconds and then rinse them in cold water. I've had great luck with that amount of time being long enough to clean the fruits and vegetables but not being so long that it leaves my berries tasting like vinegar. For harder-skinned items like cucumbers or apples, you may consider leaving it a bit longer. I suggest you experiment with the time you feel is the most comfortable for your family.
Here's my homemade fruit and vegetable wash recipe. I hope you find it as useful for your family as I do for mine!
Homemade Fruit and Vegetable Wash
Combine the following ingredients in a spray bottle and give it a good shake to mix well. Then, spray onto fruits and vegetables and let sit for about 30 seconds and rinse in cold water. Allow to air dry.
1/2 cup apple cider vinegar
1/2 cup lemon juice
1 cup water
Store your homemade spray in the refrigerator for up to a month.
Enjoy!
Robyn xo