Jump to Recipe • Print Recipe
By now, you've probably guessed how much my family loves roast beef. It makes a regular appearance at our supper table and as much as I love to make balsamic roast beef and Dr. Pepper roast beef, sometimes, we still like a more traditional pot roast with the trimmings.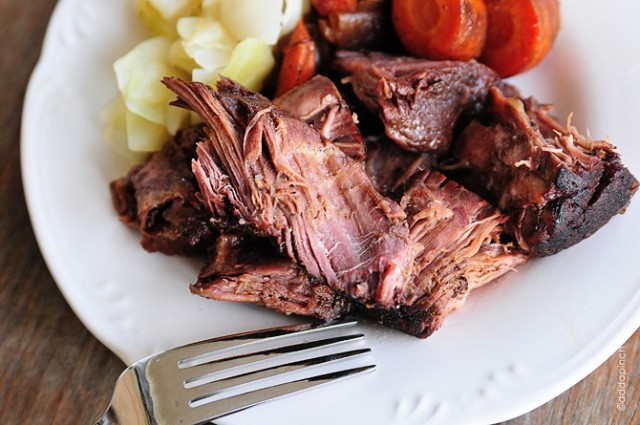 A big pot roast filled with carrots, onions, and a bit of thyme is really hard to beat for a comforting family meal.
If I know I'm going to be home for the day, I love to have pot roast cooking low and slow all day long – well, at least most of the afternoon.
I start pot roast on the stove, by searing my roast with olive oil and a few seasonings, then browning the carrots and onions, adding my stock and then popping it into the oven to do its magic. It doesn't require any handling once it goes into the oven, just a little hands-off babysitting, if you will.
If you aren't going to be home all afternoon, you can easily place the pot roast into your slow cooker once you've seared it and browned the vegetables a bit. You'll have two pots to wash, but it is oh so worth it!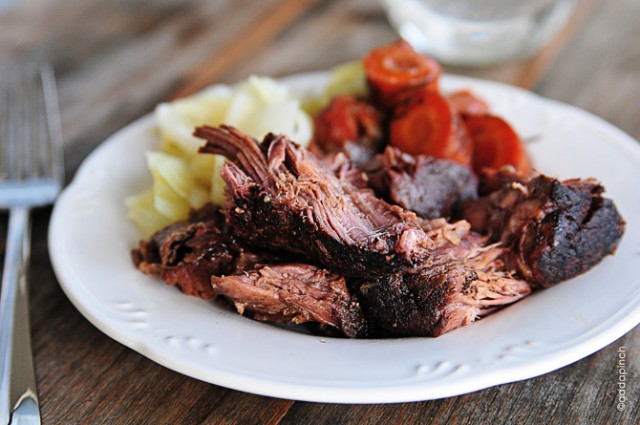 Pot roast is wonderful any time of year, but is extra comforting during cooler weather. Here's the recipe for my pot roast that includes both the oven and slow cooker cooking methods for your convenience.

Pot Roast Recipe
Pot roast is delicious any time of year, but is extra comforting during cooler weather. This recipe for pot roast includes the oven and slow cooker cooking methods.
Author:
Robyn Stone | Add a Pinch
Ingredients
olive oil
1 (5 pound) roast beef (chuck, shoulder or round)
2 tablespoons Worcestershire sauce
½ teaspoon salt
½ teaspoon black pepper
2 medium onions, cut into wedges
1 pound carrots, cut into 1-2 inch pieces
4 stalks celery, cut into 1-2 inch pieces
2 cups beef broth
3 sprigs fresh thyme or ½ teaspoon dried thyme
Instructions
Drizzle olive oil into the bottom of a heavy Dutch oven over medium heat. Add roast, season with Worcestershire sauce, salt and pepper, and brown on all sides.
Add in vegetables and cook until lightly browned, about 5 minutes.
Oven Method
Preheat oven to 320 degrees.
Add beef broth and thyme to pot roast and place in oven for 4-5 hours, until the roast is fork tender. Serve warm.
Slow Cooker Method
Transfer pot roast and vegetables to the insert of a slow cooker. Add beef broth and thyme. Cook on low setting for 6-8 hours, depending on your slow cooker.
Serve warm.
Notes
Adjust cooking time depending on the size of the roast. For a 3 - 3½ pound roast, I generally cook for 3 hours. For a 5 pound roast, I cook between 4 and 5 hours. When you insert a fork into the meat and gently pull back, the meat should easily give.
Enjoy!