Sandwich Bread Recipe
Homemade sandwich bread in an easy, no-fuss recipe! This sandwich bread recipe uses ingredients you most likely keep on hand for a delicious bread you'll make time and again.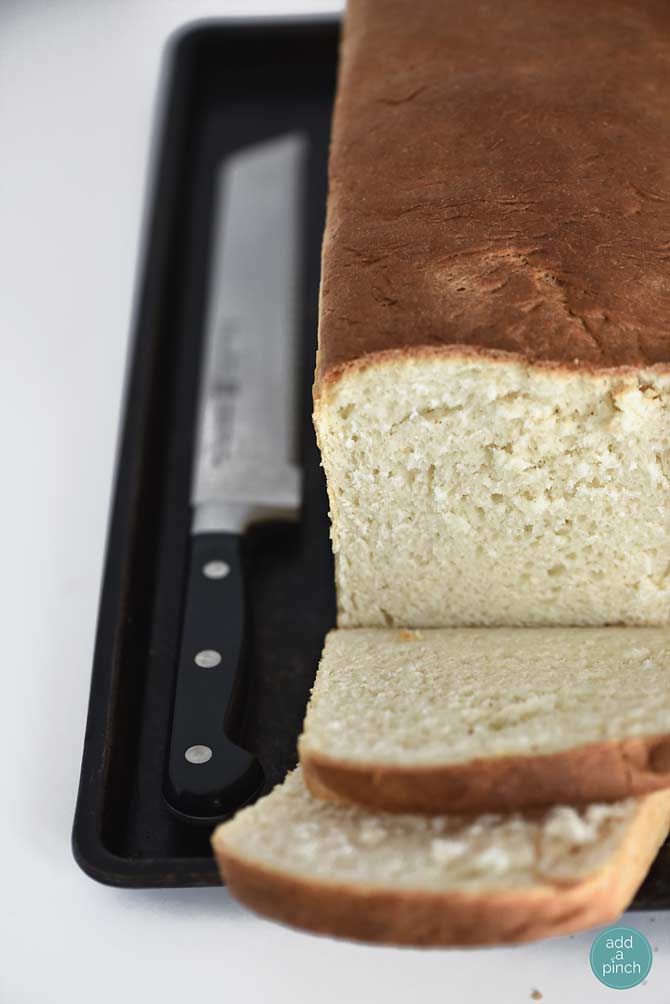 Lately, Bart has made as much of the bread (if not more!) than I have in our house!
While it has always been his thing to make cinnamon rolls at Christmas and cornbread and biscuits in the Dutch oven on Scout camping trips, he's gotten even more so into bread baking since we attended the Southern Food Writer's Conference and Biscuit Festival last spring.
He came home inspired to make biscuits by feel and without a recipe, to make the Challah bread for French toast for camping trips when I don't make it ahead, and to make his own sandwich bread from scratch, among other things.
It is like he has a mental list of breads he wants to master, he works and works the recipe until he has it just the way he wants it and then he moves on to the next.
Thankfully, he continues to make those that he's been successful in making, like his sandwich bread recipe, while he's working on the others on his list.
His sandwich bread recipe uses ingredients that I generally keep on hand, simple ingredients of flour, yeast, butter, and milk, that when worked just right turn into the best thick-cut slices of bread for sandwiches, toast and even French toast.
While we use a Pullman loaf pan for baking our sandwich bread, you could also use two regular loaf pans, if you'd like. For the pullman loaf pan, we leave the cover off of the pan to get a nice, rounded and crusty top on our sandwich bread. However, you could definitely use the cover for a square sandwich bread.
Here's Bart's Sandwich Bread Recipe. I hope you enjoy it as much as we do!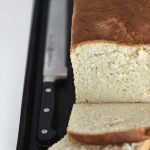 Print Recipe
Sandwich Bread Recipe
Sandwich Bread Recipe - Homemade sandwich bread in an easy, no-fuss recipe! This sandwich bread recipe uses ingredients you most likely keep on hand for a delicious bread you'll make time and again.
Prep Time5 mins
Cook Time45 mins
Total Time50 mins
Servings: 1 (13-inch) loaf
Ingredients
1 2/3 cup milk warmed to 100º F - 110º F
2 teaspoons instant yeast
6 tablespoons unsalted butter softened to room temperature
2 teaspoons salt
3 tablespoons granulated sugar
4 - 4 3/4 cups all-purpose flour
Instructions
Add yeast and one tablespoon of granulated sugar to warmed milk in a large glass or metal bowl. Allow to sit for about 3 minutes to proof (the yeast will begin to bubble and foam in the milk. If it does not, your yeast is not active and will not leaven the bread.)

Once the yeast has proofed, stir in the butter, salt, remaining sugar and 4 cups of the flour. Stir until the dough begins to pull away from the sides, adding more flour at 1/4 cup at a time until it does so.

Pour the dough onto a lightly greased countertop and knead the dough by hand until it is smooth, about 8 to 12 minutes. Place the dough in a lightly greased bowl, cover with plastic wrap and place in a warm, draft free location to double in bulk, about 1 1/2 - 2 hours.

Pour the risen dough onto the countertop and form into one or two loaves, depending on the number of baking pans you are using.

Lightly grease your loaf pan(s) and place the risen dough into the pan(s). Lightly cover with plastic wrap and allow to rise within an inch of lip of the loaf pan(s), about 15 - 20 minutes. As your dough is rising, preheat the oven to 350º F.

Remove the plastic wrap from the loaf pan(s). Bake your sandwich bread until it registers 190º F on an instant read thermometer, about 40-45 minutes. Turn your baked bread onto a rack to cool completely.
To store:
Store in a bread box or under a cake dome for up to a week or to freeze, place on a cookie sheet and flash freeze for about 30 minutes, then vacuum seal the bread for longer term storage, up to a couple of months.
Notes
Total time does not include time for rising. Approximate rising times are:
1st rising: 1 1/2 hours
2nd rising: 15 minutes Adapted from: USA Pans
Happy bread making!
Robyn xo