Fried apples are a classic treat. Served over a buttermilk biscuits, fried apples also make a great dessert!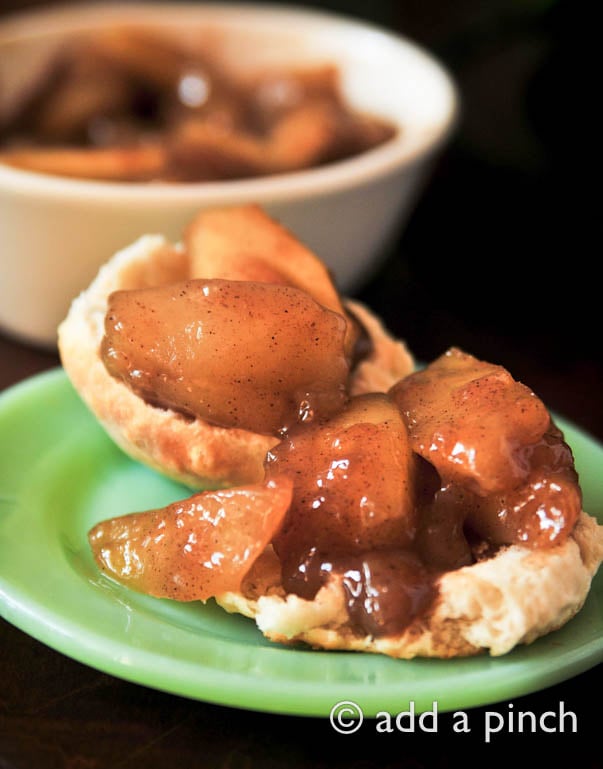 Cracker Barrel is one of my family's favorite places to eat, especially when we are on a trip in our RV. It is one of those restaurants that reminds me of home with the big rocking chairs just begging to be rocked in a little bit as you walk up to the doorway, the country style menu full of vegetables and delicious dishes like the greens that you can request an extra bowl of pot liquor and cornbread just because that's how you like them, and the fireplace for a big roaring fire.
If you ask Little Buddy why he loves it so, he'd most likely say his love for Cracker Barrel begins with the games of checkers, their delicious buttermilk pancakes, and of course the gift store that we just can't leave without spending every last dime of his allowance plus a little if he looks at me with his sideways grin at just the right moment. And for the record, he knows when to pull that grin. What can I say? I'm a sucker.
But if you ask my husband, he'd immediately say the fried apples. Hands down. It is his dessert of choice whenever we visit. Here's how it works every time. The waitress will ask, "cornbread or biscuits?" Our reply, "biscuits. Hot, please."
Within a few minutes she'll bring out our biscuits and my husband will pick up a couple and carefully open them. Next, he pulls over a little pats of butter wrapped so perfectly in their little containers and methodically spreads the butter to make sure every little part of the inside of his biscuit is buttered just so. He'll place the top back on his biscuit and pat it twice. Not once. Not three times. Twice.
We'll order our supper of which his is always a side of fried apples. After supper is finished, he'll take his biscuits and open them back up and then pour the fried apples over the top of his biscuits.
I'll admit, it took me a while before I took a bite of his dessert for myself.
But when I did – oh my word! I completely understood why he was so careful with preparing his biscuit for these fried apples. There was not a better dessert on the menu after that bite.
We've not been on an RV trip in a month or so and while I've missed the excitement of planning a trip, packing the RV, and being with my family on the road, I've also missed pulling in to a Cracker Barrel and those fried apples over biscuits.
So, I decided tonight that's exactly what we were having for dessert.
I think I hit the jackpot! Tonight's sideways grin from Little Buddy wasn't about needing an extra few dollars for the gift shop.
Here's how I make them.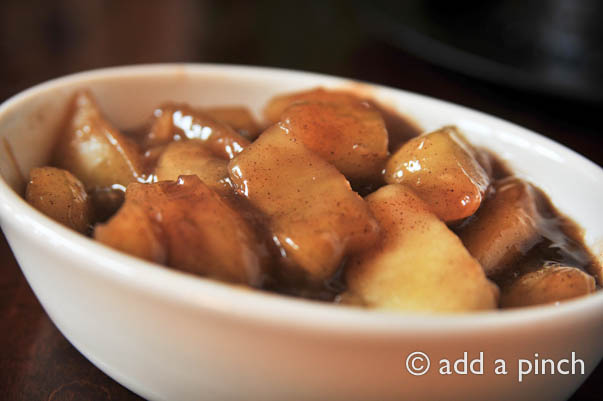 While Southern fried apples are absolutely perfect over a hot buttered biscuit, they are also amazing with oatmeal, pancakes or waffles for breakfast and are wonderful with pork chops or ham for supper. And you just can't imagine how delicious they are on top of a big scoop of vanilla ice cream.
Can you tell that fried apples are a favorite at our house? I bet they will be soon at yours, too.
I can't wait to hear how you like them.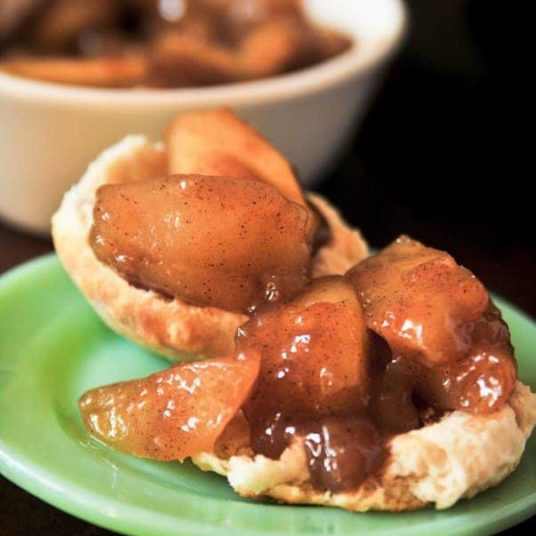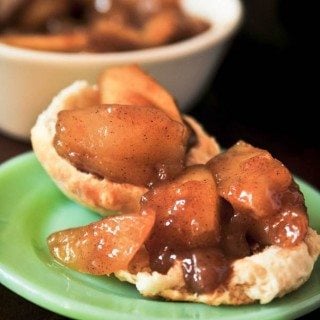 Southern Fried Apples Recipe
Fried apples are a classic treat. Served over a buttermilk biscuits, fried apples also make a great dessert!
Ingredients
1 1/2

cups

apple cider,

+ 1/2 cup

5

apples

,

peeled and sliced

2

tablespoons

butter

1

tablespoon

cornstarch

3

tablespoons

sugar

1

teaspoon

apple pie spice
Instructions
Pour 1 1/2 cups of apple cider into a skillet over medium heat. Add apple slices and cook until tender. Add butter.

Mix together remaining 1/2 cup of apple cider, cornstarch, sugar and apple pie spice in a small bowl. Pour into skillet and stir gently as thickens.

Remove from heat and serve warm.
Nutrition
Calories:
169
kcal
|
Carbohydrates:
35
g
|
Protein:
1
g
|
Fat:
4
g
|
Saturated Fat:
2
g
|
Polyunsaturated Fat:
1
g
|
Monounsaturated Fat:
1
g
|
Trans Fat:
1
g
|
Cholesterol:
10
mg
|
Sodium:
38
mg
|
Potassium:
225
mg
|
Fiber:
4
g
|
Sugar:
27
g
|
Vitamin A:
200
IU
|
Vitamin C:
8
mg
|
Calcium:
17
mg
|
Iron:
1
mg
Nutrition information is automatically calculated, so should only be used as an approximation.
Enjoy!
Robyn