Grape Jelly Recipe
One thing that is constantly in my refrigerator and pantry are the makings of a peanut butter and grape jelly sandwich.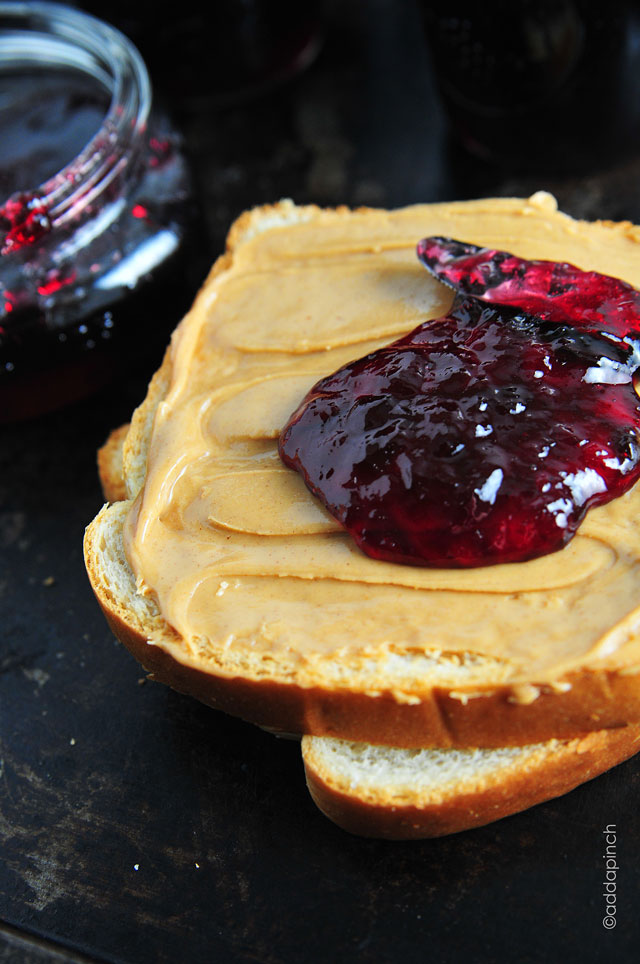 When nothing else in the world sounds good, I can depend on a good ol' PB&J to hit the spot and make the world seem right again. Maybe that comes from years of them being the only sandwich I wanted in my lunch box – from pre-K all the way through ninth grade. (As a 10th-grader, I discovered the pizza and salad bar.)
There were days that Mama would have made something different just to try and get me out of what I'm sure she thought was my PB&J sandwich rut, but those were miserable days.
Opening up a lunch box expecting my standard sandwich only to find a thermos of soup or a ham and cheese sandwich instead was a total letdown.
Those are the days I contemplated ditching my lunch box and going to the lunchroom ladies and asking for an emergency lunch where one of the options was always a school-made peanut butter and jelly sandwich.
Although they weren't as good as my homemade with Jif peanut butter and grape jelly, they were much closer to my standards than a thermos full of chicken and rice soup. At age 12, I'd take anything over chicken and rice soup.
Well, flash forward nearly 30 years and I'm faced with the same dilemma my Mama faced. I have a little boy who would prefer a peanut butter and jelly sandwich to just about any other meal in the world. Seriously. If given an option, it's his first choice more times than not.
So, my pantry stays stocked to feed his PB&J habit as well as my own.
When I received a Ball FreshTECH Automatic Jam and Jelly maker, I was excited about all of the great looking recipes included in the recipe book. Then, I realized the recipe that would get Little Buddy involved and would help fill my pantry with jelly we use faster than any other.
Good ol' delicious, grape jelly.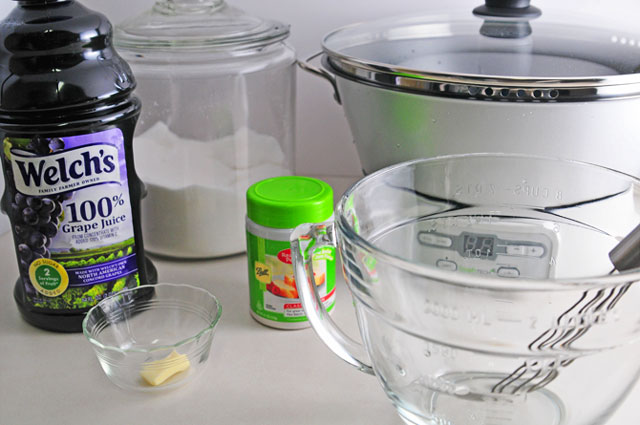 I had all of the ingredients on hand, grape juice, pectin, sugar and butter, and in about 30 minutes from start to finish, Little Buddy and I were tightening the tops on our jars of grape jelly he'd help make.
The recipe is simple.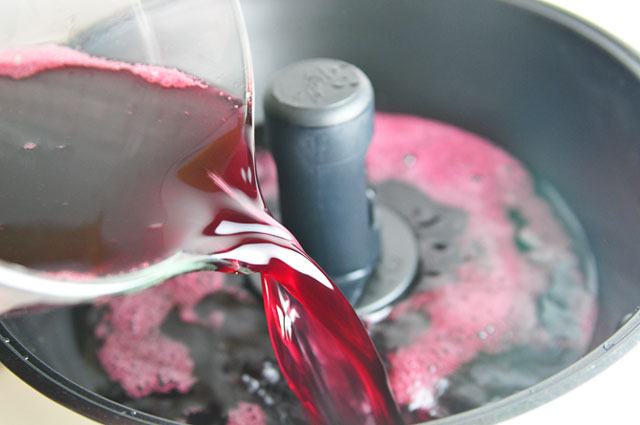 Mix together grape juice and pectin and pour into the Ball Jam and Jelly maker.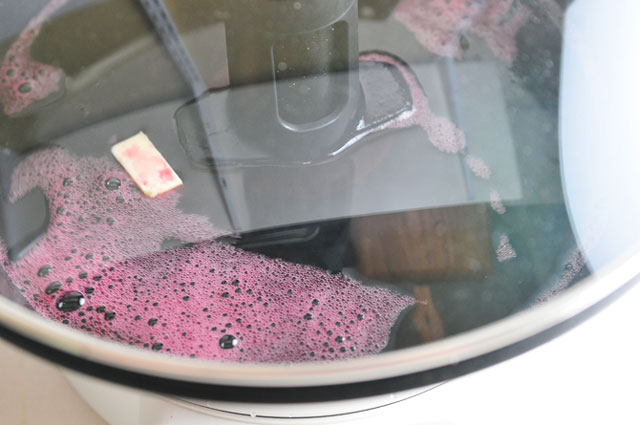 Add a little bit of butter, cover and start the time timer for 25 minutes.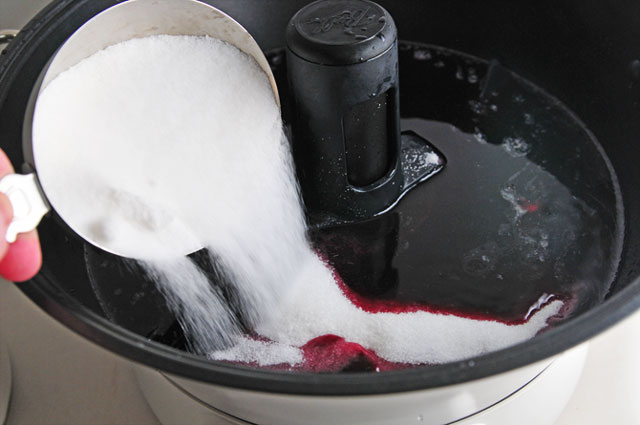 After four minutes, add in the sugar, pop the lid back on and cook for the remaining time undisturbed.
The next day, when I asked him what he wanted for lunch, he cocked his head to the side and gave me his half-grin and said, "Mama, today, let's both have peanut butter and jelly sandwiches with the jelly I made."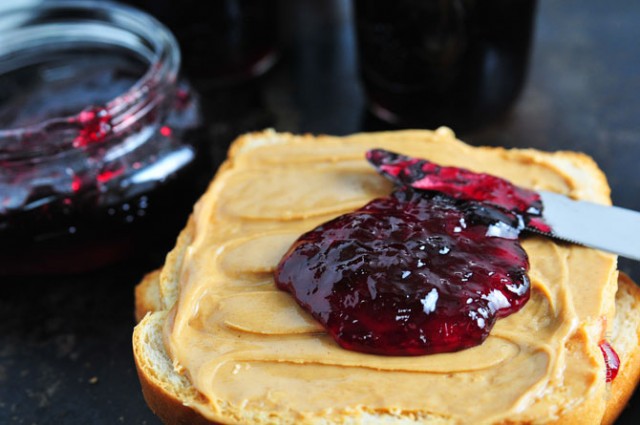 And you know what? They tasted better than any PB&J sandwich I remember eating in a long, long time.
While I prepared the grape jelly using the recipe provided with the Ball FreshTECH jam and jelly maker, I thought I'd share with you the recipe my Grandmother used when I was a girl. She would use fresh grapes and later taught me to use prepared grape juice at times.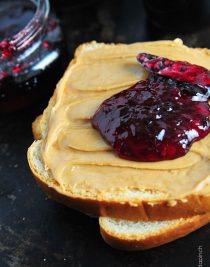 Grape Jelly Recipe
Total Time 40 minutes
Prep Time 10 minutes
Cook Time 30 minutes
Kid-friendly grape jelly recipe that everyone loves.
Ingredients
5 cups grape juice
1 1 3/4 ounce box pectin
7 cups granulated sugar
Directions
Combine grape juice and pectin in a large stockpot, stirring well over medium heat.

Bring to a hard boil and boil for 1 minute, stirring constantly.

Add sugar and stir well. Bring back to a hard boil for 1 minute, stirring constantly.

Remove from heat and skim off any foam. Ladle into prepared jelly jars and seal with canning lids or store in the refrigerator or freezer.
All images and text © Robyn Stone for Add a Pinch
Giveaway
A jam-inspired giveaway including a signed copy of the Ball Complete Book of Home Preserving, a decorative Gallon jar, a bottle of Ball Classic Pectin, FIVE cases of Ball canning jars, a Ball collapsible funnel and Ball dissolvable labels
Here's how you enter:
Leave a comment telling me your favorite jam or jelly!

You can also get a few extra entries with the following:
Then head back to this post and leave a comment that you did.
Giveaway ends Thursday, November 15th at 11:59 PM Eastern. The winner will be announced sometime on Friday.
Giveaway open to US residents only.