Preserve juicy, fresh peaches to enjoy all year long with this delicious peach jelly recipe! So easy, this peach jelly is perfect for breakfast and more!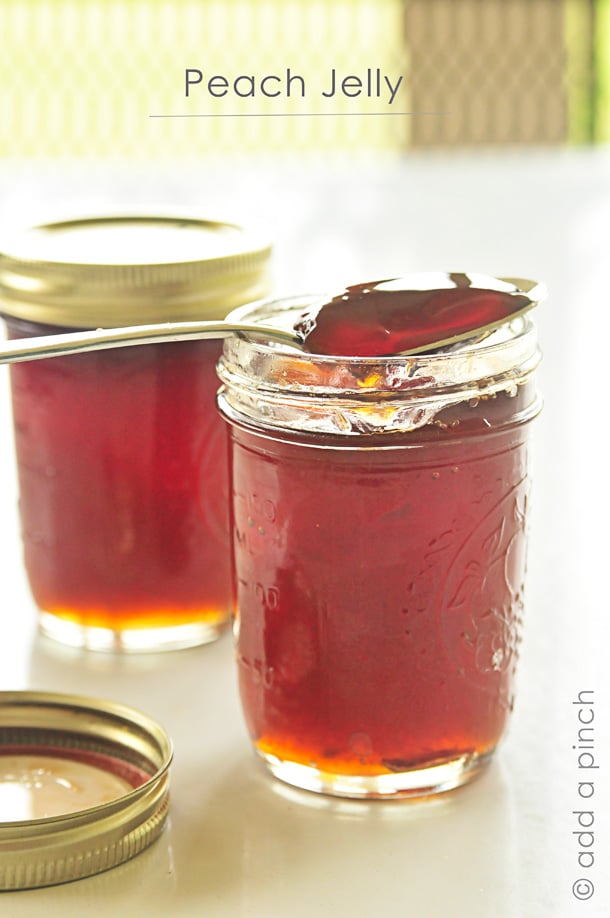 I've been all about peach recipes lately. Probably because I'm immediately blasted with the heady smell of peaches at our local farmer's markets and produce stands lately. Heavy, lush, juicy peaches have been everywhere. Signs for fresh Georgia peaches and fresh South Carolina peaches have even greeted me from roadside stands as I've been driving along.
One drippy, juicy bite of those babies has me wanting peach season to never end.
I always have to remind myself to be sure and preserve as much of that peak peach deliciousness as possible by making peach jelly. It never fails though, by Christmas, I wish I'd preserved twice as much as I did. Maybe this is the summer I'll do it!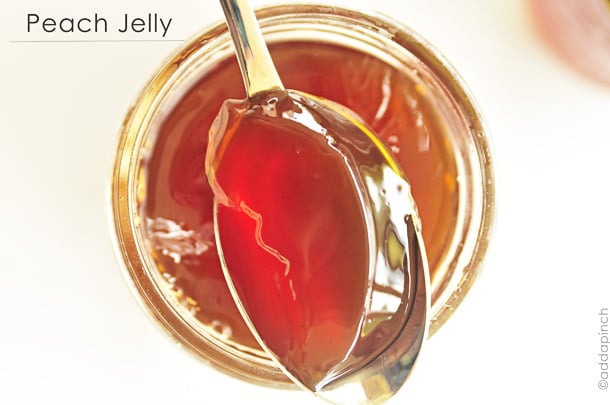 The recipe I use if from Ball's Blue Book Guide to Preserving cookbook that they sent me recently along with a package of other canning goodies. It's a simple, straight-forward recipe that yields about nine half-pints.
Tomorrow, July 14th, is National Can-It-Forward Day and Ball is hosting a live webinar on for beginners and master canners alike! Be sure to visit the webinar site for details.
Now, for that peach jelly.
Here's the recipe. Just be sure to make these soon! You'll be so glad you did!
Peach Jelly Recipe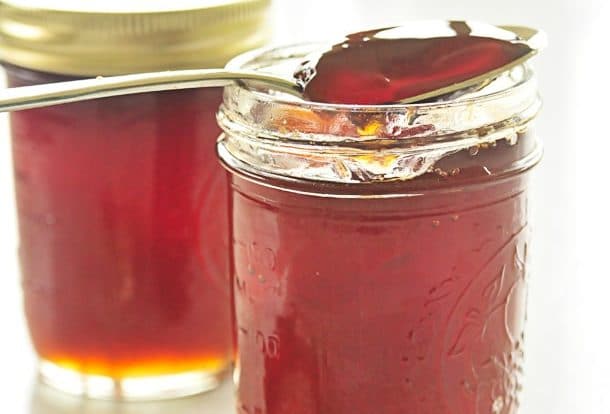 Preserve those juicy, fresh peaches to enjoy all year long with this fresh peach jelly recipe
Ingredients
For the peach juice:
6

cups

peeled pitted, and finely chopped peaches

(about 6 pounds)

1 1/2

cups

water
For the peach jelly:
3 1/2

cups

peach juice

1/4

cup

lemon juice

7 1/2

cups

sugar

6

ounces

liquid pectin
Instructions
For the peach juice:
Combine peaches and water in a large (about 8-quart) stainless-steel saucepot. Bring to a boil. Reduce to medium-low heat and simmer for about five minutes. Remove from heat and skim off any foam with a stainless-steel spoon. Cover and allow to stand for about 20 minutes.

Strain the juice through a fine mesh sieve over a large bowl. Discard any pulp. Line the sieve with two layers of cheesecloth and strain the juice two times. Refrigerate if not using immediately.
For the jelly:
Measure peach juice. You may add up to ½ cup of water to the peach juice to make it equal exactly the 3 ½ cups needed.

Combine peaches, pectin and lemon juice in a large saucepot. Bring to a boil, stirring gently. Add sugar, stirring until dissolved. Return to a rolling boil. Boil hard for 1 minutes, stirring constantly. Remove from heat. Skim foam if necessary with a stainless-steel spoon.

Ladle hot preserves into hot jars, leaving 1/4-inch headspace. Adjust two-piece caps. Process 10 minutes in a boiling-water canner.
Enjoy!
A while back, I asked on Facebook what things you all liked to can. I was impressed with all of the answers! From homemade salsa, jams, jellies, pickles, beans, tomatoes, and so many other mighty delicious things! What's your favorite way to can though? The water-bath method, pressure-cooker, or freezer method?
If you are loving peach season as much as I am, you may also like these recipes: