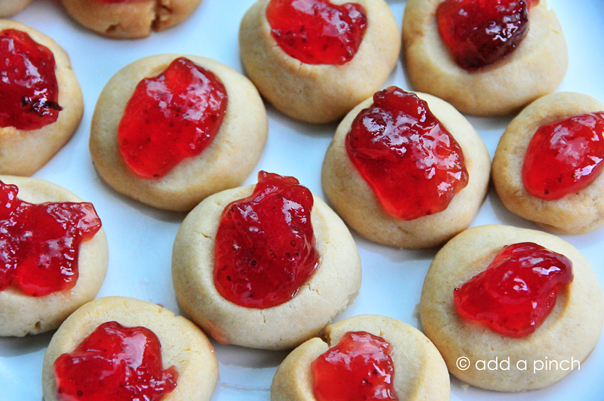 One of my favorite jobs growing up was helping my Grandmother Verdie make her Jam Thumbprint Cookies. I'd watch her as she mixed together all of the basic ingredients for the cookies, butter, sugar, vanilla, egg, and flour until it was all well-combined. She'd divide the dough into fourths and only work with one portion of the dough at a time, leaving the other dough tightly wrapped in her refrigerator.
Using a teaspoon, she'd scoop bits of dough into her hands and then roll them into balls, dropping them onto the cookie sheet as soon as they'd reached the point of being a perfect little ball – about the size of a walnut. We'd talk as she scooped and rolled, rolled and dropped. The rhythm of her scoop, roll, drop dance not missing a beat as we'd talk about whatever wild thing I'd imagined up at the time.
My job was to follow along behind Grandmother to press my thumb into the center of each cookie ball. I would have scrubbed my hands cleaner than they would have been in weeks, just to be able to press my thumb down into the dough balls still slightly warmed from her hands.
As quickly as we started, it seemed we were done with one section of the dough and moving through the remainder. Sometimes, Grandmother would make these cookies for family or church showers and sometimes they were just special treats to go along with our afternoon grape Kool-Aide party she served in her crystal wine glasses. Thinking back on it now, those were the only grapes that ever saw the inside of my Grandmother's wine glasses, I feel most certain. I'm not entirely sure why she ever even owned those glasses except for my sister and I to sip that Kool-Aide and believe we were the luckiest girls in the world.
At least my hands were clean enough to use them.
Here's her recipe.
Grandmother's Jam Thumbprint Cookies Recipe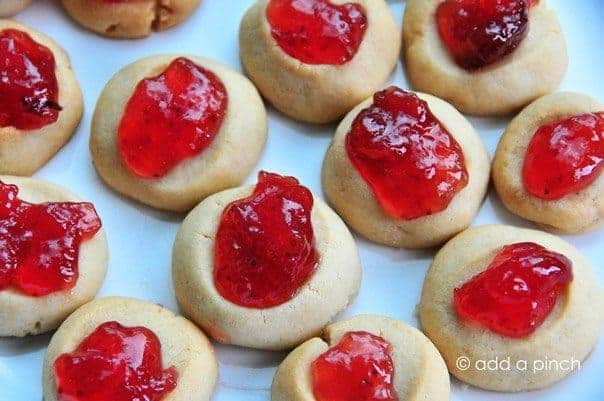 Grandmother's recipe for Thumbprint Cookies that are perfect for showers, weddings, or any other celebration. Perfect for jam, preserves, or fruit curd.
Ingredients
1

cup

butter

1 1/2

cups

sugar

1

teaspoon

vanilla

2

eggs

3 1/2

cups

all-purpose flour

1 1/2

teaspoons

baking powder

1/4

teaspoon

salt
Instructions
Preheat oven to 350 degrees.

Combine butter and sugar until creamy. Add in vanilla and egg until well-incorporated and then slowly add flour, baking powder, and salt. Shape dough into a ball. Cut into fourths and wrap each section tightly with plastic wrap and store in the refrigerator.

Scoop 1 teaspoon of dough and then roll in between the palms of your hands until a ball, about the size of a walnut, has formed. Drop onto a cookie sheet. Press your thumb into the center of the dough ball to form a slight well. Repeat until all dough has been used.

Place sheet pans in the freezer for about 12 minutes to firm to prevent spreading during baking.

Bake for about 12-15 minutes until brown. Remove from the oven and allow to cool slighty.

Scoop ½ teaspoon of your favorite jam, preserves, or fruit curd to fill the center of the cookie.

Store in an airtight container.
Notes
Cooking time is for one batch of cookies.
What is it about making cookies with your Grandmother? It's a memory that stays with you for a lifetime.