Jump to Recipe • Print Recipe
Peanut butter cookies and a cold glass of milk are a perfect little treat in the afternoons when you just want a little something sweet.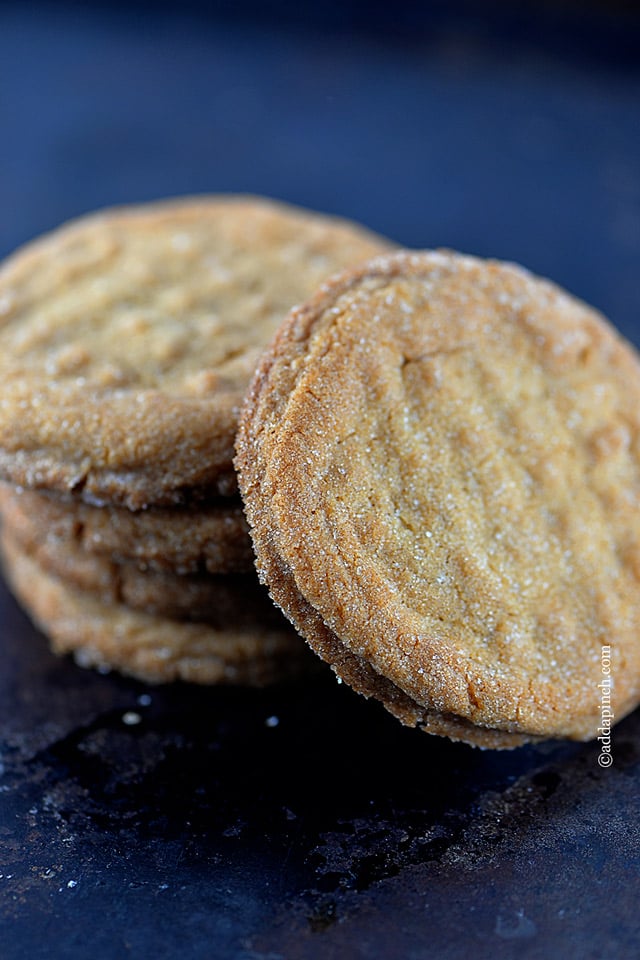 Peanut butter cookies have always been one of my husband's favorite cookies, so when I started pulling out all of my ingredients to make them, his eyes got just a little bit wider as I told him I was making his cookies. I think I may have earned a few brownie points.
And one thing that I absolutely need more of is brownie points. You see, I have this weird ability of being easily distracted. Especially when it comes to cleaning. I'm so good at it that some would call it a gift. Ha.
Seriously though, over the past few weeks, we've been cleaning out closets and tidying up areas around the house that have long been in need of a little attention. We started in the playing room as part of our annual tradition of finding toys that have been gently used that Sam no longer plays with that he can give to the shelter.
As soon as we begin taking bins out to go through the toys, I'm headed off down memory lane about every single item that I touch. Before I know it, Bart and Sam have gone through three or four bins to my one as I'm remembering all the little details of the art set I'm going through, wondering if all of the colored pencils are sharpened because we'd hate to pass along the set with dull pencils. Then after I sharpen all the pencils, I have to arrange them in Roy G. Biv order only to get into a discussion about how indigo is no longer part of the visible spectrum we learned in our science lesson and then onto how indigo and Pluto have so much in common.
By that time, my family is exasperated with me and I'm in need of earning some brownie points with them both.
Now, you can easily add any mix-ins you'd like to these peanut butter cookies: chocolate chips, chopped salted peanuts, peanut butter chips, toffee bits, you name it. But honestly, you really, really need to try these cookies just right by themselves at least once. They are absolutely the best peanut butter cookies I've ever eaten. Hands down!
Here's how I make my Peanut Butter Cookies.
Peanut Butter Cookies Recipe
Peanut Butter Cookies make the perfect, classic cookie treat. Get this family favorite peanut butter cookies recipe.
Author:
Robyn Stone | Add a Pinch
Ingredients
2 sticks butter, softened
2 cups peanut butter, creamy or chunky
1 cup brown sugar, packed
1 cup sugar
1 teaspoon vanilla
2 eggs
2½ cups all-purpose flour
1 teaspoon baking soda
½ teaspoon baking powder
½ teaspoon sea salt
½ cup sugar for rolling
Instructions
Preheat oven to 350º F.
Cream together butter, peanut butter, sugars, and vanilla. Add in eggs one at time, being sure to fully combine each.
Whisk together all dry ingredients and cream with peanut butter mixture until just combined. Be careful to not over mix.
Scoop dough and roll into a ball and then roll in sugar and place on baking sheet about 2 inches apart as the cookies will spread.
Dip tines of the fork into sugar and then press into the top of the cookie to form a criss-cross pattern.
Place in preheated oven and bake between 10 - 15 minutes, depending on your oven.
Remove from oven and allow to sit for about 2 minutes to cool before removing to a wire rack to cool completely.
Notes
I prefer to use either creamy or chunky peanut butter, but natural or lower-fat peanut butters also work. Just make sure well-combined when incorporating into the cookie dough.
Adjust baking time based on your oven. I bake these cookies for 10 minutes and allow to cool for about 2 minutes for the perfect cookie.
I think you need to make a batch of these peanut butter cookies soon! Like now!
Enjoy!
Robyn xo
Originally published February 22, 2012. Republished December 29, 2014.