Peanut Butter Blossoms Recipe
Peanut Butter Blossoms Recipe – This soft classic peanut butter cookie topped with a milk chocolate kiss is always a favorite!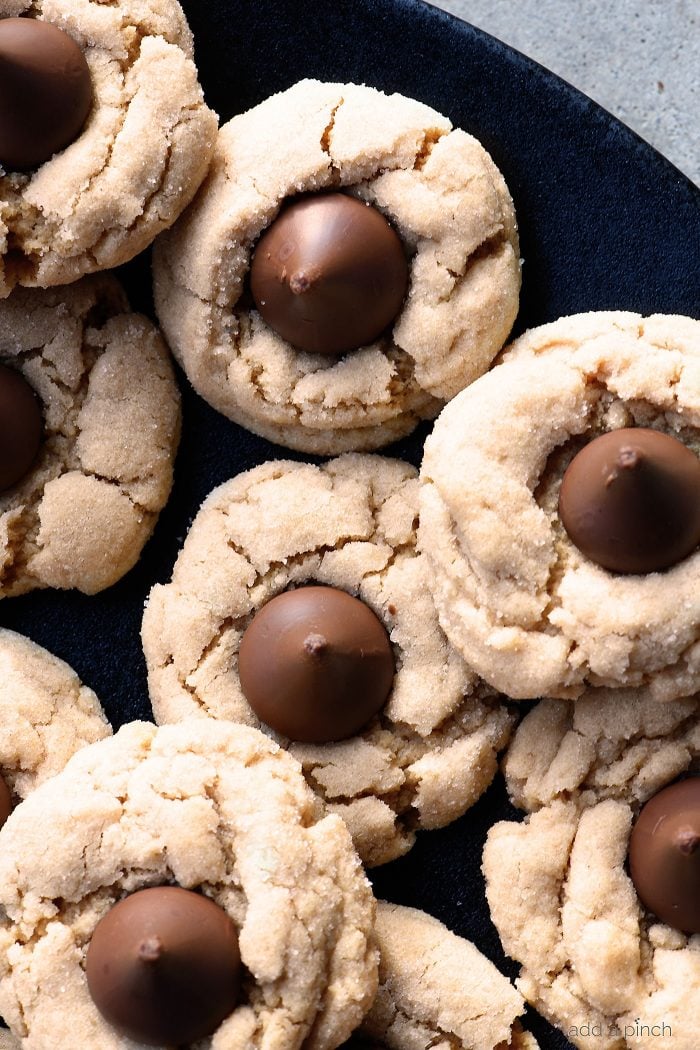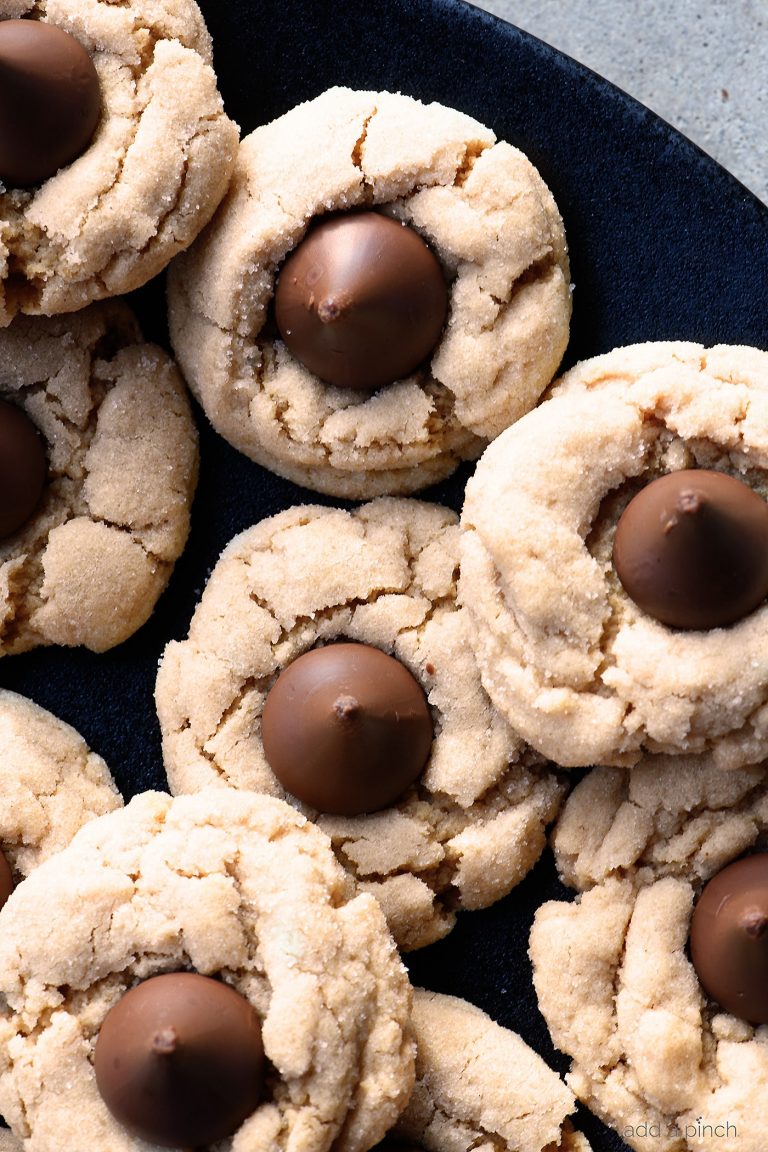 For as long as I can remember, these peanut butter blossoms have been a part of my favorite cookies trays. So simple to make and even more delicious to eat, it is no wonder that these have always been one of my most loved peanut butter cookies.
Maybe it is that little crown of chocolate in the center of each one that has fueled along my love for the combination of peanut butter and chocolate, or maybe it is the memories of making them as a child in my Mother's kitchen.
Whatever the reason, and there are plenty, these nostalgic little cookies are here to stay!
Peanut  Butter Blossoms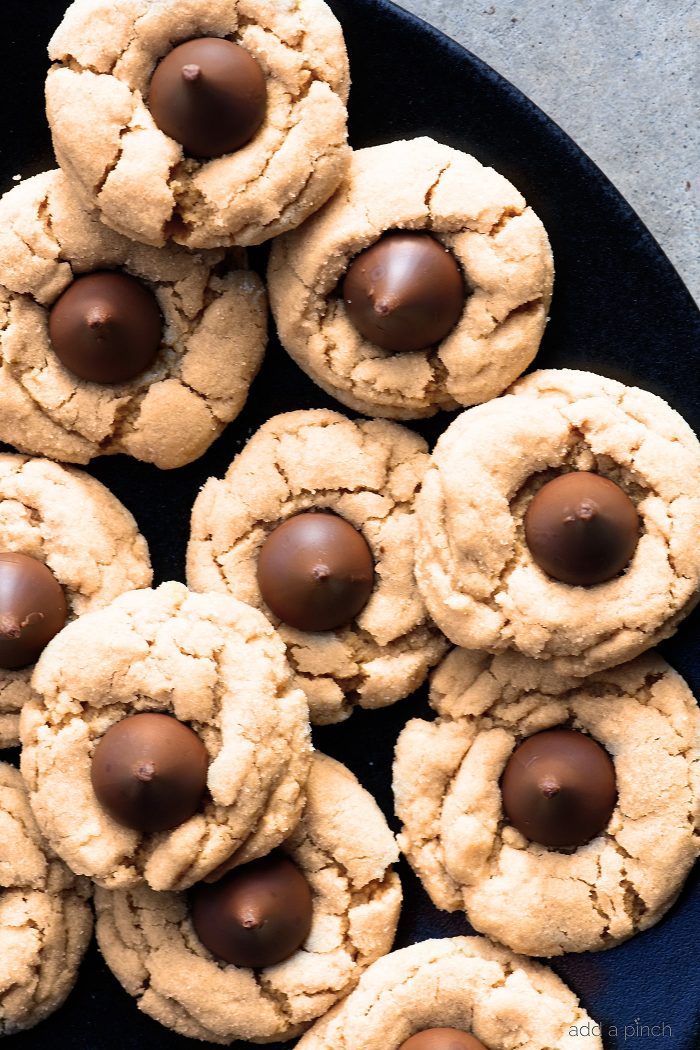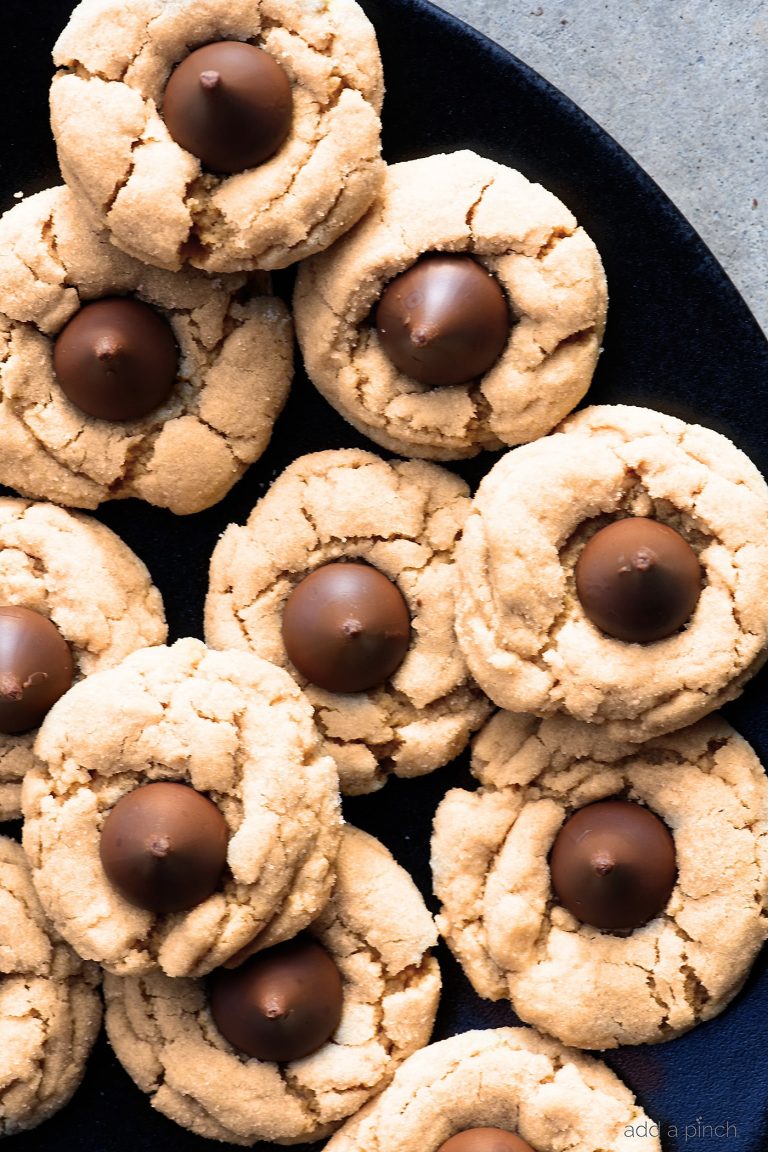 How to Make Peanut Butter Blossoms
Making Peanut Butter Blossoms is one of the simplest cookie recipes! They come together with ingredients you most likely already have on hand – plus the Hershey's Kisses for the top! 🙂
To make them, I begin by making my soft peanut butter cookie dough. You'll want these cookies to not spread as much as a regular peanut butter cookie and to remain soft well after they have baked. You'll begin by creaming together softened butter, smooth peanut butter, granulated sugar and your brown sugar with an electric mixer. If you have a stand mixer, they mix together quickly in it, but a hand mixer is what we always used growing up and it still works wonderfully for me as well!
Once your butter, peanut butter and sugars are creamy and smooth, you'll add in your egg and mix until it is fully incorporated. Your cookie dough will begin to be softer and fluffier at this point.
Next, you'll whisk together your flour, baking soda, and salt in a medium bowl. You'll slowly incorporate this into your peanut butter mixture making sure to fully mix in before adding any more of your flour mixture. Continue until fully incorporated. Add in your milk and vanilla extract and mix until incorporated.
At this point, I like to cover my peanut butter blossoms dough and chill in the refrigerator for at least an hour to overnight. You can of course bake immediately, but I always like how the cookies bake if the cookie dough has chilled prior to baking.
When ready to bake, I line a baking sheet with parchment paper.  I then scoop 1 tablespoon of peanut butter blossoms cookie dough, roll it into a ball, and then roll the ball in a small bowl of granulated sugar to coat. I then place the sugar-coated cookie dough ball onto the lined baking sheet about 2-inches apart from the other peanut butter blossoms cookie dough and repeat until the baking sheet is filled.
I bake my peanut butter blossoms for 8 minutes and then pop the Hershey's Kiss onto the center of the cookie, gently pressing down to secure the Kiss into the cookie. I then bake the cookie for 2 more minutes, for a total of 10 minutes.
This allows the Hershey's Kiss to soften just a touch without softening too much on the peanut butter blossoms. And I've found that the Kiss stays perfectly tender enough for eating on the cookie once the cookie has cooled! Baking it any longer makes the Kiss too soft and any shorter makes the Kiss too hard. 🙂
Make Ahead Peanut Butter Blossoms Recipe
These cookies are excellent to make ahead, especially throughout the holidays. Simply prepare the peanut butter blossoms as instructed and then store in parchment-lined layers within an airtight container for up to a week.
If you'd like to make them more in advance, use the Freezer Friendly instructions below.
How to Freeze Peanut Butter Blossoms
To freeze the peanut butter blossoms cookie dough, scoop the cookie dough as directed and place onto a parchment lined baking sheet. Place the baking sheet into the freezer for 30 minutes so that each cookie dough ball individually freezes. Once frozen, transfer the frozen peanut butter blossom cookie dough balls into a zip top freezer-safe bag for up to 3 months. When ready to serve, roll the frozen peanut butter blossom dough balls in the granulated sugar and bake from frozen, adding about 3 minutes to the baking time before adding the chocolate Kiss.
Here's my favorite Peanut Butter Blossoms recipe. I hope you love them as much as we do!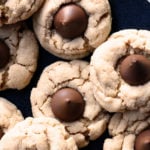 Print Recipe
Peanut Butter Blossoms Recipe
Peanut Butter Blossoms Recipe - This soft classic peanut butter cookie topped with a milk chocolate kiss is always a favorite!
Prep Time10 mins
Cook Time10 mins
Total Time20 mins
Servings: 48 cookies
Calories: 88kcal
Ingredients
1/2 cup butter (1 stick) softened
½ cup smooth peanut butter
½ cup sugar plus 1/4 more for rolling
½ cup light brown sugar
1 large egg
1 3/4 cup all-purpose flour
1 teaspoon baking soda
½ teaspoon salt
1 tablespoon milk
1 1/2 teaspoons vanilla extract
48 Hershey's kisses unwrapped
Instructions
Preheat the oven to 375º F.

Cream together the butter, peanut butter, and the sugars until creamy. Add in the egg and mix until fully incorporated.

Whisk together the flour, baking soda and salt in a medium bowl. Slowly add to the peanut butter mixture, making sure to fully incorporate before adding the next batch of the flour mixture. Add in the milk and vanilla extract and mix until fully combined. Refrigerate for one hour to overnight.

Scoop about a 1-inch scoop of the peanut butter cookie dough and roll into a ball. Roll the cookie dough ball in the additional granulated sugar, place the peanut butter cookie dough ball about 2 inches apart onto the baking sheet. Bake 8 minutes and then gently press a chocolate kiss into the center of the cookie until the sides of the cookie begin to crack. Return to the oven for 2 more minutes. Remove from the oven and allow to cool.
Nutrition
Calories: 88kcal | Carbohydrates: 11g | Protein: 1g | Fat: 4g | Saturated Fat: 2g | Cholesterol: 10mg | Sodium: 84mg | Potassium: 27mg | Sugar: 7g | Vitamin A: 65IU | Calcium: 14mg | Iron: 0.3mg
Enjoy!
Robyn xo