Knowing how to make good gravy is like having that perfect strand of milky pearls you can put on in a moment's notice. It dresses up even the most humble of meals and graces southern tables.
And those who know me, know how much I love the term, "Good gravy." It can be used to show my frustration. Like when I get a big drop of tomato sauce on my favorite white shirt right before company arrives for dinner. Good gravy would surely fit the bill in that situation.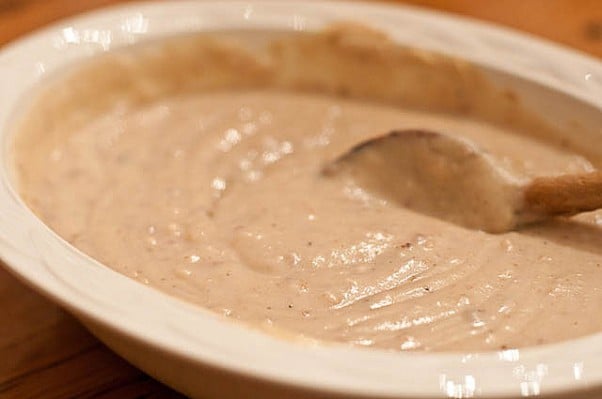 Southern Gravy Recipe
It can also be used to show disbelief. For example, when a friend calls to tell me she saw my favorite perfume being used at a dog groomer's in Atlanta. Believe me, that makes your hand pause when you reach for your perfume bottle the next morning.
So the term, "Good gravy" means a heck of a lot more than just that you make good gravy. But when this southern gal achieved the status of actually making good gravy, I should have written it down in the family bible. It was that big of a deal.
I'm not quiet sure how old I was, but I remember the skillet and my grandmother's green milk glass bowl that I used to make it. I remember her standing patiently by my side telling me I needed to reduce the heat even more and to move the wooden spoon through the gravy in the pattern of an eight. And I remember the pride of placing that bowl of gravy on the table beside a plate piled high of biscuits. And I remember my grandmother smiling across the table at me and saying, "You made really good gravy."
How to Make Southern Gravy
Here's how she taught me to make it.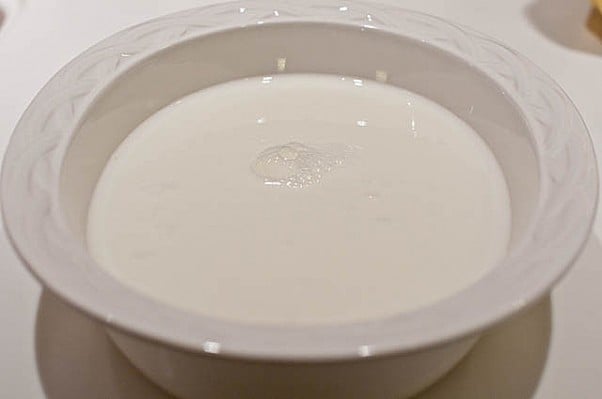 Fill a bowl with 2 parts milk or cream and 1 part water to equal the amount of gravy you want.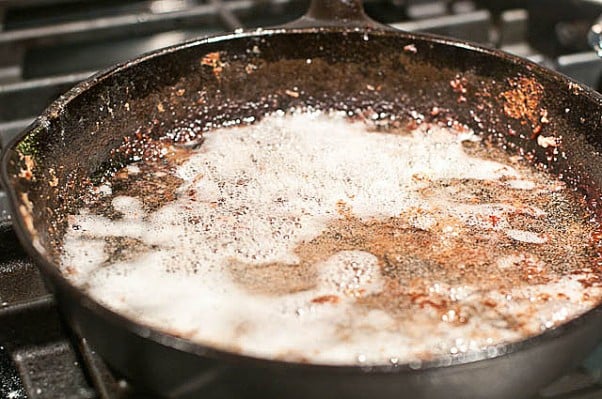 Reserve the grease after frying beef, pork, or chicken. I'd made Cubed Steak and used the leftover drippings.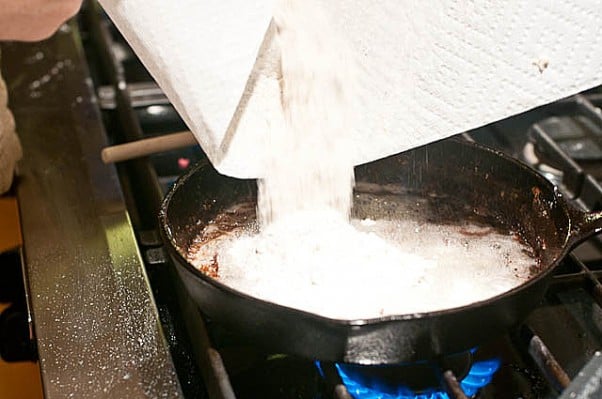 Pour in enough flour to cover the bottom of the skillet.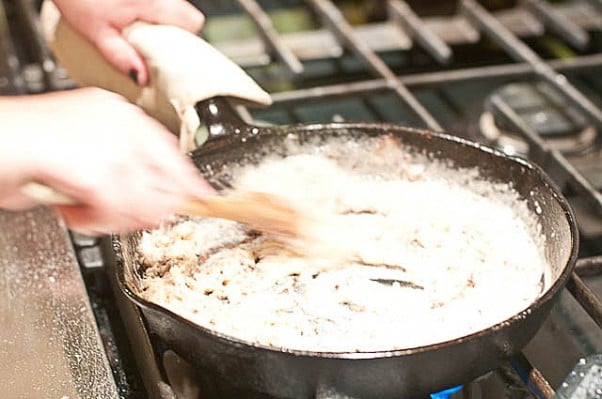 And stir, being sure to get all the little bits of goodness in your skillet.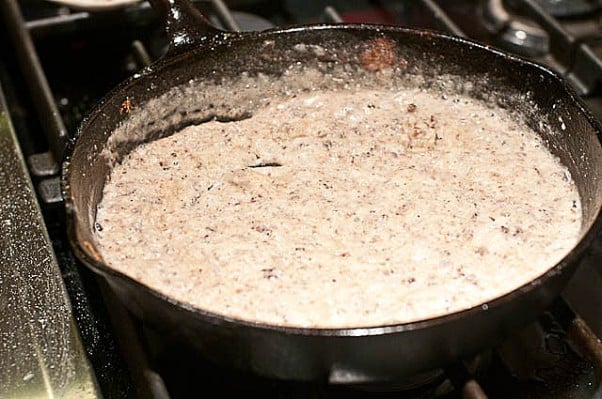 Cook it until it is nice and browned.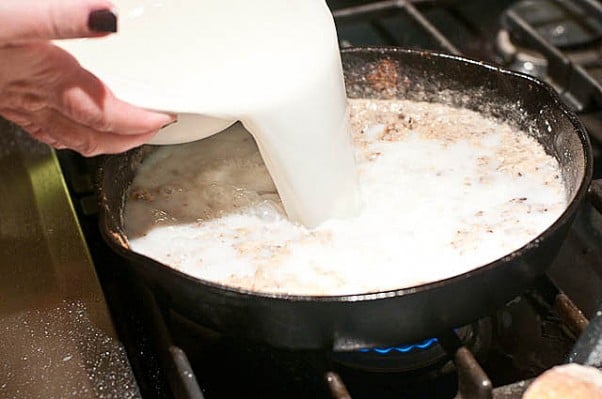 Pour in your milk and water.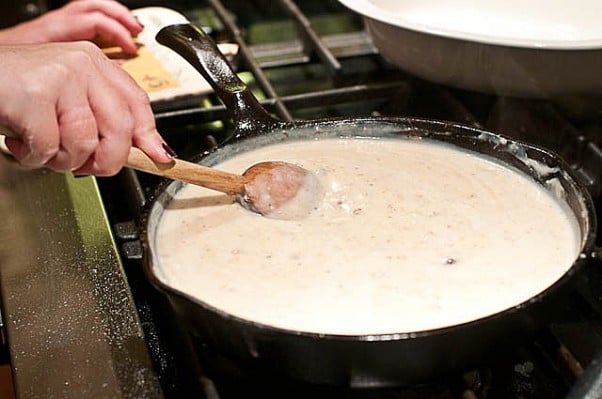 And stir. Cook over low heat until the consistency is thick like… well… gravy.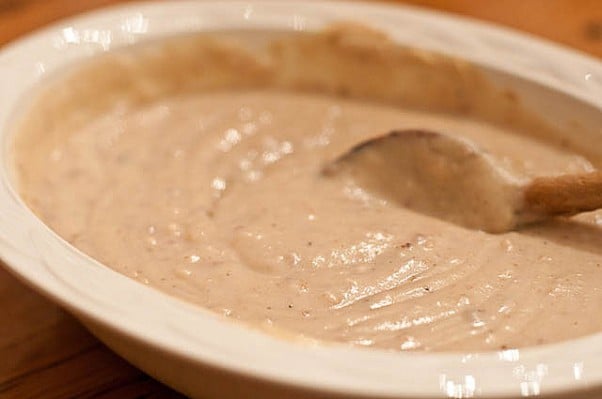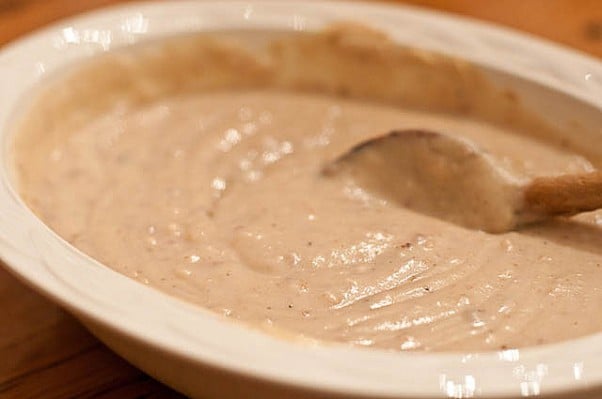 Southern Gravy Recipe
Recipe for Southern gravy
Ingredients
Milk

Water

1

cup

flour

1

teaspoon

kosher salt

1

teaspoon

ground black pepper

2

cups

reserved meat drippings
Instructions
Pour 2/3 part milk and 1/3 water equal to the amount of gravy you plan to serve into a bowl.

Set aside.

Mix together flour, salt and pepper. Set aside.

Heat meat drippings, pour in dry ingredients and cook until browned.

Stir constantly.

Reduce heat to low and pour in milk and water.

Stir well until mixture has thickened.

Remove from heat.
Nutrition
Calories:
470
kcal
|
Carbohydrates:
9
g
|
Protein:
1
g
|
Fat:
47
g
|
Saturated Fat:
18
g
|
Cholesterol:
44
mg
|
Sodium:
303
mg
|
Potassium:
13
mg
|
Calcium:
2
mg
|
Iron:
0.6
mg
Nutrition information is automatically calculated, so should only be used as an approximation.
Serve with southern buttermilk biscuits and a loose waistband.
Enjoy!