Salmon patties, or salmon croquettes as they are sometimes called, make a delicious, quick meal. This is a traditional southern salmon patties recipe.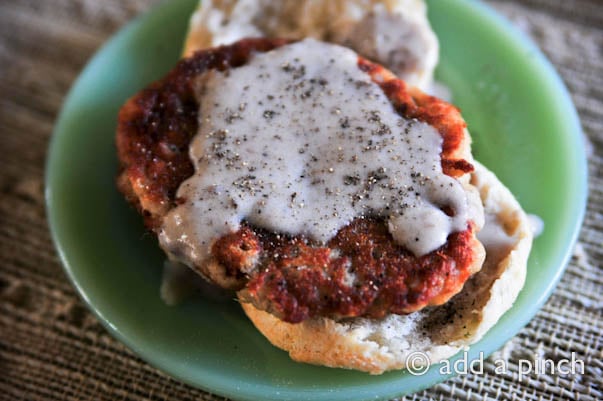 We wore a trail through the field to my aunt's and uncle's house from our almost daily visits. Situated just behind our house with gardens, barns, and pastures between us, we made a path connecting our backyards. While our yard was filled with a see-saw and Barbie dolls, theirs had baseballs, footballs, and a basketball hoop. Their playroom was filled with Matchbox cars and Mad magazines which always was more interesting to me than the baby dolls that were in ours.
Throughout my life, I thought of their home as my third – only behind my own house and my Grandmothers.
My aunt always had supper ready by 6:00 and you could guarantee it was delicious. Her stove would be filled with pots and pans brimming with vegetables from their garden. Beans, peas, potatoes, corn, okra – everything my uncle had worked the season to grow and my aunt had worked to preserve. You could always find a story with every meal you had with them. Stories of battling Japanese beetles, knowing how to tell if the corn was ready to pick, and trying out a new way of planting and staking tomatoes. Stories of my aunt making vegetable soup with her mother as a young girl and "putting up" more vegetables than her freezer would hold. At the time, I was more interested in hearing my cousins talking about their day or telling a joke they'd heard at school. Now, stories of gardening and cooking are the stories that I hear my sister and I telling one another – just a different generation of them.
Just as those stories weren't what I was pining for as a young girl, my Mama also made a meal that was one of my Daddy's favorite and was far from my own. I could smell it cooking as I walked down the steps and into our kitchen and would try to think quickly of some reason why I should eat any other supper but the one she had prepared.
Just like those stories, it is a meal that I find myself enjoying now. It's not one that I prepare often, although it is definitely delicious, but one that I prepare when a deep sense of nostalgia hits me and I need the comfort of a meal my Daddy loved.
It makes me enjoy it all the more.
Here's my family's Salmon Patties recipe, sometimes referred to as salmon croquettes.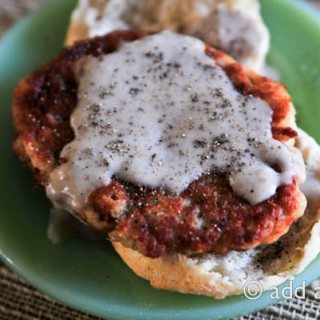 Southern Salmon Patties Recipe
Salmon patties, or salmon croquettes as they are sometimes called, make a delicious, quick meal. This is a traditional southern salmon patties recipe.
Ingredients
1

(16-ounce) can

salmon

1

large

egg

1/4

cup

milk

1/2

cup

self-rising flour

1/2

teaspoon

kosher salt

1/2

teaspoon

ground black pepper

3

tablespoons

canola oil
Instructions
Drain and place salmon into a medium bowl, discarding any skin or bones. Break apart salmon into pieces with a fork.

Add eggs, milk, flour, salt and pepper and combine well.

Heat vegetable oil over medium heat in a large skillet. Spoon equal portions of salmon into the skillet to make patties. Cook until browned on each side, turning once. Remove from the skillet and drain on paper towel. Serve warm.
Nutrition
Calories:
89
kcal
|
Carbohydrates:
6
g
|
Protein:
2
g
|
Fat:
6
g
|
Saturated Fat:
5
g
|
Cholesterol:
27
mg
|
Sodium:
159
mg
|
Potassium:
28
mg
|
Fiber:
1
g
|
Sugar:
1
g
|
Vitamin A:
50
IU
|
Calcium:
13
mg
|
Iron:
0.2
mg
Nutrition information is automatically calculated, so should only be used as an approximation.
Serve immediately over buttermilk biscuits and topped with a delicious gravy.