These are the most fluffy, delicious Scrambled Eggs! They are great for breakfast or a light supper! Learn how to scramble eggs with this essential recipe!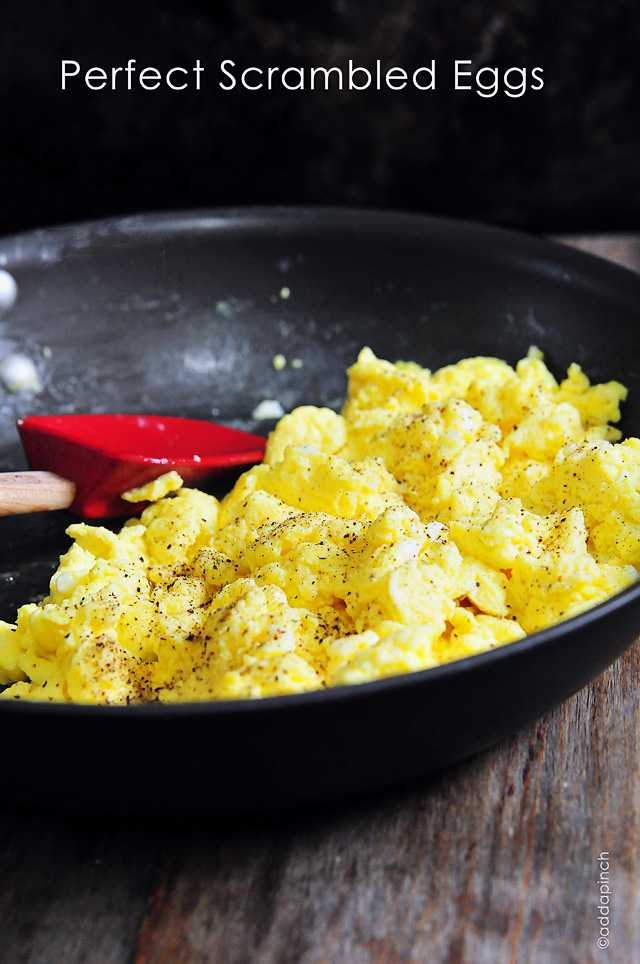 My father taught me how to scramble eggs when I was a little girl and that lesson has stayed with me all these years. And I think these are the best scrambled eggs ever.
You see, when I was little, Mama was finishing Nursing School and spent many evenings and weekends working toward her degree. During that period, Daddy became the master chef in our house or we'd stay at my Grandmother's even after Daddy got home from work and eat supper with her.
I always loved to see what Daddy had planned as he just took everything in perfect stride. Takeout or fast food was never an option as the town we lived in didn't even gain a fast food restaurant until my junior year of high school.
For that I am now very grateful.
Scrambled Eggs Recipe
One of Daddy's specialties was scrambled eggs. They were always so light and fluffy that you felt as if you were biting into a cloud!
He'd sing as he cracked open the eggs into a huge avocado green bowl with little handles on the side, tossing the egg shells over his head trying to ring the trash can behind him. Of course I would stand in amazement as shell after shell neatly whooshed into the garbage can as if it dared to do anything else.
He'd wink at me and say, "Aren't you glad they all went in? That could've been a mess."
His eggs were always so tender and tasty and were absolutely my favorite.
Here are the tips he taught me as a little girl that I still use today for perfect scrambled eggs every time.
How to Scramble Eggs Tips
– Cook in a nonstick or cast-iron pan sized for the number of eggs you will be cooking.
– Heat the pan for about 3 – 5 minutes before you add your eggs to prevent them from sticking.
– Use a wooden spoon or silicon spatula
– Whisk well. Don't wimp out on the whisking part
– Add about 1 – 2 tablespoons of milk, cream or water to your eggs as you whisk
– Leave out the salt and pepper until your eggs have cooked. Salt added too early will cause your eggs to not be as moist
Scrambled eggs are truly an essential recipe that is perfect for breakfast, a lazy brunch, or even breakfast for supper. I hope you try these soon and love them as much as I do!
More Favorite Recipes with Eggs
If you enjoy including eggs in your meals, I think you will really like my Easy Eggs Benedict (I include easy instructions on how to poach eggs in the oven), my Homemade Egg McMuffins, as well as my Avocado Baked Eggs. There's nothing like some classic Deviled Eggs as an appetizer or side dish with a delicious family meal or a simple, yet scrumptious Classic Egg Salad Sandwich for lunch!
For those of you who like to plan ahead or have your own chickens, you'll love this easy tip on How to Freeze Eggs. It's always nice to have those extra eggs on hand in the freezer!
There are many more recipes featuring eggs here on the site. I hope you find many more that you and your family enjoy!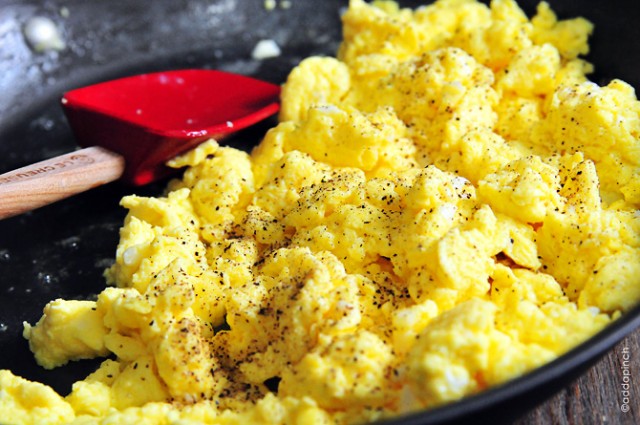 Here's my recipe for perfect scrambled eggs that I think you'll love.
How to Scramble Eggs Recipe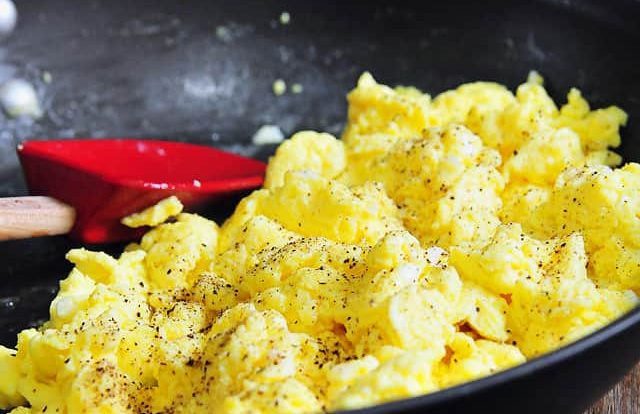 These are the most fluffy, delicious Scrambled Eggs! They are great for breakfast or a light supper! Learn how to scramble eggs with this essential recipe!
Ingredients
5

eggs

1 to 2

tablespoons

milk

cream, or water

2

tablespoons

butter

salt and fresh ground black pepper

to taste
Instructions
Crack eggs and pour into a large bowl. Add milk, cream or water.

In the meantime, add butter to a nonstick pan or cast iron skillet over low to medium heat to melt. Swirl melted butter around pan to ensure bottom and sides are well-coated and heat until the butter shimmers, about 3 – 5 minutes, making sure that the pan is well-heated.

Whisk eggs vigorously until the eggs become a golden color and are well-combined. Air bubbles will begin to show in your egg mixture if you have whipped in plenty of air. Immediately pour eggs into prepared skillet and cook slowly.

Do not stir the eggs until the sides have begun to turn a lighter shade than the rest of the eggs and have begun to gently pull away from the buttered edges of the pan. Using a silicon spatula or a wooden spoon, gently pull the eggs toward the center of the skillet, bringing large curds with you as you do so. Where you pulled the eggs toward the center will quickly fill with uncooked egg mixture.

Continue to pull the curds toward the center of the entire skillet and gently stir the eggs until there is no more visible uncooked eggs. Stir eggs gently and remove from heat. Be sure not to leave eggs on the heat too long as they can quickly overcook and become dry and rubbery.

Salt and pepper eggs to taste and serve warm.
Notes
You can add any number of ingredients to your egg mixture before scrambling, as long as it doesn't include too much liquid. Some suggestions include: grated cheese, salsa, sauteed mushrooms and/ or onions, spinach, or even bacon.
Nutritional Information
Calories:
262
kcal
|
Carbohydrates:
1
g
|
Protein:
14
g
|
Fat:
22
g
|
Saturated Fat:
11
g
|
Cholesterol:
440
mg
|
Sodium:
259
mg
|
Potassium:
152
mg
|
Sugar:
1
g
|
Vitamin A:
945
IU
|
Calcium:
70
mg
|
Iron:
1.9
mg
Now, to figure out how Daddy always made his shot with those egg shells!
What's your favorite way to enjoy scrambled eggs? Do you have any tips to share?
Enjoy!
Robyn xoxo
From the Add a Pinch recipe archives. Originally published 2013.