Can you freeze eggs? Absolutely! Learn how to freeze fresh eggs to preserve them for later use and then how to use them in everyday cooking and baking!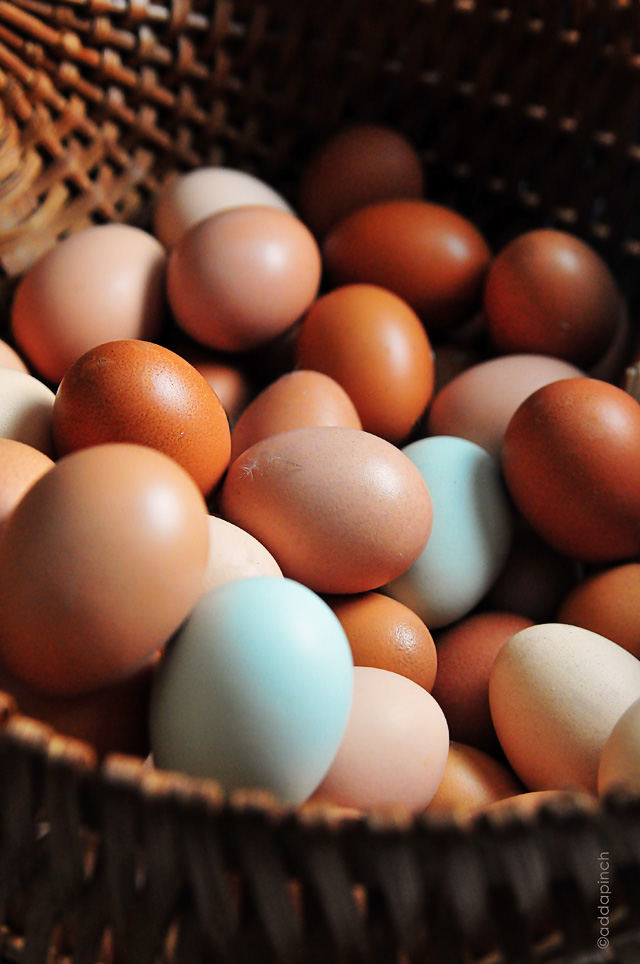 Did you know that you can freeze eggs? When we had pet chickens on our farm, we quickly realized that once we'd shared all that our neighbors, friends, and family wanted, we need to find another way to preserve them. That's when I asked my great aunt, "Can you freeze eggs?" I was beyond delighted to hear her answer that YES! She had been doing it for years!
I'm excited to share this wonderful method with you! It is a great method to use when you have eggs that you won't be using before they expire, you find eggs on sale, or you are preparing ahead for busier times.
Knowing that you have a few basics like eggs in the freezer that you can use later certainly is a stress-reducer in my book.
How Do You Freeze Fresh Eggs?
You'll only want to use fresh, clean eggs.
Spray a muffin tin with non-stick cooking spray or olive oil.
Break an egg out of its shell into each of the indentions of the muffin tin. Repeat until all of the muffin tin indentions are filled. Carefully whisk each egg until just beaten.
Cover the muffin tin with freezer-safe plastic wrap and place it into the freezer until each of the eggs is frozen well, about 30 minutes to 1 hour.
Remove the individual eggs from the muffin tin and place them into a dated freezer-safe container, such as a zip-top freezer bag. Remove as much of the air from the freezer bag as possible, and seal the bag and return it to the freezer.
How Long Do Eggs Keep in the Freezer?
Properly prepared, frozen eggs will keep for up to one year in the freezer.
How to Use Frozen Eggs
To use eggs that have been frozen, remove the number of eggs needed and allow them to thaw in a bowl in the refrigerator overnight.
If you are needing to use the eggs separately, remember to separate each egg into individual bowls. If you are using multiple eggs, then thawing together is fine.
You can also thaw frozen eggs inside of a sealed ziptop bag under cold running water.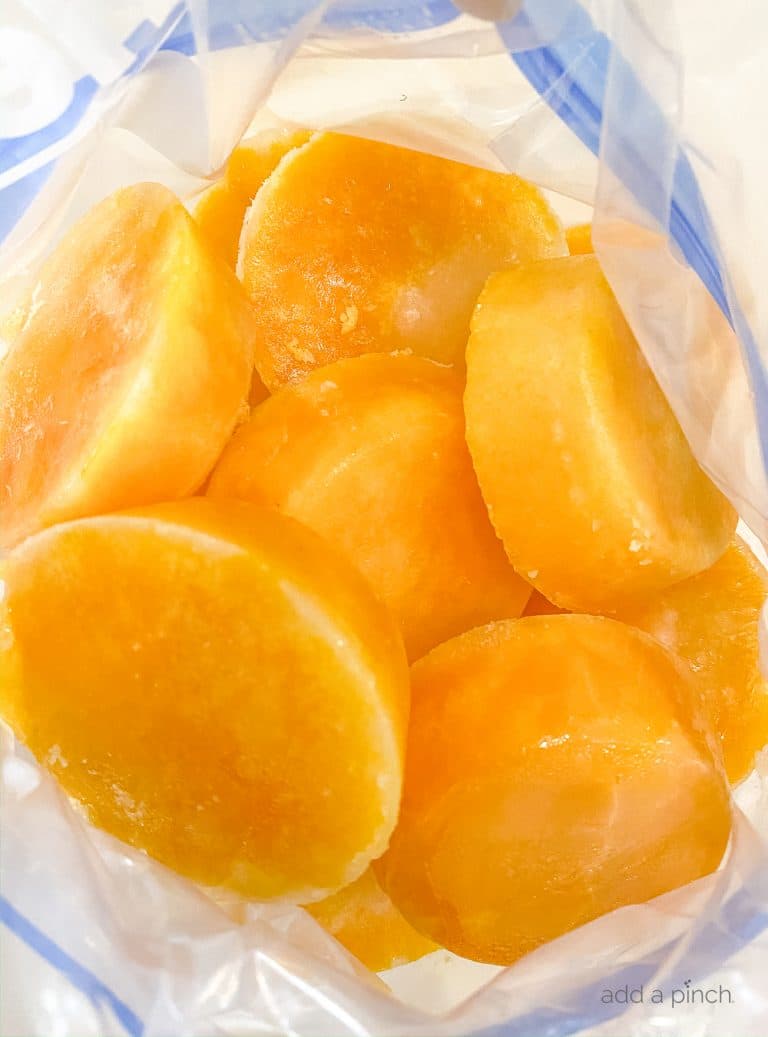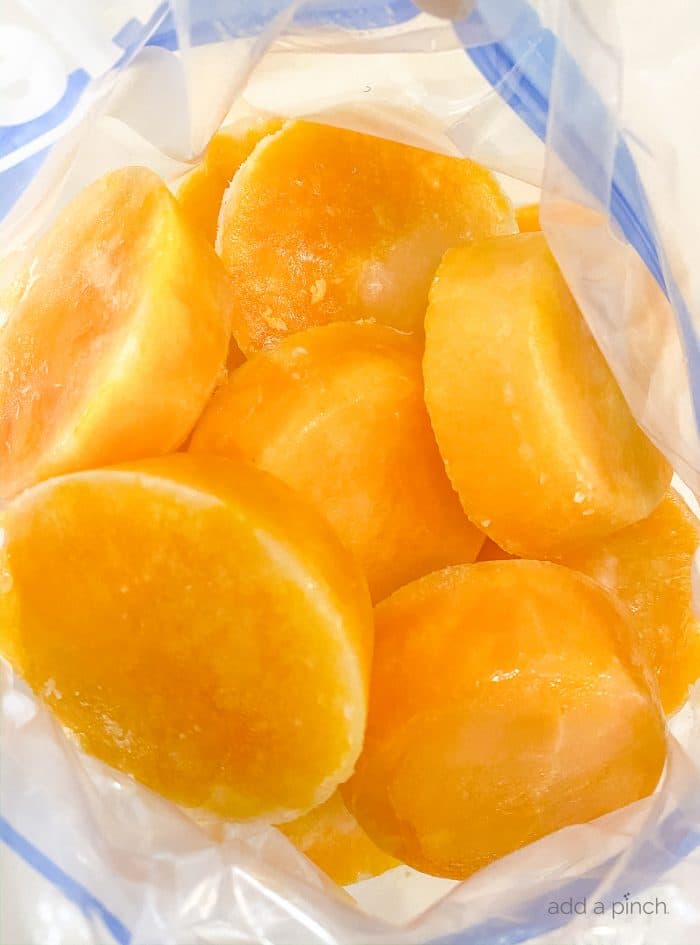 Favorite Recipes Using Previously Frozen Eggs
We use our frozen and then thawed eggs in most of our favorite recipes using eggs.
From everyday cooking – such as scrambled eggs, quiche, and breakfast casseroles – to baking our favorite cakes and pies – chocolate cake, vanilla cake, and pecan pie.
The recipes that I don't use frozen and then thawed eggs are recipes that require a poached egg – such as eggs benedict. However, I will make a variation of that and make a fried egg instead of poached to use instead.
I thought you might like to know this little trick, too. Essentials like this one certainly come in handy from time-to-time and are a help when in a pinch!
Here's how I freeze eggs to use later. It's a good thing to know.
How to Freeze Eggs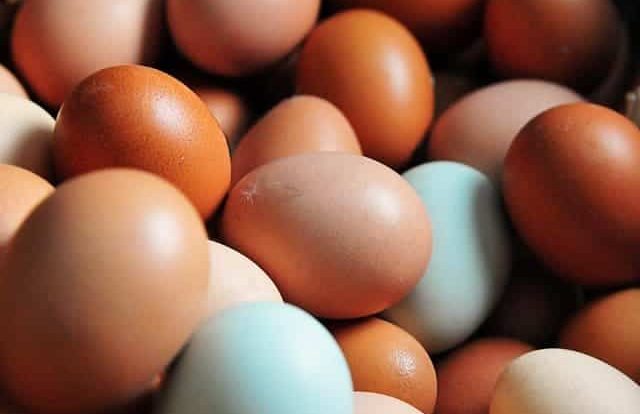 How to Freeze Eggs – Learn how to freeze eggs to preserve fresh eggs for later use!
Instructions
Spray muffin tin with cooking spray.

Break an egg out of its shell into each of the indentions of the muffin tin. Whisk each egg carefully with a fork to break up the yolk.

Place muffin tin in the freezer to flash freeze the eggs, at least 30 minutes.

Remove muffin tin and remove each frozen egg from the muffin tin and place it into a zip top freezer bag that has been labeled with the date. Roll the zip top bag to remove as much air from the bag as possible and close. Return the bag and the eggs to the freezer for up to one year.

To use a frozen egg, just remove the number of individual frozen eggs you need from the zip-top bag and place it in a bowl (or bowls) in the refrigerator overnight to thaw. Then use for any number of recipes – scrambled eggs, omelets, quiches, or baking.
Notes
Nutrition Value: Calculated on 1 large egg.
Nutritional Information
Serving:
1
egg
|
Calories:
70
kcal
|
Protein:
6
g
|
Fat:
5
g
|
Saturated Fat:
1.5
g
|
Cholesterol:
185
mg
|
Potassium:
70
mg
Enjoy!
Robyn xo