Baked Eggs in Avocado Cups Recipe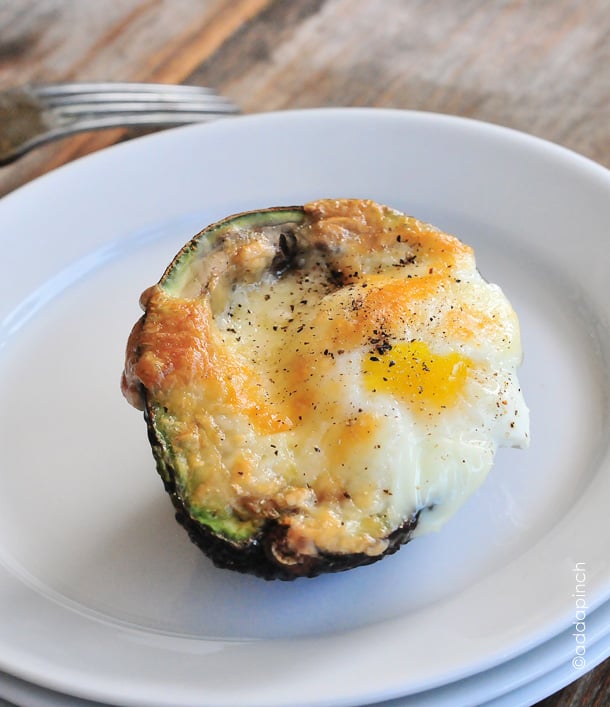 Even though this past week I made three cakes, yes… three, we're trying to watch the amount of bread we eat.  It is just so easy to make waffles, pancakes, biscuits, muffins, scones, or even egg in the hole or breakfast burritos that it had become second nature to load up in the mornings on a bread-laden breakfast.
Breaking from that hasn't been as easy for me as I would like to admit. Sure, I've been drinking lots of smoothies, eating my yogurt, having a scrambled egg, but I was ready for something different. That's when I fell for these Baked Eggs in Avocado Cups.
And you know, these baked eggs in avocado cups couldn't be any easier to make either.
Three ingredients, bake for 15 minutes, and your done!
Hoo-rah!
How simple is that?!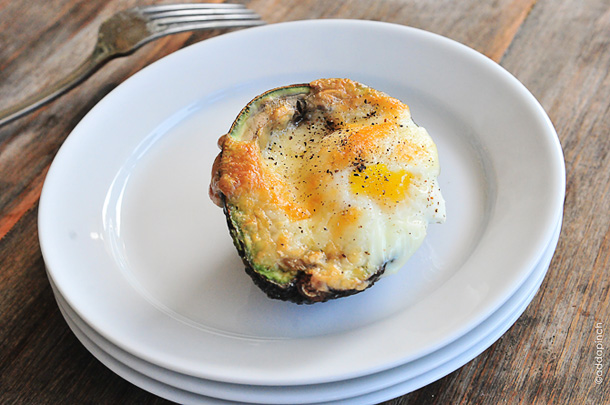 Here's the recipe for my Baked Eggs in Avocado Cups that you can print, save or just bookmark for later use.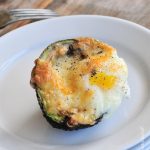 Print Recipe
Baked Egg Avocado Cup Recipe
A Baked Egg Avocado Cup is a quick-fix, delicious recipe for breakfast or brunch.
Prep Time2 mins
Cook Time15 mins
Total Time17 mins
Servings: 2
Calories: 329kcal
Ingredients
1 avocado halved with pit removed
2 medium eggs
2 ounces pepper jack cheese grated
salt
pepper
Instructions
Preheat oven to 425 degrees.

Place avocado halves onto baking sheet or inside of a cast iron skillet. Break an egg into the indented area where the avocado pit was previously. Sprinkle with pepper jack cheese.

Place into the preheated oven and bake for 15 minutes, or until the egg is set to your preference.

Remove from the oven, sprinkle with salt and pepper and serve warm.
Notes
You may also garnish with a drizzle of your favorite salsa.
Nutrition
Serving: 1g | Calories: 329kcal | Carbohydrates: 9g | Protein: 14g | Fat: 27g | Saturated Fat: 8g | Cholesterol: 188mg | Sodium: 221mg | Potassium: 571mg | Fiber: 6g | Vitamin A: 600IU | Vitamin C: 10.1mg | Calcium: 248mg | Iron: 1.5mg
I hope you love this recipe as much as we do!
Now, I think I'll go see if there is any cake left. It's all about priorities, ya know.