Shrimp and Grits Bites
Remember a while back I shared my go to recipe for shrimp and grits? I just have to share with you another dish I made with that simple shrimp and grits recipe. For lack of a better name, I call them Shrimp and Grits Bites. Here's how they came about.  You see, as usual I overcooked. I have this thing about always cooking too much food. I'm sure it stems from the Mother's Day of Way Back When that all of my sisters-in-law and I decided we would prepare the Mother's Day meal for my mother-in-law.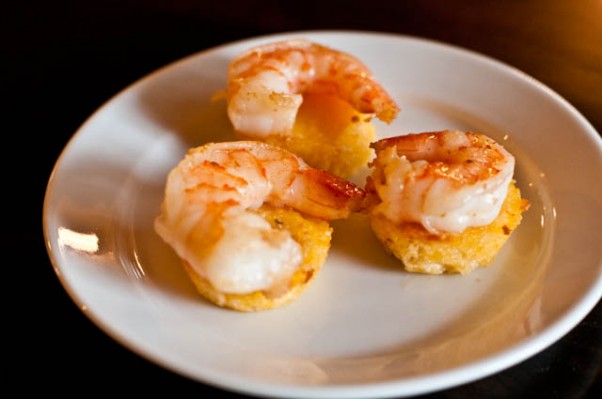 Before I go any further, I just have to tell you that my mother-in-law can easily handle a seated dinner for 30 – 40 people on a routine basis without even thinking about breaking a sweat.  It's amazing to watch her as she performs the dance you can tell she's performed many times before. Seemingly effortlessly, she serves a perfectly cooked, elegant meal with all the trimmings.
Well, the same could not be said for this fateful Mother's Day.  We ran out of food.
Mortification doesn't even begin to describe the feeling. Humiliation comes a lot closer. Hilarity has since stuck his head into the picture. It's certainly a Mother's Day we've never forgotten, nor likely will. My mother-in-law's sage advice of, "always prepare a little more than you need" is now just ingrained in me.
Therefore, I overcook. Luckily that lead to having fun in the kitchen making these scrumptious little appetizers that I sure think you'll like, too.
Here's how I made them.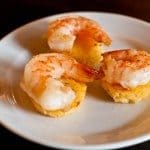 Print Recipe
Shrimp and Grits Bites
Prep Time10 mins
Cook Time15 mins
Total Time25 mins
Servings: 6
Instructions
Preheat oven to 350º Fahrenheit

Spoon prepared grits into mini muffin tin. Bake for 30 minutes or until golden brown. Remove from oven and allow to cool in the pan for about 5 minutes.

Remove grits to a serving platter and top with prepared shrimp.

Serve warm.
Enjoy!
Have you ever had a major kitchen disaster like I did? I certainly would love to commiserate with you about it. Oh what the hay, I really just want to feel a little bit better about ours. Will you share?