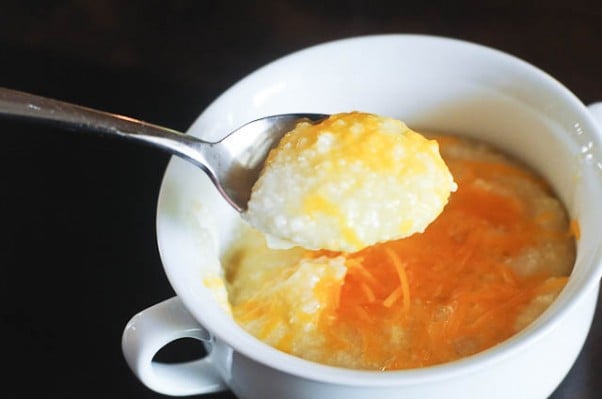 I'm not sure how old I was when I first tasted grits, most likely my Mother or Grandmother started me eating them as one of my first foods when I was a toddler. They both always made the best grits – creamy, buttery, and cooked to perfection.
I remember spending the night with Grandmother and waking up to the intoxicating, heady aroma of bacon crackling in her cast iron skillet. I'd quickly wipe my eyes and head down the long hallway of her house toward her kitchen where she was humming her favorite hymnals as she prepared our breakfast. I always wanted to be the first one into the kitchen with her when she was cooking to watch her perform her magic and to hopefully be able to taste test any number of dishes she was preparing.
Even as a young girl, I remember being mesmerized watching her in the kitchen. For breakfast she'd have a pitcher of orange juice, a pot of coffee, her bacon nearly done in the cast iron skillet that was slick and shiny from years of use. Her biscuits were neatly placed in one of her biscuit pans and rising in the oven while the eggs sat in a bowl on the counter waiting to be scrambled in a bit of the bacon drippings once the bacon had been cooked. But on the back eye of her stove stood a pot with grits thick from being cooked since very early in the morning with cream and butter just waiting on cheese to top it off.
Pure and total comfort.
Now I can easily buy grits in any number of varieties at just about any grocery store I step into below the Mason Dixon line and have even been shocked to find some when visiting other parts of the country. But old fashioned, stone ground grits are the preferred grit around my house. Luckily for me, you can cook them without having to get up before the rooster crows like my Grandmother did by using the slow cooker.
Here's how I make them.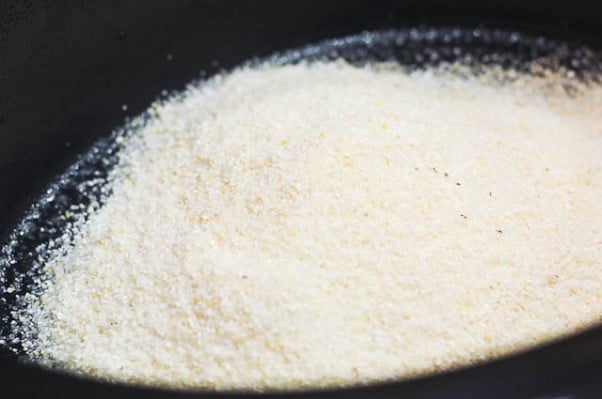 Spray the crock of your slow cooker with non-stick cooking spray. Then add in your grits.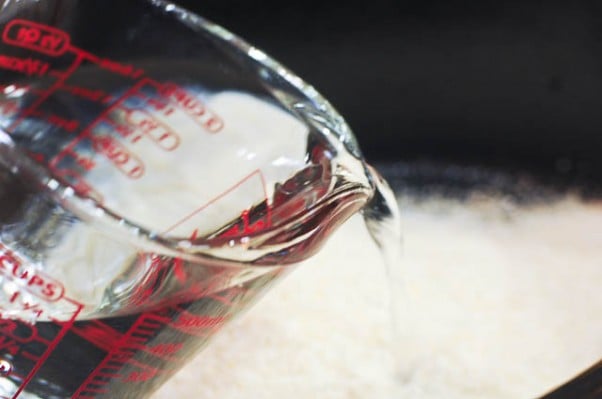 Pour in your water..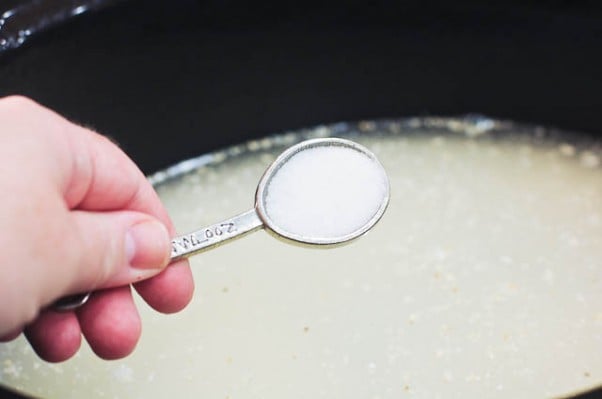 and add your salt.
Now turn on low and cook overnight for about 7 hours.
When you wake up, add in your cream…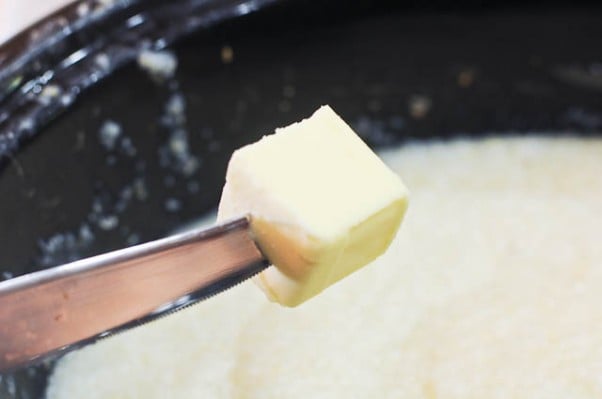 butter…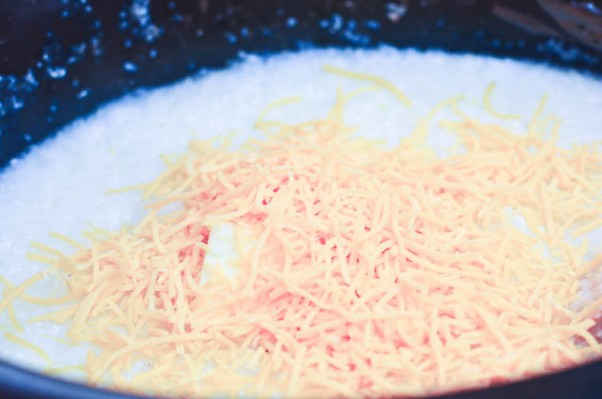 and grated cheese.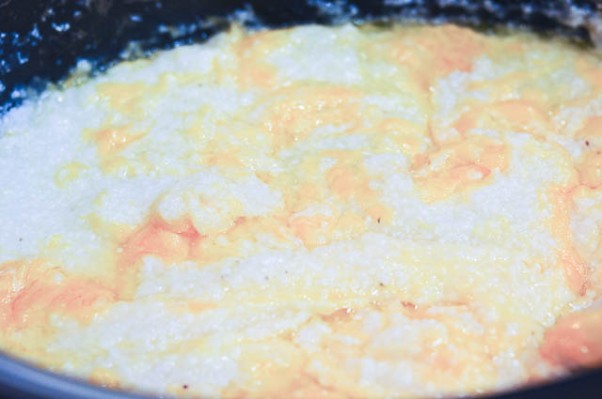 Stir, cover, and cook until all of your cheese has melted.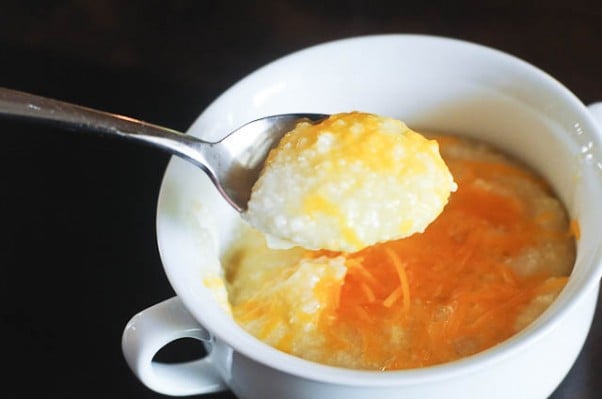 Serve it with another little bit of cheese and butter and enjoy.
Oh, and maybe scramble a few eggs and bacon to go with it. Grits are always better with a few of her friends.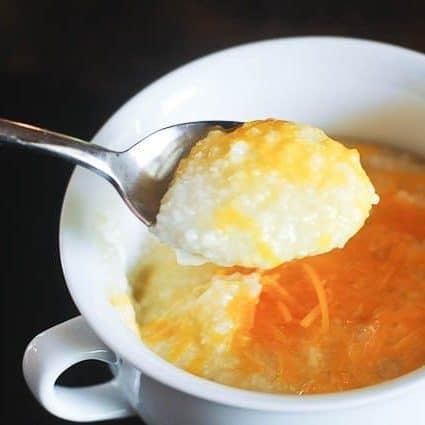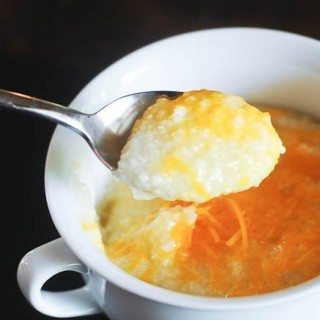 Slow Cooker Grits Recipe
Slow Cooker Grits make any morning easier. Get this recipe for stone ground grits cooked in the slow cooker.
Ingredients
1 1/2

cups

stone ground grits

6

cups

water

2

teaspoons

kosher salt

2

cups

cream

4

tablespoons

butter + more

12

ounces

grated cheddar cheese + more
Instructions
Spray crock of slow cooker with non-stick cooking spray.

Add grits, water and salt. Cook on low setting for 7 hours or overnight.

Before ready to serve, remove lid and add cream, butter, and grated cheese.

Serve with additional butter and grated cheese.
Nutrition
Serving:
1
cup
|
Calories:
357
kcal
|
Carbohydrates:
17
g
|
Protein:
10
g
|
Fat:
28
g
|
Saturated Fat:
18
g
|
Cholesterol:
94
mg
|
Sodium:
618
mg
|
Potassium:
84
mg
|
Fiber:
1
g
|
Sugar:
1
g
|
Vitamin A:
1025
IU
|
Vitamin C:
0.2
mg
|
Calcium:
235
mg
|
Iron:
0.4
mg
Nutrition information is automatically calculated, so should only be used as an approximation.
What's your favorite thing to eat alongside grits?
Enjoy!
Robyn