This quick and easy taco recipe makes a simple weeknight favorite recipe that couldn't get much easier! Or more delicious!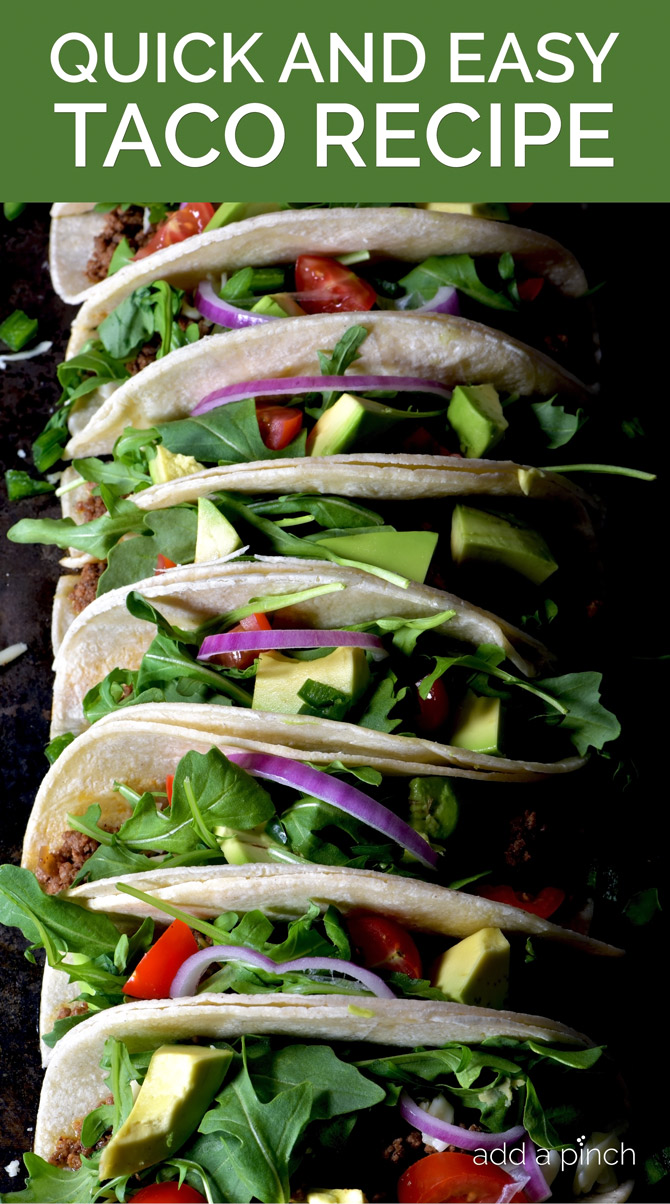 This is our last week of classes before finals next week to finish up Sam's seventh grade year. Since last August, Sam's gone two days a week to an independent homeschool academy for classes. He has absolutely loved it and I've certainly loved that he's getting instruction from facilitators who are experts in the fields in which they are teaching. We'll take a break for a few weeks and then dig into studies for the summer. I learned the summer after our first year of homeschooling that year-round schooling was perfect for us!
You may be wondering why in the world am I carrying on about our whole school situation this late in the school year?
Well, besides the fact while there is much celebration at the end of one school year, I always become a bit more intent on soaking up every second that I have with Sam as he's growing up and before he's off to college. I know, I still have a few years to worry about packing him up for college (ha!), but it just seems like yesterday we were registering for pre-school and then buying our first textbooks for homeschooling. And now, I'm ordering high school textbooks and he's researching Eagle Project ideas. In other words, the years are flying!
One thing I've definitely learned is that while I absolutely love, love, love cooking, when I'm helping him study for tests, get final projects ready to hand in for the end of the year, work on Boy Scout projects that have been lingering a bit longer than they should have been, and all that goes along with being a wife and Mama, there are nights when I just need the easiest thing possible to make for supper.
Even with planning ahead and making so many of these 50 slow cooker recipes for supper and other quick meals that I've shared with you before, there are just days that seem like 5 o'clock rolls around before I've even finished my first cup of coffee!
Do you ever have days like that?
That's when I absolutely need recipes like this quick and easy taco recipe. I think the name probably tells you exactly about why I love it so much. 
Quick and Easy Taco Recipe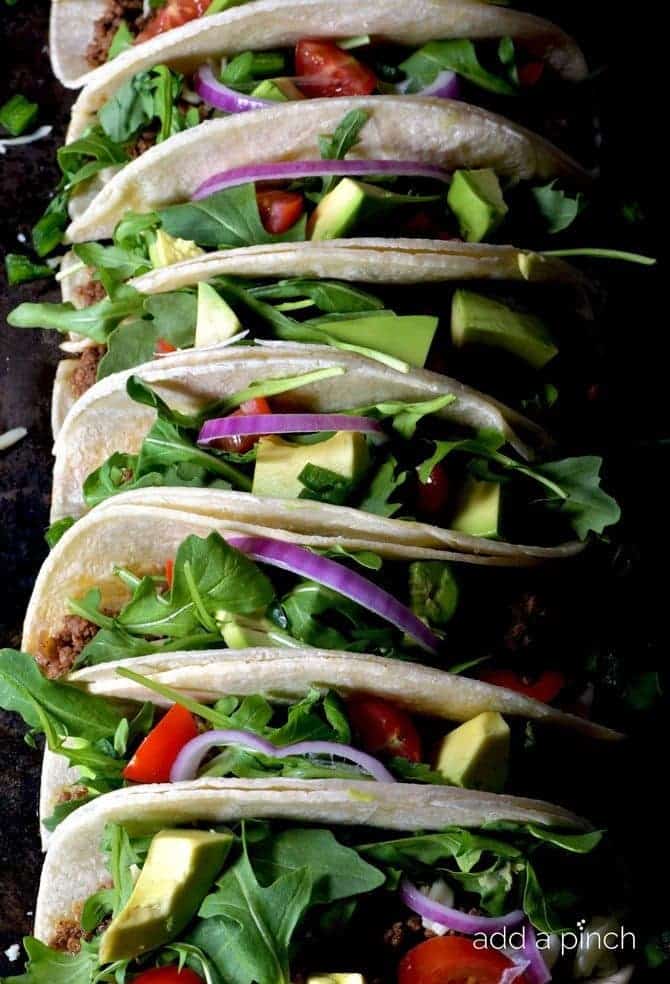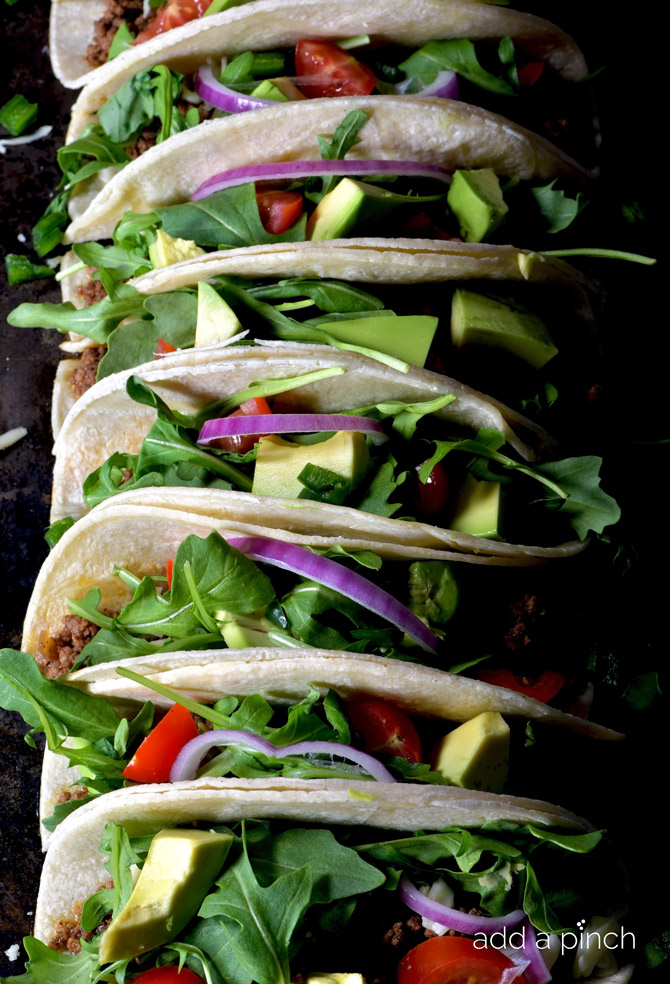 In just a matter of minutes, I can have these tacos ready and on the table for my family. Little do they know that it could be considered a throw together meal. Buy hey, it has protein, a rainbow of colorful vegetables, and tons of flavor. They just think it makes an awesome meal. Shhh. Don't tell them my secret. Ok?
Here's my Quick and Easy Taco Recipe. Make 'em soon when you need a quick-fix meal!
Quick and Easy Taco Recipe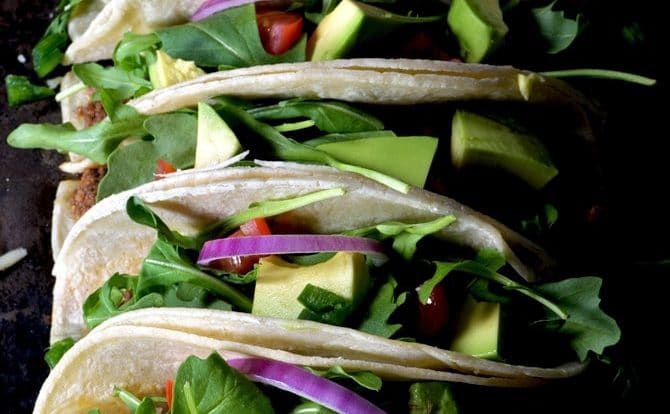 This quick and easy taco recipe makes a simple weeknight favorite recipe that couldn't get much easier! Or more delicious!
Ingredients
8

(6-inch)

flour or corn tortillas, lightly browned or left soft

1 1/2

pounds

ground beef

4

tablespoons

taco seasoning

1

cup

arugula

other spring greens or shredded iceberg lettuce

1

cup

grape tomatoes

sliced in half

1/2

red onion

sliced

1

avocado

peeled, pitted and sliced
Optional toppings:
grated pepper jack cheese

sour cream
Instructions
Add ground beef to a medium skillet set over medium heat. Sprinkle with taco seasoning, stir to combine well, and cook until the meat is cooked through and browned, about 7 minutes. Remove from heat and drain away any excess drippings.

Assemble tacos by spooning ground beef into each tortilla and then topping with preferred toppings of arugula, tomatoes, onion, avocado, cheese, sour cream and salsa.