The BEST Chicken Enchiladas Recipe
Chicken Enchiladas make a perfect weeknight meal! These are seriously the BEST chicken enchilada recipe and one the whole family loves!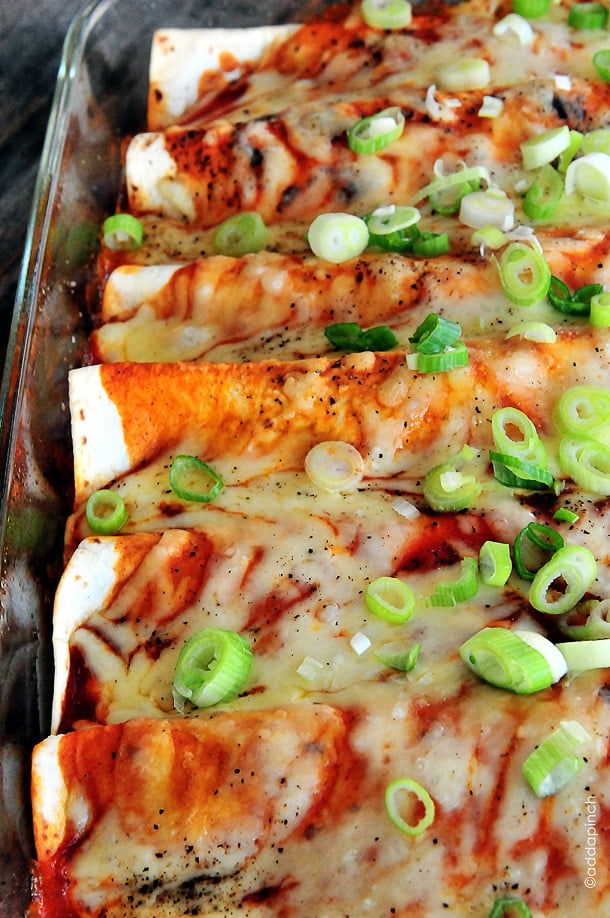 I've been cooking with so much cheese lately, I'm beginning to think I should look into buying stock in a local cheese maker's business. I've always loved cheese and cook with it as often as humanly possible, but my cheese cooking ratcheted up a notch or two about a week or so ago after a visit to my son's orthodontist.

You see, my son has the contraptions called quads that he has to wear for at least a year to help reshape the alignment of his bite. These quads have made it pretty difficult for him to eat many of his very favorite things, like grilled cheese sandwiches piled thick with melty, stringy cheese and cheese quesadillas that are crisp and crunchy on the outside but filled with creamy, delicious cheese that strings on the inside. You know the kind that strings from your mouth to your hand when you take a bite. It's the sort of quesadilla that little boys just love – well, mine at least. The problem with these two favorites has been with the cheese. The cheese and his quads do not exactly get along very well.
It's been just pitiful.
A while back, we had to make a special trip to have the quads adjusted because the bottom quad kept popping loose on one side, making it difficult for Little Buddy to talk, swallow, or eat or drink anything. With one look in his mouth, his orthodontist grabbed a tool, reached inside of his mouth and just pulled the bottom quad right out. He placed it on a tray beside of my son and said, "you have three weeks to get these three loose teeth out that are making the quad come loose. After that, we'll put this quad back in and be back in business."
You would have thought it was Christmas morning. I've never seen such a skip in his step or huge smile on his face outside of walking through the gates of Disney World. He was ecstatic.
As a matter of fact, that night, he worked until he had pulled all three of his loose teeth so that he would have the rest of the time to just enjoy eating what he wanted to without having to worry about his quad being in the way. And that involved cheese – and lots of it!
Our meals have been down-right filled with quesadillas, grilled cheese sandwiches, cheese eggs and omelets, cheese toast, etc. Quiet honestly, if cheese would go on it, we piled it on high!
Tomorrow, we head back to the orthodontist for the return of the bottom quad and a cut back on our extreme cheese binge, but until then, I'm going for it.
Which brings me to these chicken enchiladas. The cheese on these babies is what dreams are made of.
And this chicken enchilada recipe couldn't be any simpler. Really. The hardest part of the entire recipe is taken care of for you with the slow cooker, or crock pot as my Grandmother called it. I just tossed my chicken thighs into my slow cooker with my homemade enchilada sauce and set the timer. That doesn't sound too bad at all, does it?
These chicken enchiladas are absolutely the best I've ever tasted, too. I would say its because the chicken cooked in that delicious enchilada sauce all day, but really, I think it's the layering of flavors and textures that hits this right out of the park.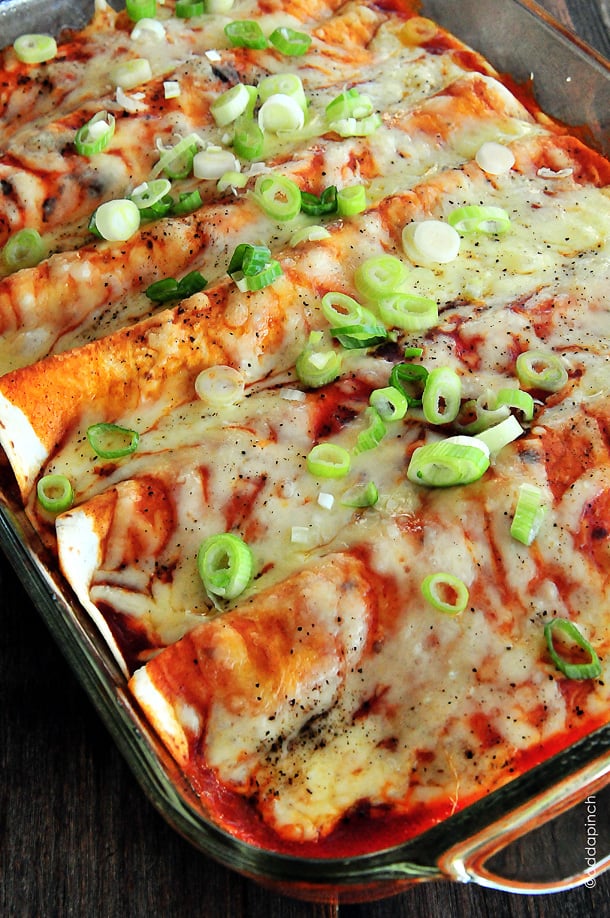 If you are looking for a simple, delicious recipe for chicken enchiladas then you've just got to try this one! I promise, it'll knock your socks off!
Here's my Chicken Enchilada Recipe. I think you are going to LOVE them!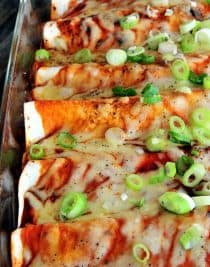 Yield:
8
Course Main Course
Cuisine Mexican
Chicken Enchiladas Recipe
Total Time 4 hours 30 minutes
Prep Time 10 minutes
Cook Time 4 hours 20 minutes
Chicken Enchiladas make a perfect weeknight meal! These are seriously the BEST chicken enchiladas recipe and one the whole family loves!
Ingredients
4 skinless chicken breasts
3 cups enchilada sauce
½ medium medium onion diced
1 (4-ounce) can green chilies
8 (10-inch) corn or flour tortillas
12 ounces Monterrey Jack cheese grated
2 green onions chopped
Directions
Spray slow cooker insert with non-stick cooking spray. Add chicken to slow cooker insert and pour2 cups of enchilada sauce over the chicken. Cook on High setting for 4 hours or low setting for 8 hours. Shred chicken with a fork in the enchilada sauce. Drain green chilis and add to the chicken along with the diced onion. Mix well to combine.

Preheat oven to 350º F.

Spray a 9x13 baking dish with non-stick cooking spray.

Spoon chicken mixture into the center of each flour tortilla. Top with about ½ cup grated cheese and fold two ends of tortilla over the filled center. Place the tortilla seam side down into the baking dish. Repeat until all tortillas have been filled.

Pour remaining enchilada sauce over the assembled tortillas. Top with grated cheese. Place in oven and bake for about 20 minutes, until cheese has melted thoroughly and has become bubbly.

Garnish with green onions or cilantro, if desired.
Nutrition Facts
Chicken Enchiladas Recipe
Amount Per Serving (1 enchilada)
Calories 265 Calories from Fat 126
% Daily Value*
Total Fat 14g 22%
Saturated Fat 8g 40%
Cholesterol 74mg 25%
Sodium 1081mg 45%
Potassium 261mg 7%
Total Carbohydrates 9g 3%
Dietary Fiber 1g 4%
Sugars 6g
Protein 24g 48%
Vitamin A 19.5%
Vitamin C 4.3%
Calcium 32.4%
Iron 6.3%
* Percent Daily Values are based on a 2000 calorie diet.
All images and text © Robyn Stone for Add a Pinch
Enjoy!
Robyn xo

From the Add a Pinch recipe archives. Originally published 2012.