Roast Chicken Recipe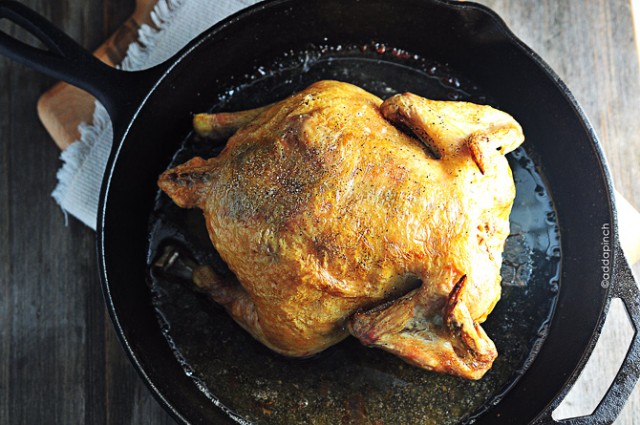 Roast chicken is one of the easiest meals to prepare during the week as well as on the weekend. For years after I was first married, I was majorly intimidated by the thought of having to roast chicken for supper, but over the years realized that a beautiful roast chicken just looks harder to prepare than it really is to make.
For years, I used the method of cooking my roast chicken in the oven on a roasting pan with a rack insert. While it worked fine, I soon discovered a trick while we were at the lake for a long weekend and I didn't have my roasting pan with me, but had volunteered to make roast chicken for supper for our group. What I did have on hand was my big iron skillet. Being one to use what I have, I went with it. I cooked my chicken breast side down for some reason, too. My roast chicken turned out better than any other I've cooked before and now my skillet is my cookware of choice for roasting chicken. And I always roast them with the breast side down, too.
It really couldn't be any simpler to make either. It boils down to three things.
1. Preheating the oven.
2. The skillet.
3. Olive oil.
Here's my recipe for the easiest and most delicious roast chicken I've ever eaten.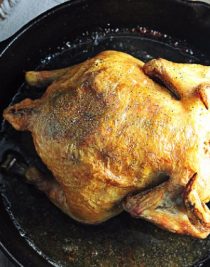 Roast Chicken Recipe
Total Time 50 minutes
Prep Time 5 minutes
Cook Time 45 minutes
Ingredients
1 3 1/2 - 4 pound whole chicken cleaned
olive oil or softened butter
salt and pepper
Directions
Preheat oven to 425 degrees with the skillet inside the oven. When the skillet and oven have preheated, remove the skillet from the oven and place the chicken inside of the skillet. Coat the chicken well with olive oil and then sprinkle with salt and pepper.

Place back in the oven and cook for 15-20 minutes per pound or until an internal probe registers 160 degrees when inserted into the breast of the chicken.

Remove from the oven and allow to rest for about 5-10 minutes to allow the juices to return to the meat.

Use pan juices to baste, if desired.
All images and text © Robyn Stone for Add a Pinch
Add this one to your meal plan soon. You'll definitely be so glad you did!
Love ya,
Robyn