Lately, I've been craving fresh vegetables. Like these roasted vegetables or those that I piled onto my Greek Salad I talked about yesterday.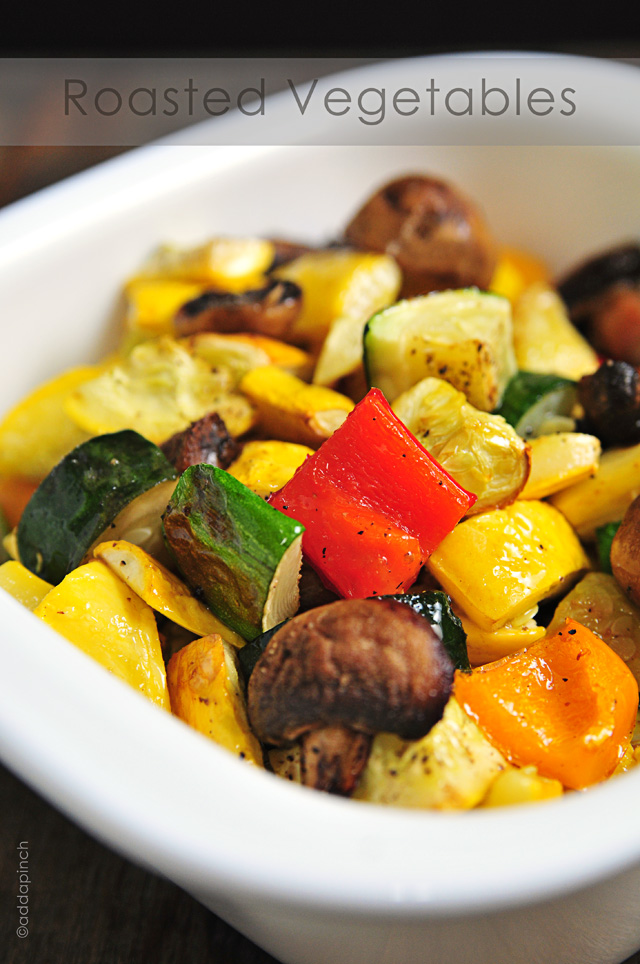 And when I say craving, I mean craving!

I stopped by the grocery store today to pick up a few things to make supper for my sister-in-law, Cindy, and her family since she's not been feeling well lately. We'd been talking about roasted vegetables last week when we were all on Spring Break together, and I knew these were something that she loved, too.
Maybe that's what planted the seed in my mind.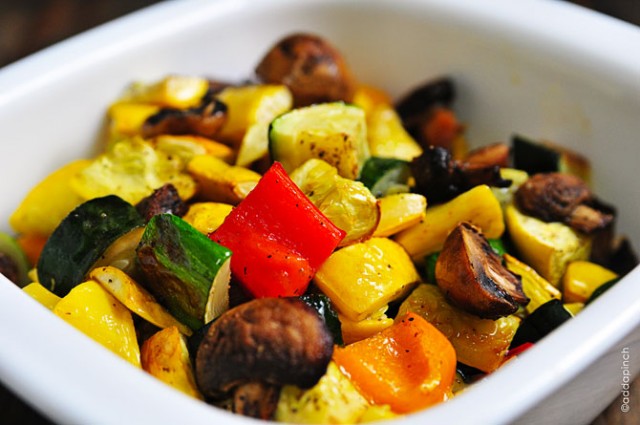 Cindy told me how our friend Linda cuts up all of her vegetables, coats them in a delicious blend of olive oil, salt, pepper, and different spices and then lets them marinate overnight in a zip top bag before roasting them. They are scrumptious that way, but when you are feeling under the weather, spices aren't really at the top of the list of things you want to eat. At least not for me, that is.
So, I went with the simplest form of these roasted vegetables you can muster. It's the version that my son gobbled up when he was two and still to this day loves when I serve them.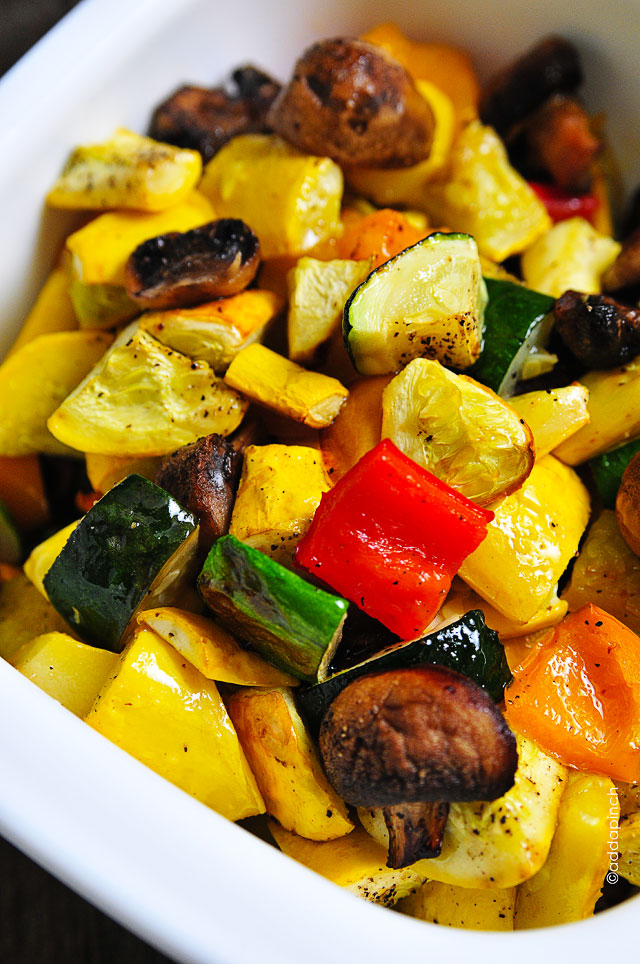 Here's how I make these roasted vegetables. The possibilities are endless.
Roasted Vegetables Recipe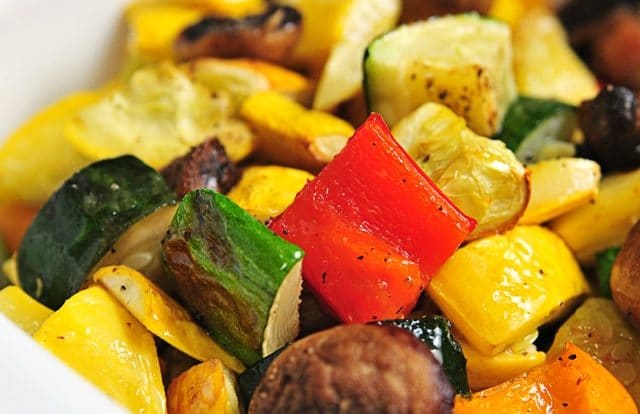 Roasted Vegetables make a delicious, quick-fix side dish or can become the star of the meal. The possibilities with these roasted vegetables are endless.
Ingredients
3

medium zucchini

cut into 1 – 1 1/2-inch pieces

6

medium summer squash

cut into 1 – 1 1/2-inch pieces

1

medium onion

cut into 1-inch pieces

1

green pepper

cut into 1 – 1 1/2-inch pieces

1

red pepper

cut into 1 – 1 1/2-inch pieces

1

yellow pepper

cut into 1 – 1 1/2-inch pieces

1

pint

whole mushrooms

cut in half

olive oil

salt and pepper

to taste
Instructions
Preheat oven to 425º F.

Wash and dry all vegetables. Brush mushrooms to remove any dirt or debris. Cut vegetables into consistently sized pieces, using suggestions from ingredients listing.

Toss vegetables onto large, low-rimmed baking sheet. Drizzle with olive oil and sprinkle with salt and ground black pepper. Gently toss all vegetables to make sure they are well-coated with the olive oil and salt and pepper.

Place baking sheet pan into the oven, roast until desired amount of tenderness and carmelization has occurred.

Remove from the oven and serve warm.
Nutritional Information
Calories:
88
kcal
|
Carbohydrates:
17
g
|
Protein:
7
g
|
Fat:
1
g
|
Saturated Fat:
1
g
|
Polyunsaturated Fat:
1
g
|
Monounsaturated Fat:
1
g
|
Sodium:
18
mg
|
Potassium:
1165
mg
|
Fiber:
5
g
|
Sugar:
10
g
|
Vitamin A:
1322
IU
|
Vitamin C:
132
mg
|
Calcium:
57
mg
|
Iron:
2
mg
Enjoy!
Robyn xoxo
If you enjoy this roasted vegetables recipe, you'll also love:
Mushroom Saute
Oven Roasted Squash Recipe
Oven Roasted Asparagus Recipe
Slow Cooker Vegetable Soup Recipe
Baked Asparagus with Parmesan Recipe