Classic Pesto Recipe
Classic Pesto Recipe – Made of fresh basil, garlic, nuts, olive oil, and cheese, this pesto recipe comes together in minutes and adds so much flavor to so many dishes!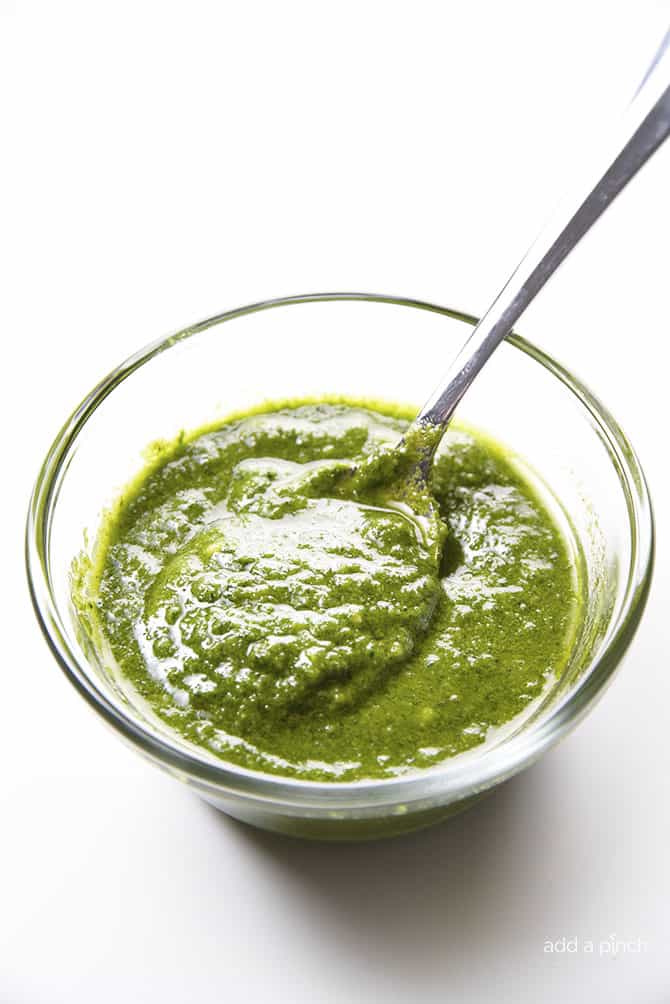 My basil has been so abundant lately. I've used it so much that I always think I'm going to use it all and then, by the miracle that is a basil plant, it grows more abundantly. Hey, I'm certainly not complaining. I'm absolutely grateful!
We've used it in just about everything possible this year from our caprese grilled chicken to pasta. But I do have to tell you, I've had more than my fair share of caprese salad this summer. Oh my goodness, have I ever!
But, I'm also making a dent in replacing the pesto I saved from last summer that I used throughout the winter. My goal is to put back twice as much as I did last year, although I have no measurements from what I did last year. So, I'll have to guesstimate and then probably do a bit more.
This classic pesto recipe comes together in a snap and adds so much flavor to so many dishes from fish, seafood, chicken, and veggies! I just can't get enough.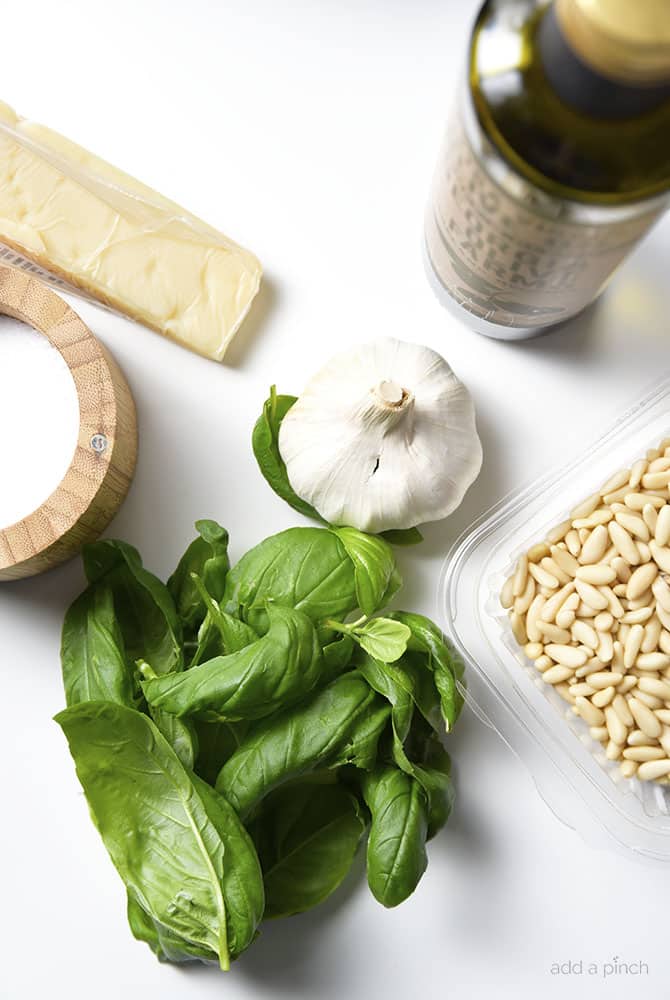 To make this classic pesto recipe, I started with fresh basil that I'd just picked and washed from the garden. I add the basil, garlic, nuts and salt to either my food processor or my high speed blender – either works fine and I use whichever one is on the counter at the moment.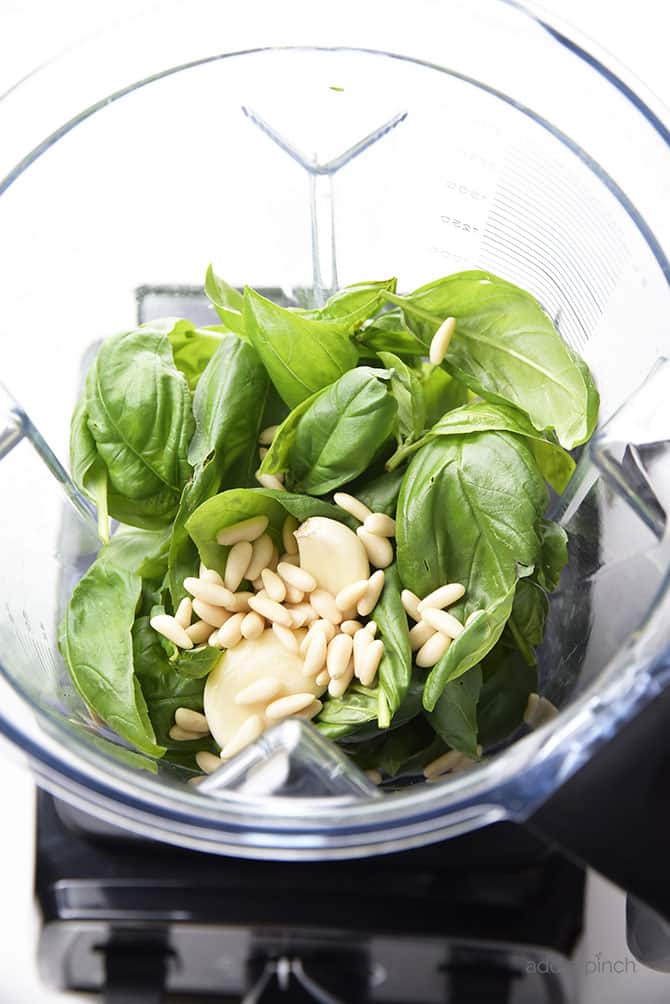 Now, I will say that classic pesto uses pine nuts in the recipe. However, if you have a hard time finding pine nuts, you can easily substitute with another nut such as walnuts or, I also like to use shelled sunflower seeds. Truth be known, sunflower seeds actually are one of my favorites and I switch back and forth using it all the time. They are also usually less expensive than pine nuts which makes it all the better.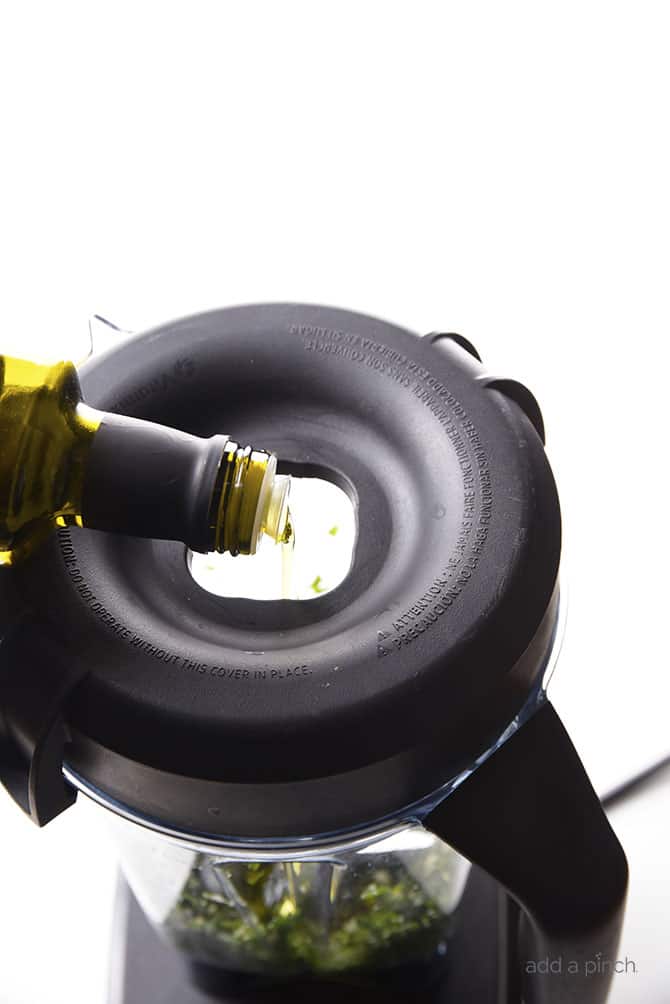 Then, I slowly begin to pour in the olive oil through the top chute of my blender or food processor while the machine is turned on about low to medium speed.
I normally stop to scrape down the sides of the bowl or blender container a few times while I'm making my pesto to make sure there aren't any unprocessed lumps of garlic or anything else in my finished pesto.
Once my pesto has reached a consistency throughout, you can immediately pour it into ice cube trays or mini muffin tins and freeze for later use or refrigerate to use soon. If I am going to use immediately, I go ahead and add my Parmesan cheese. If I'm freezing or refrigerating, I like to add the cheese right before I plan to serve it.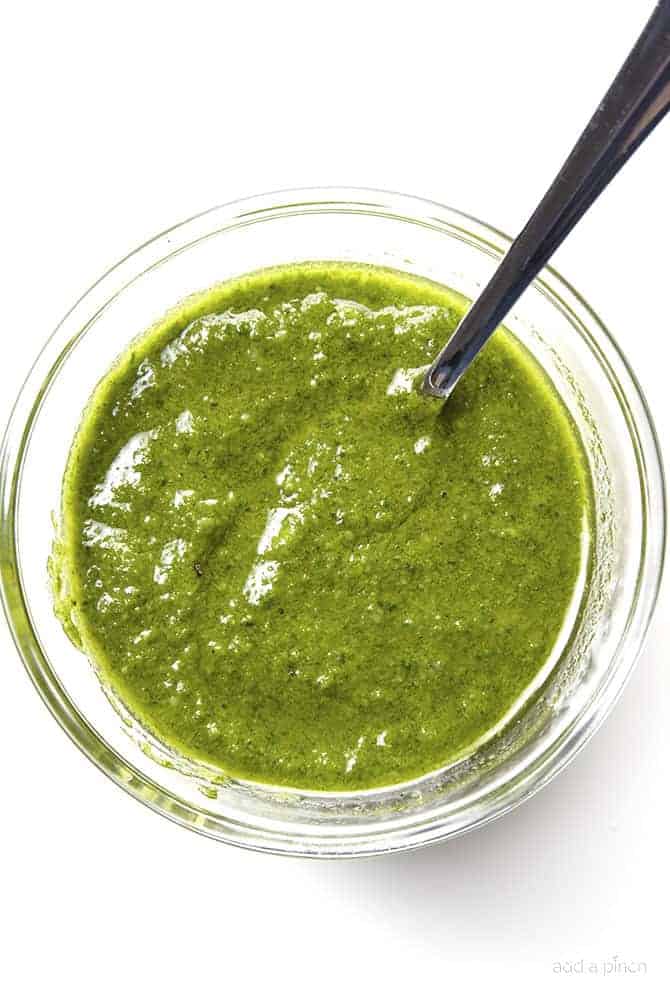 Here's my Classic Pesto Recipe. I hope you make it soon!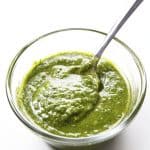 Yield:
16
tablespoons
Side Dish
Cuisine Italian
Classic Pesto Recipe
Total Time 10 minutes
Prep Time 10 minutes
Classic Pesto Recipe - Made of fresh basil, garlic, nuts, olive oil, and cheese, this pesto recipe comes together in minutes and adds so much flavor to so many dishes!
Ingredients
4 cups basil
2-3 cloves garlic
1/4 cup pine nuts
3/4 cup Parmesan cheese grated
1/2 teaspoon kosher salt
3/4 - 1 cup olive oil
Directions
Add basil, garlic, pine nuts, parmesan cheese, salt to the bowl of a food processor or high power blender.

Turn food processor on and begin slowly pouring olive oil through the chute of the machine, stopping to scrape down the sides of the bowl.

Store in the refrigerator for a few days or freeze in ice cube trays and then store in zip top bags for a few months.
Notes
Make-Ahead:
Store pesto in an airtight container in the refrigerator for up to 1 week. 
Freezer Friendly:
Pour pesto to an ice tray and freeze for 30 minutes. Transfer frozen pesto cubes to a zip top freezer bag or other airtight, freezer-safe container and store for up to a year. 
Nutrition Facts
Classic Pesto Recipe
Amount Per Serving (1 tablespoon)
Calories 124 Calories from Fat 108
% Daily Value*
Total Fat 12g 18%
Saturated Fat 2g 10%
Cholesterol 3mg 1%
Sodium 148mg 6%
Potassium 34mg 1%
Protein 2g 4%
Vitamin A 7.1%
Vitamin C 1.5%
Calcium 6.7%
Iron 2.2%
* Percent Daily Values are based on a 2000 calorie diet.
All images and text © Robyn Stone for Add a Pinch
Enjoy!
Robyn xo

From the Add a Pinch recipe archives. Originally published 2012.