This Children's Advent Calendar Printable adds a bit of fun and memorable traditions to your Christmas. 30 children's advent calendar ideas and cards for the whole family.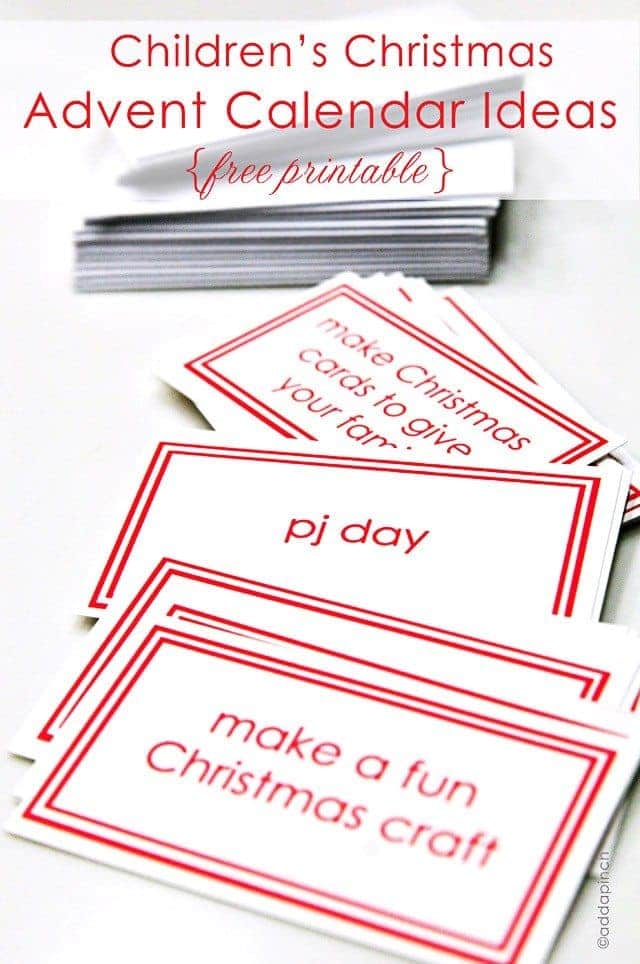 I originally shared these advent calendar cards for children, but have realized since I began using them and even more so after you all have been using them that they are really great for the whole family!
I absolutely love Christmas! It is without a doubt, my favorite holiday. I just love everything about it.
The smells of Christmas trees, cookies baking, and cooler weather in the air.
The sights of bright Christmas lights, houses decorated in their holiday best, and stockings hung by the mantle.
I love the sounds of Christmas carols, the Salvation Army Christmas bells, and of course the laughter that just goes along with so many Christmas activities – especially where kids are involved.
But most of all, I love the feeling of Christmas.
Without getting overly sappy, or preachy, let's just say I love the feeling of family, faith and celebrating the holiday in spiritual and fun ways. I enjoy taking the four weeks before Christmas, the advent season, to create special memories with my family. We have traditions that are absolute must-dos like visiting the live nativity at our church, but I also like to incorporate other things to keep things new as well.
While my family celebrates advent in a spiritual way, we also have a children's advent calendar for memory-making and fun activities to do with our son. Some days include silly activities – like PJ day – while others are more thoughtful – such as sending a Christmas card to a soldier or baking something for someone special.
I thought I would share the cards I've made for our fun advent calendar that you can print and use with your own family.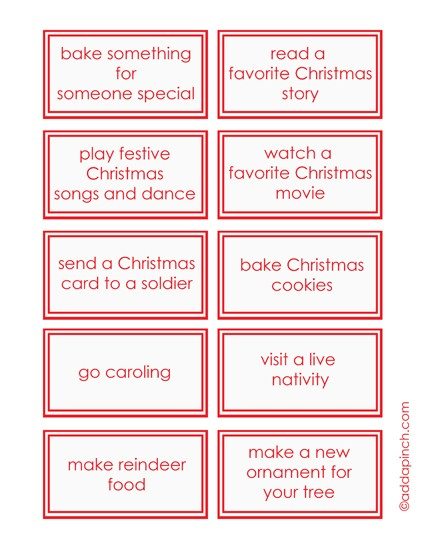 There are 30 fun Christmas activity ideas that you can select your favorites to use. You can print the cards on the paper of your choice and then cut into individual cards. Then, you can add the cards to your family's advent calendar or even create your own by making an envelope for each day and placing one of the cards inside for that day. Then, you can countdown along with your children by enjoying that day's activity together!
Please note I've made my Children's Advent Calendar printable available for personal use only. I definitely hope you enjoy all the fun in store for your family this Christmas season.
Enjoy!
Robyn xo

From the Add a Pinch Living archives, originally published 2012.