Macerated strawberries are simple, yet delicious with so many desserts. This also includes recipes using lemon juice, Grand Marnier, and balsamic vinegar to macerate strawberries.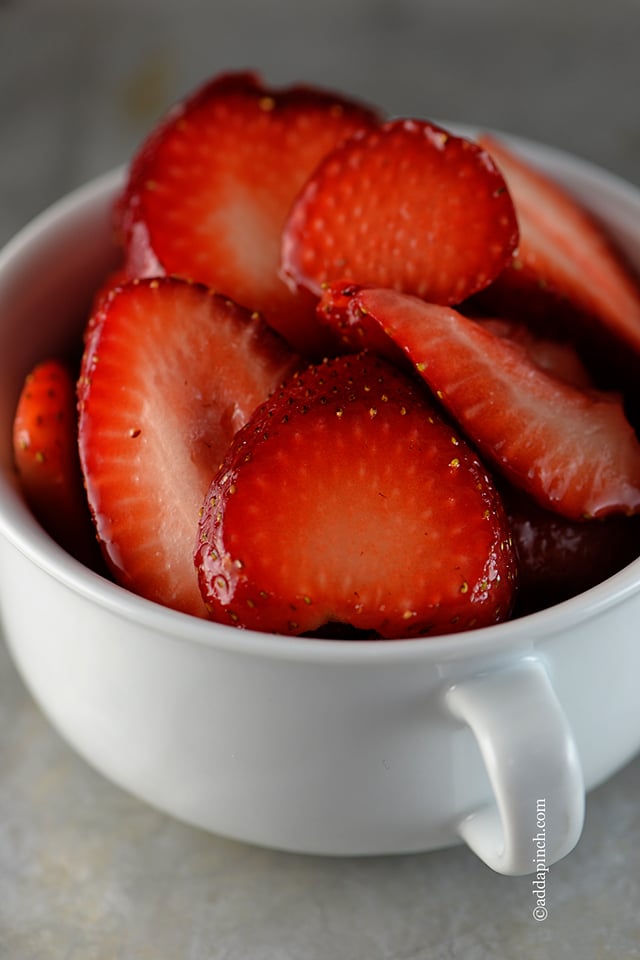 It was years before I knew the technical name for these sweetened strawberries. In my family, that's all we called them. Macerated wasn't a cooking term that was used routinely in my house. It still isn't. Sugared strawberries, sweetened strawberries, or dessert strawberries is more often used than not around here. But, I wanted to be sure to use the correct term for the recipe for sharing with you.
In my family, we make these a few ways, depending on how we plan to use them in a recipe, yet they all begin with the simplest of ingredients and methods.
Macerated Strawberries
Simple Macerated Strawberries are absolutely delicious for so many dishes. They are incredibly easy to make and add such a special touch for everything from breakfast dishes to decadent desserts.
How to Make Macerated Strawberries
Simple Macerated Strawberries
Wash, hull and slice strawberries, add sugar and allow them to sit at room temperature for about 30 minutes, but not so long that they become mush. As simple as it is, that's the recipe the basic recipe. I make this version all the time. There's just nothing like sweet strawberries to enhance a dish!
Macerated Strawberries with Grand Marnier or Citrus Juice
You can make these delicious strawberries even more special by adding just one more ingredient to the simple strawberry sugar base. Add a splash of Grand Marnier for an extra special touch during the holidays, or a bit of lemon juice or orange juice if you really want to enhance the flavor of a dish with citrus notes, like in a cheesecake.
Macerated Strawberries with Balsamic Vinegar
Another favorite for me is to use balsamic vinegar. Any balsamic vinegar will do, no need to use the fanciest balsamic vinegar you have in this recipe.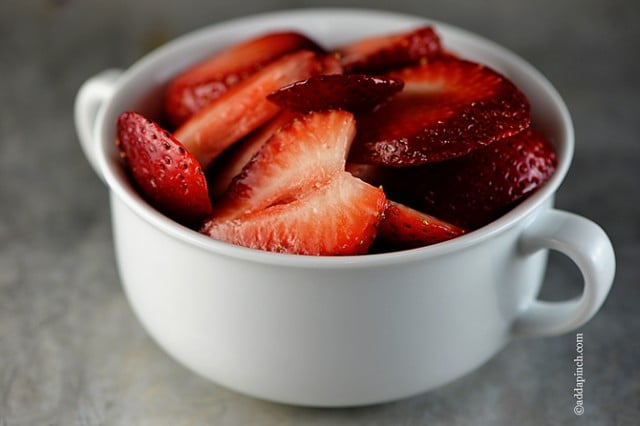 Once you have your macerated strawberries, you can add them to any number of dishes for breakfast, brunch, or dessert.
For breakfast or brunch, use them as a topping on your pancakes or waffles, stuff them into French toast, or pile them onto toasted pound cake or a biscuit with whipped cream. The possibilities are somewhat endless.
For a special dessert, use these atop my Mini New York Cheesecakes, my Strawberry Shortcakes or with my Cream Cheese Poundcake. These delicious macerated strawberries also make a beautiful dessert simply topped with my Perfect Whipped Cream too!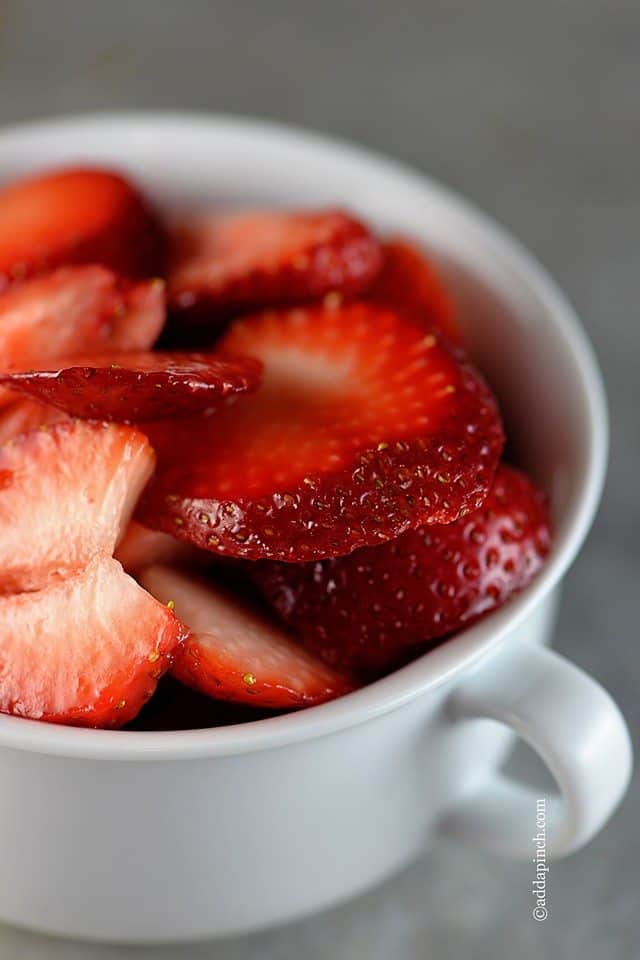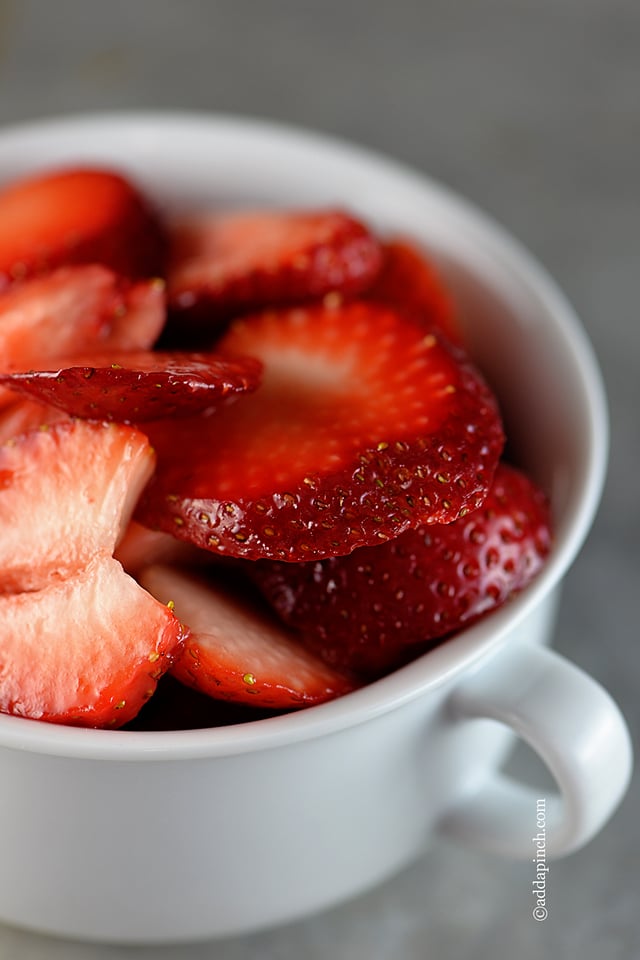 Here's how you make simple macerated strawberries, with a few variations you might enjoy as well.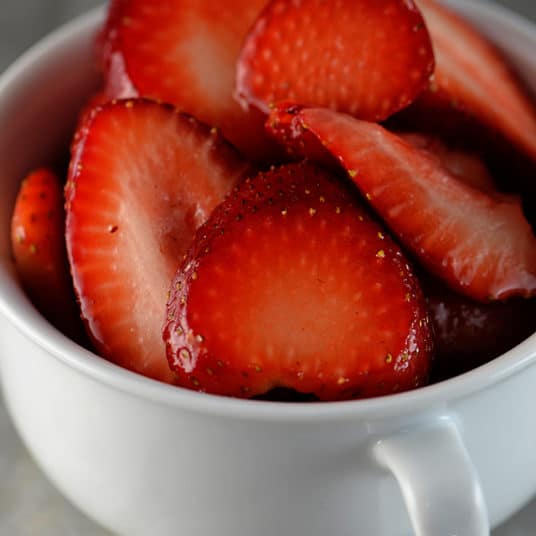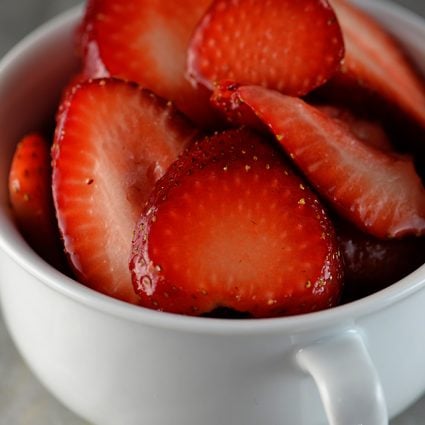 Macerated Strawberries
Macerated strawberries make a simple, yet delicious addition to so many dessert recipes. Fresh strawberries release their juices for even greater sweetness.
Ingredients
1

pint

1 pound, 2 cups fresh strawberries

2

tablespoons

sugar
Macerated Strawberries with Grand Marnier
reduce sugar to 1 tablespoon

2

tablespoons

Grand Marnier
Macerated Strawberries with Citrus Juice
reduce sugar to 1 tablespoon

2

tablespoons

lemon or orange juice
Macerated Strawberries with Balsamic Vinegar
reduce sugar to 1 tablespoons

2

teaspoons

balsamic vinegar
Instructions
Wash, hull, and slice strawberries and place into a large glass bowl. Stir in sugar and allow to stand for 30 minutes for strawberries to release their natural juices, but not so long that they begin to become mush.

If using Grand Marnier, citrus juice or balsamic vinegar, add at the same time as sugar.
Nutrition information is automatically calculated, so should only be used as an approximation.
Enjoy!
Robyn xo