Apple Crisp Recipe
Apple Crisp is the perfect dessert for the apple lover. This apple crisp recipe is made with flavorful apples, cinnamon, and a perfectly crisp topping.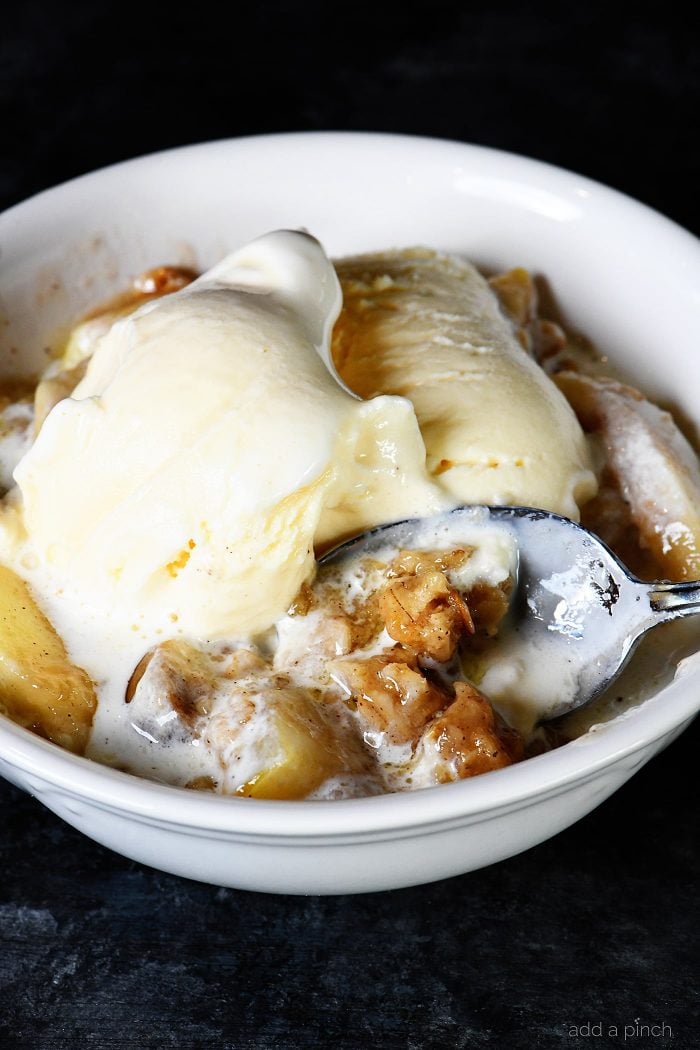 There is one dessert that is always my sister's favorite and it is this Apple Crisp. She starts talking about it as soon as the weather starts to chill and it is a must-have throughout the fall and winter at my house. Warm, comforting and absolutely delicious, my recipe has the perfect ratio of apples to crispy topping that my family absolutely loves.
Apple Crisp Recipe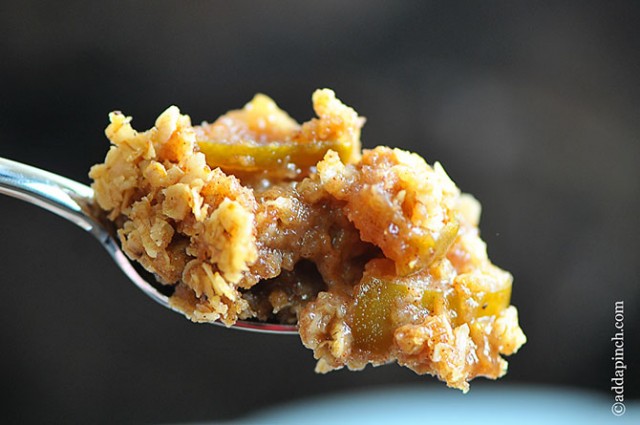 Just look at that bite!
Oh me.
Here are just a few notes about the recipe. Most of the time, I leave the peeling on my apples, but you can certainly peel your apples if you prefer.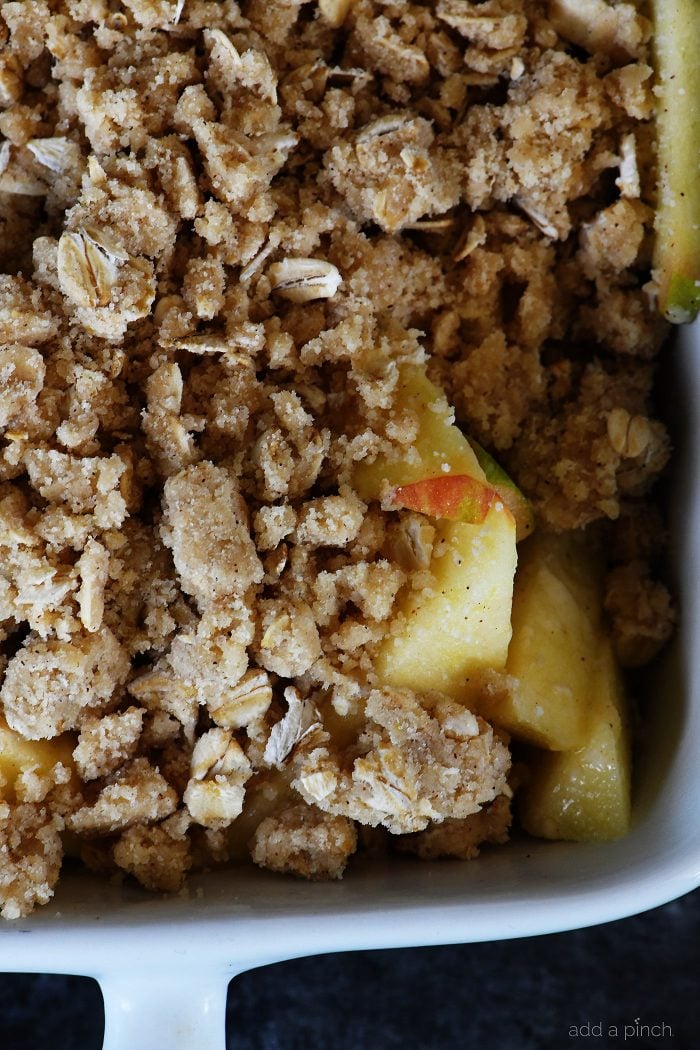 What are the Best Apples for Apple Crisp Recipe
Through the years of experimenting, I found I loved to use a combination of apples when baking in apple pies or in my apple crisp. Baking apples for how soft they become, eating apples for their crispness and texture, and Granny Smith for their tartness. But, of course, you can experiment for the combination, or lack of combination, of apples that you prefer.
Baking apples
Eating Apples
Tart Apples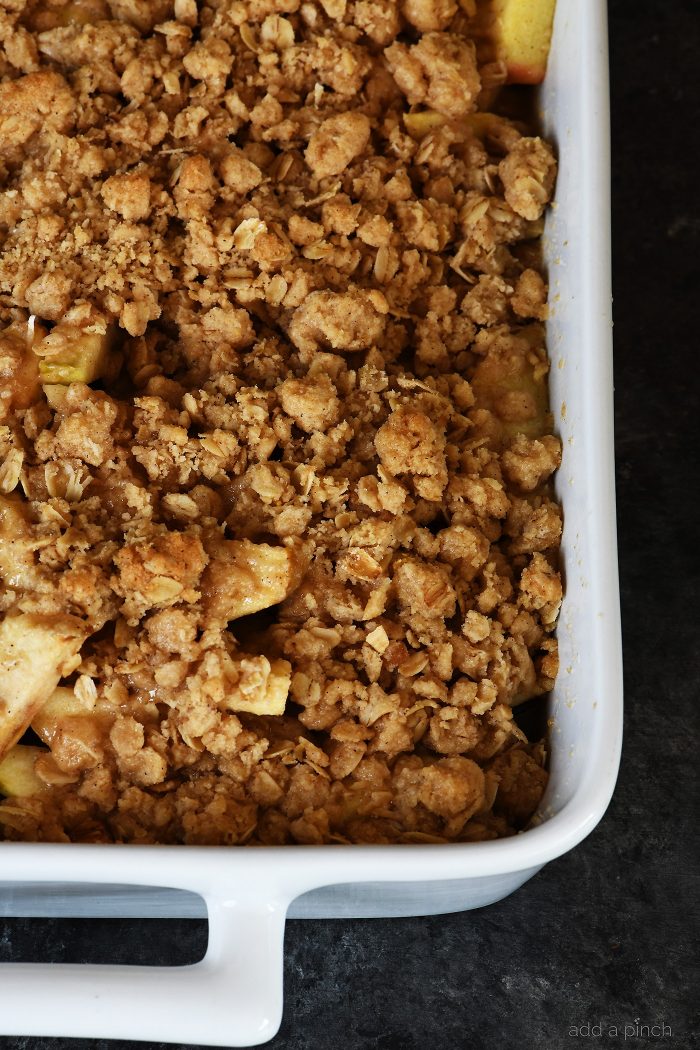 The apples that you choose change the flavor of the apple crisp. The combination of sweet and tart apples make the apple crisp perfectly balanced in my opinion. If you use all sweet apples, the crisp may come across as too sweet. If you use all tart apples, some may feel like the apple crisp isn't sweet enough.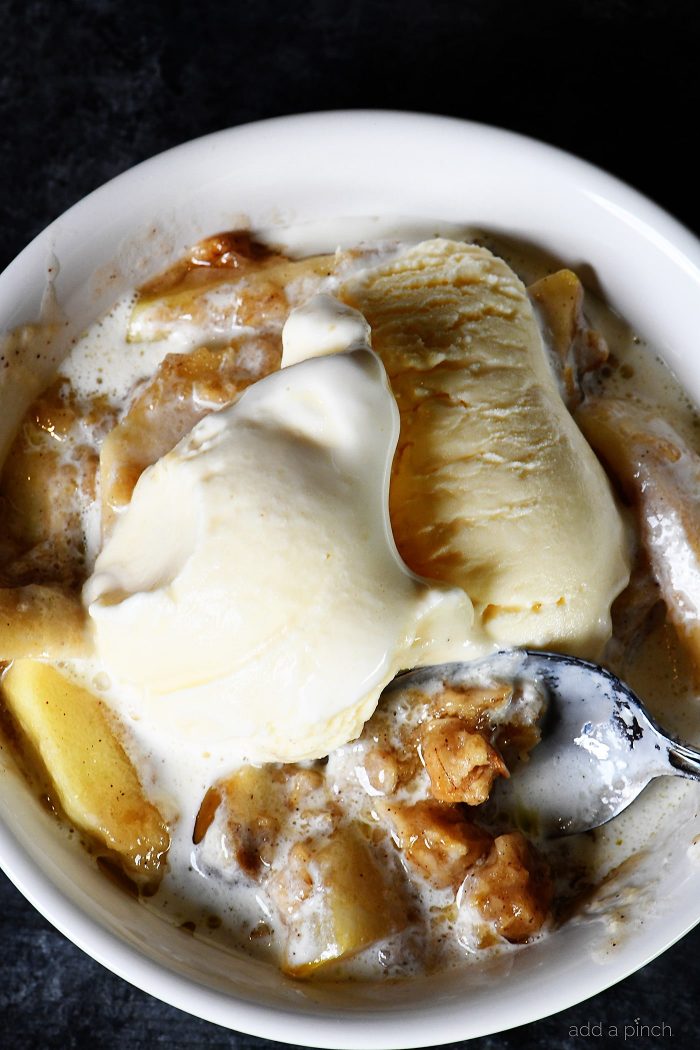 So, if you are looking for an Apple Crisp Recipe that immediately makes you want to cozy up by the fire after enjoying a beautiful fall day, then this is it! Of course, a scoop of cinnamon ice cream or vanilla ice cream takes it right on over the top!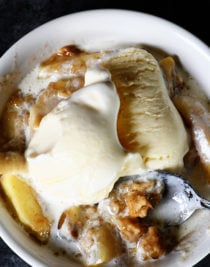 Yield:
12
Course Dessert
Cuisine American
Keyword apple crisp, apple crisp recipe, easy apple crisp recipe, favorite apple crisp recipe, the best apple crisp recipe
Apple Crisp Recipe
Total Time 55 minutes
Prep Time 10 minutes
Cook Time 45 minutes
Apple Crisp is the perfect dessert for the apple lover. This apple crisp recipe is made with flavorful apples, cinnamon, and a perfectly crisp topping.
Ingredients
10 medium apples peeled, cored, and sliced
1/4 cup lemon juice
1/2 cup brown sugar
3 tablespoons all-purpose flour
1 teaspoon cinnamon
4 tablespoons butter melted
1/4 teaspoon salt
Apple Crisp Topping:
1 cup all-purpose flour
1 cup brown sugar
1 cup quick-cooking oats
1 teaspoon cinnamon
1/2 teaspoon baking powder
1/2 teaspoon salt
1/2 cup butter (1 stick) softened
Directions
Preheat oven to 350º F.

Spray 9x13 casserole dish with non-stick cooking spray and set aside.
Apple Crisp Topping:
Add flour, brown sugar, oats, cinnamon, baking powder, and salt to a large bowl. Whisk together to combine. Using clean fingers, work the softened butter into the flour mixture until well combined. Chill in the refrigerator until apple filling is prepared.
Apple Crisp Filling:
Combine apples, lemon juice, brown sugar, flour, ground cinnamon, butter, and salt in a large bowl, tossing to make sure apples are well coated. Pour into prepared casserole dish.

Top apples with Apple Crisp Topping and bake until the apples are tender and top of apple crisp has turned golden brown, about 45 minutes.

Nutrition Facts
Apple Crisp Recipe
Amount Per Serving (0.5 cup)
Calories 356 Calories from Fat 108
% Daily Value*
Total Fat 12g 18%
Saturated Fat 7g 35%
Cholesterol 30mg 10%
Sodium 255mg 11%
Potassium 239mg 7%
Total Carbohydrates 62g 21%
Dietary Fiber 4g 16%
Sugars 42g
Protein 2g 4%
Vitamin A 8.7%
Vitamin C 10.8%
Calcium 4.3%
Iron 7%
* Percent Daily Values are based on a 2000 calorie diet.
All images and text © Robyn Stone for Add a Pinch
Enjoy!
Robyn xo
From the Add a Pinch recipe archives, originally published 2013.