Coconut Cream Pie Recipe
Coconut Cream Pie is a classic. This creamy, dreamy coconut cream pie recipe will quickly become a family favorite!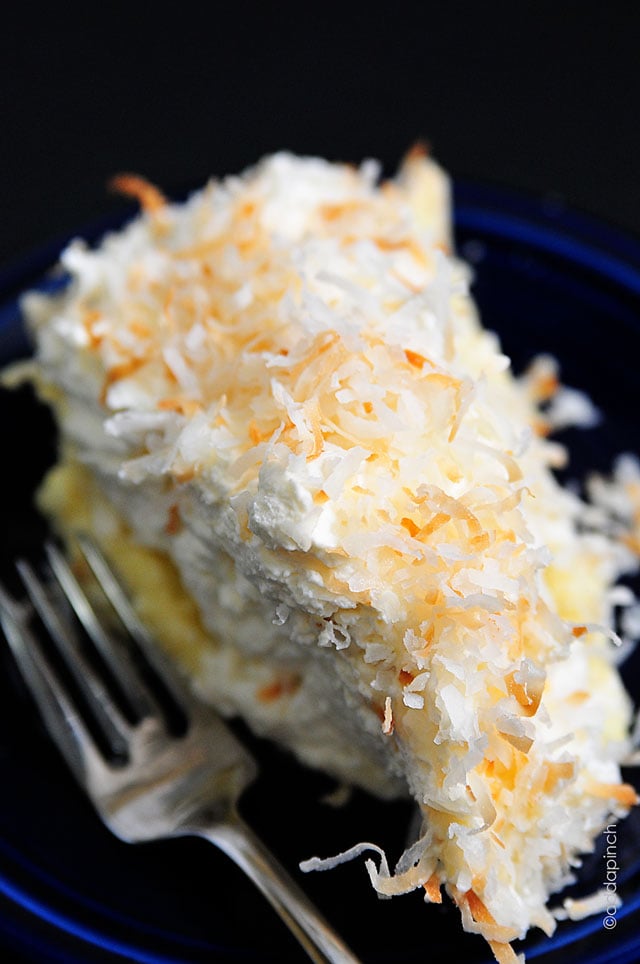 And this, my friends, is a Coconut Cream Pie to beat all Coconut Cream Pies. Well, at least in my book.

A perfectly flaky and delicious pie crust filled with rich, creamy coconut custard layered with mile high whipped cream and topped with toasted coconut. Now, what in the world could be wrong with that?
Making this pie is really one of those times that the effort pays off ten-fold when everyone takes their first bite.
They begin with, "Oh my gosh, this is the best coconut cream pie I've tasted." And then they ask, "Did you make this? Can I have your recipe?"
I love it when that happens.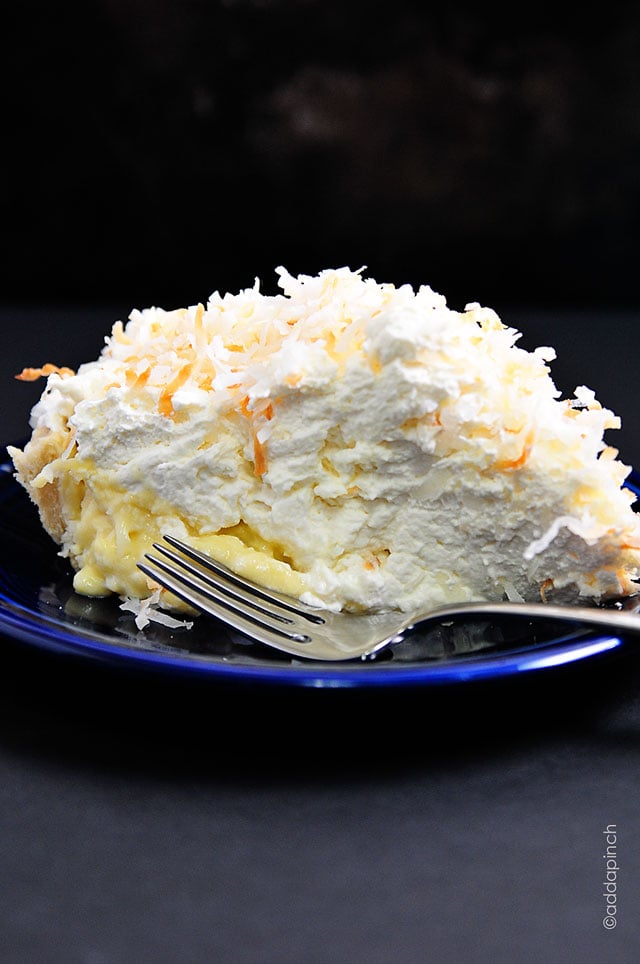 This recipe calls for using coconut milk in the coconut custard. While that definitely gives the most flavorful result, you can substitute with whole milk or half-and-half, if needed.
It also calls for my homemade pie crust. Now, that recipe is as simple as… well… pie to make, but if you need to use a refrigerated pie crust instead in a pinch, it works just fine.
Okay, let's get down to it. Here's my Coconut Cream Pie recipe. I hope you love it as much as we do!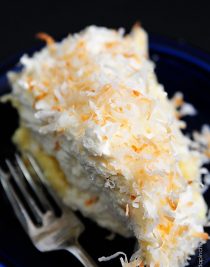 Coconut Cream Pie Recipe
Total Time 35 minutes
Prep Time 5 minutes
Cook Time 30 minutes
Coconut Cream Pie is a classic. This creamy, dreamy coconut cream pie recipe will quickly become a family favorite!
Ingredients
For the Toasted Coconut Topping
1/2 cup flaked sweetened coconut
For the Coconut Custard
1 1/2 cups coconut milk
1 1/2 cups half-and-half
5 egg yolks
3/4 cup sugar
4 tablespoons cornstarch
1 tablespoon butter
1/4 teaspoon salt
1 1/2 cups flaked sweetened coconut
1 1/2 teaspoons vanilla
Directions
Prepare pie crust according to blind-baking instructions of recipe.
For the Toasted Coconut Topping
Spread coconut evenly on a rimmed baking sheet. Place into 350º F oven for 8-10 minutes until coconut has just begun to turn brown.

Set aside to cool.
For the Coconut Custard
Pour coconut milk and half-and-half into a liquid measuring cup. Add egg yolks and whisk together with milks. Set aside.

Add sugar and cornstarch to a heavy-bottomed saucepan over medium-low heat. Whisk egg and milk mixture together once more and then slowly begin to add to the sugar and cornstarch, whisking together constantly.

Bring custard mixture to a boil. Switch to a rubber spatula or wooden spoon and continue to stir constantly. Boil one minute.

Remove from heat and add butter, coconut, vanilla and salt.

Spread custard into pie crust. Cover lightly with plastic wrap and chill in the refrigerator until set, about 30-45 minutes.

Spread whipped cream on top of coconut custard. Refrigerate until ready to serve.

When ready to serve, top with toasted coconut.
All images and text © Robyn Stone for Add a Pinch
Enjoy!
Robyn xo