Classic Peach Pie Recipe
This Classic Peach Pie Recipe is a summer staple! Made with a lattice-topped double crust and filled with delicious peaches!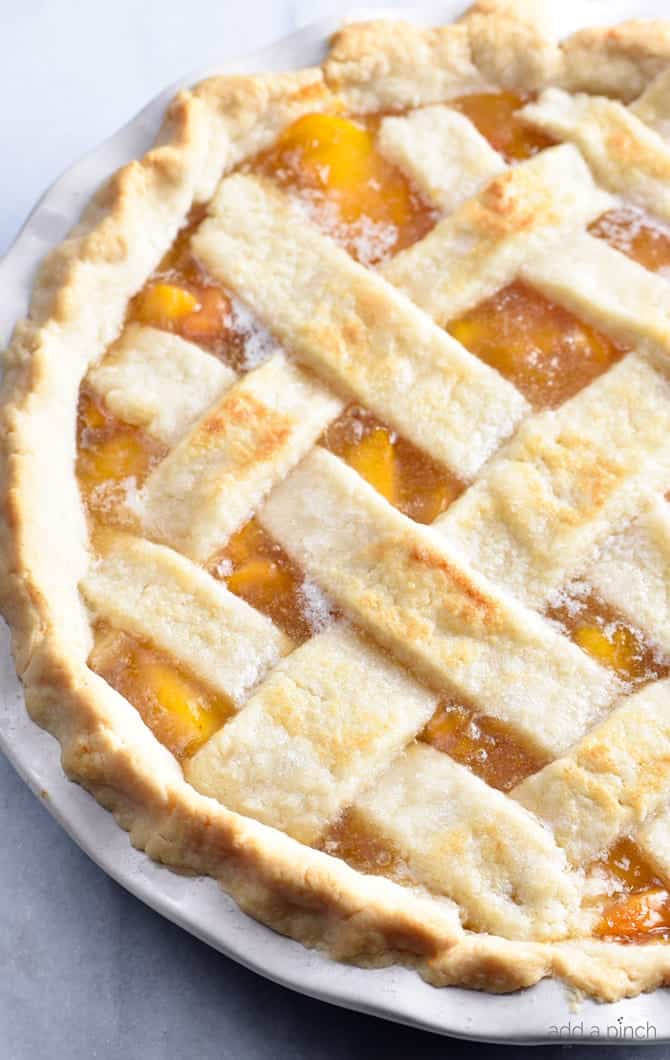 Peaches are at their peak and I couldn't be happier about the situation. Seriously, I stalk the farmer's market about this time every year until the fresh peaches take up one whole side as you walk in the door. And then, I load up!
One market basket for making ice cream, smoothies, adding to my yogurt or oatmeal in the mornings and another basket (or two!) for peeling and freezing for later.
I think I get my peach stalking honestly. On trips to the Jitney Jungle with my Grandmother Verdie, I remember her asking our neighbor and owner of the store, Guy, when he'd have peaches. Now, Guy kept one of those great small town grocery stores that only had produce when it was at its absolute peak and when you got a peach from Guy's store, you knew it would be good.
Grandmother would fill brown paper sack after brown paper sack and then take then home for making this peach pie for supper. She'd keep a few more out while they were fresh to eat and then freeze or can the remainder. But, to me, the peach pie meant that we were in the height of summer!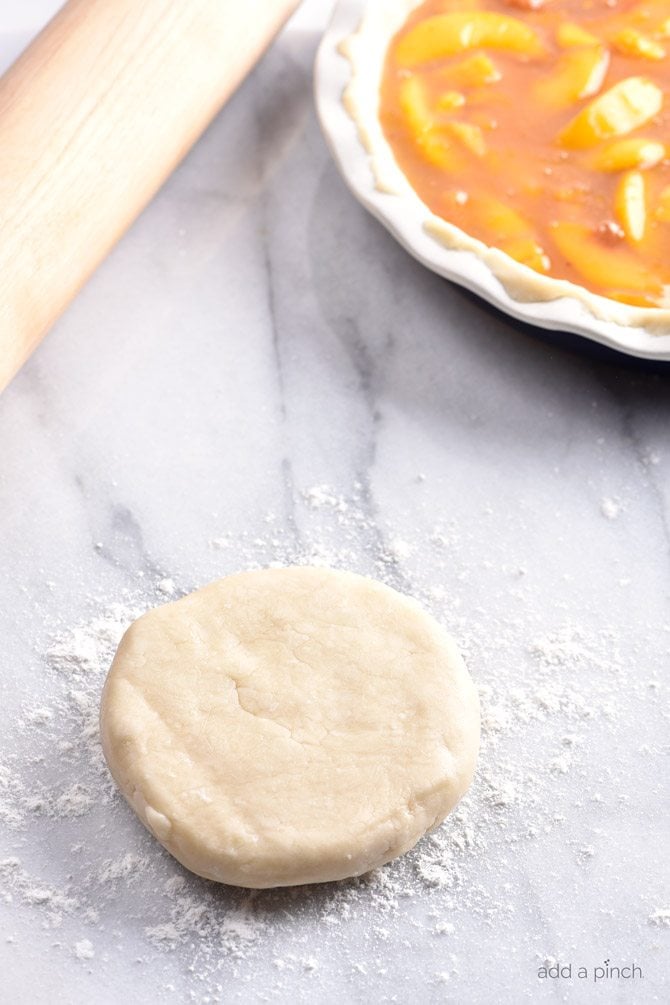 There are two things that make this peach pie delectable in my mind: the peaches and the pie crust.
We've already talked about the peaches, but let's chat about the pie crust for just a second.
Since this pie recipe is a double crust with a lattice top, you get plenty of flaky, delicious crust in every bite. Therefore, you want to make sure that you use the perfect pie crust in this recipe. It makes all the difference!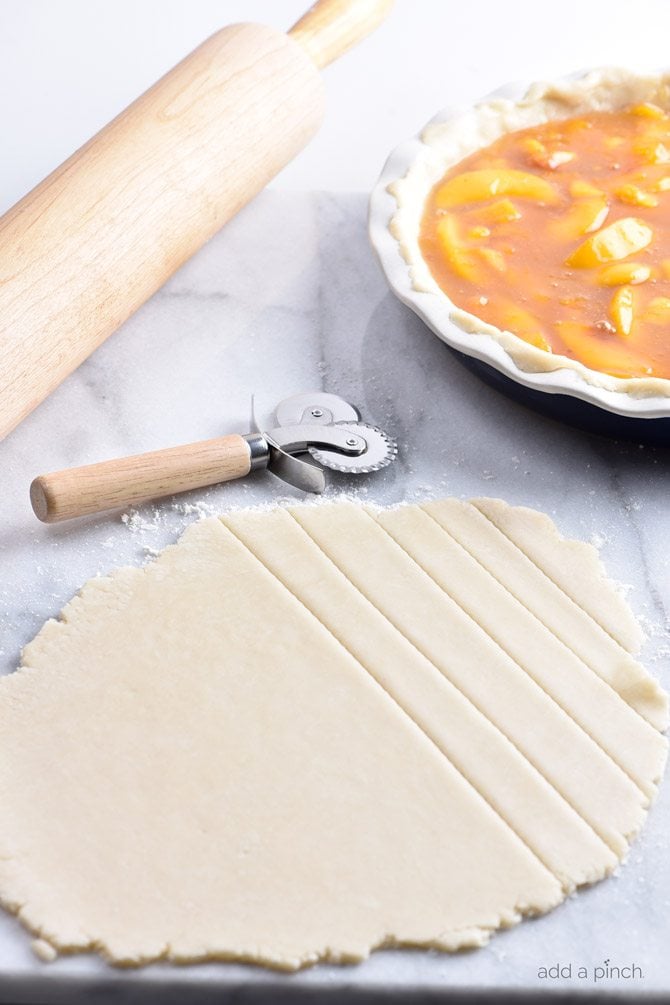 You'll press one of the crusts into the bottom of the pie dish and chill it in the freezer as directed. The second, you'll roll out and cut into strips that will be used to form the lattice topping. Don't worry if you don't have a pastry wheel for cutting the dough into strips. You can just use a sharp chef's knife or even a pizza cutter for this task!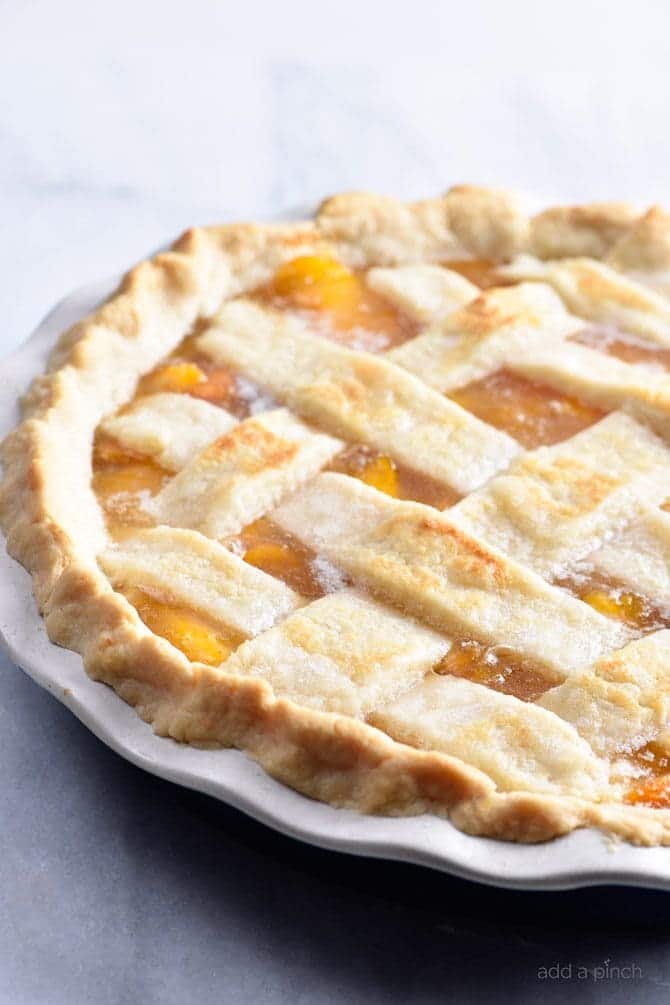 I also like to brush the lattice topping with a little bit of melted butter and then sprinkle on a little bit of sugar. It makes the lattice crust brown beautifully and have a nice little crunch to the crust. I definitely recommend that you not skip that step!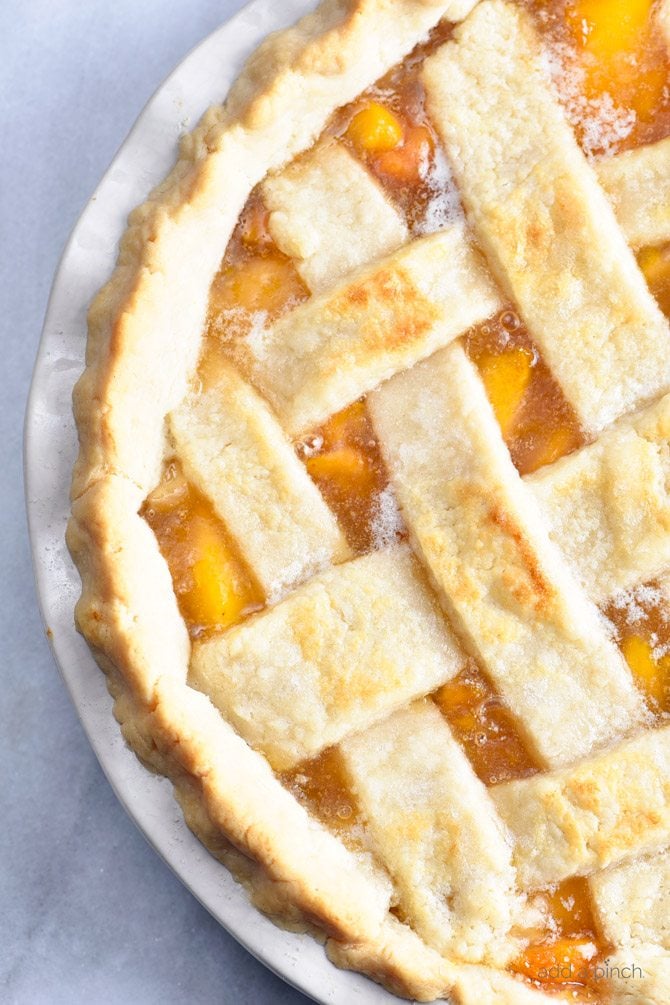 Here's my classic Peach Pie recipe. I sure hope you love it as much as we do! Happy peach season! 🙂
Classic Peach Pie Recipe
Classic Peach Pie Recipe - This Classic Peach Pie Recipe is a summer staple! Made with a lattice-topped double crust and filled with delicious peaches!
Prep Time30 mins
Cook Time30 mins
Total Time1 hr
Servings: 8
Ingredients
4 cups sliced peaches
1 cup sugar + 2 tablespoons for topping
3 tablespoons all-purpose flour
2 tablespoons melted butter
Instructions
Preheat oven to 425ºF.

Prepare two

pie crusts

according to instructions in the recipe. Arrange one pie crust dough into a pie dish and freeze according to the instructions. Roll the second pie crust dough and cut into 1-inch thick strips, refrigerate until ready to top the peach pie.

Place the peaches, sugar, and flour in a large saucepan set over low heat. Stir well and simmer over low heat until a thick syrup has formed, about 10 minutes. Remove from heat and set aside and allow to cool slightly.

Remove pie plate from the freezer and the strips from the refrigerator. Pour peaches on top of the bottom dough. Arrange the strips on top of peaches in a lattice pattern. Brush with melted butter and sprinkle top of cobbler with 2 tablespoons sugar.

Place the pie into the oven and bake until the crust has browned, about 30 minutes. Remove from the oven and allow to rest about 5 minutes before serving.
Enjoy!
Robyn xo