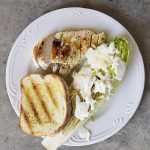 Print Recipe
Grilled Caesar Salad Recipe
Grilled Caesar Salad Recipe - This Grilled Caesar Salad made a delicious twist on a classic caesar salad recipe. Ready in less than 30 minutes, the added char from the grill adds just the right amount of smokiness to the salad while still leaving it crisp.
Heat a grill or grill pan to medium heat.

Slice each head of romaine in half lengthwise, leaving the core of the head of lettuce in place to help hold the lettuce together. Brush the cut side of the romaine with olive oil and place onto the grill until grill marks have developed, about 3 to 5 minutes. Remove from the grill and serve with Caesar dressing, shaved parmesan cheese, and thick-sliced bread.
For the Bread:
Brush each side of the bread with olive oil and sprinkle with salt, pepper and granulated garlic. Grill each side of the bread until grill marks develop, about 2 minutes per side.