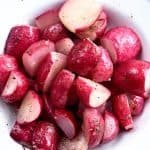 Print Recipe
Butter Roasted Radishes Recipe
Butter Roasted Radishes Recipe - Roasting radishes makes radishes more mild in flavor, yet rich and delicious! Perfect as a side dish, topping for salads, or a snack!
Preheat the oven to 400º F.

Set a medium skillet over medium heat. Add butter to the skillet and melt. Remove the skillet from the heat and arrange the radishes cut side down in the skillet. Sprinkle with salt and pepper. Place into the preheated oven and roast until fork tender, but cripsy on the outside, about 20 minutes.

Remove from the oven and serve.