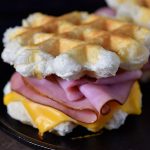 Print Recipe
5 Minute Buttermilk Biscuits Recipe
This biscuits recipe comes together in just five minutes! This fun twist on an already easy buttermilk biscuits recipe makes them perfect for the busiest of days!
Preheat waffle iron to medium-high heat setting. Add flour to a large mixing bowl. Cut in shortening with a pastry blender, two forks, or knives until well-combined. Slowly pour in buttermilk and stir gently until just combined. Do not overmix.

Scoop 1/4 cup of biscuit dough and place into each section of the waffle iron. Top with a thin slice of butter and close the waffle iron. The waffle iron will signal when the biscuits have cooked, but they should be cooked throughout and browned on the top and bottom. Remove from the waffle iron and serve.
Ham and Cheese Biscuit Sandwiches:
If making hot ham and cheese biscuit sandwiches, once the waffle iron has signaled, place cheese onto the top of one cooked biscuit. Top with ham and another biscuit. Close the lid to the waffle iron but do not press down. Allow the cheese to melt. Remove and serve.