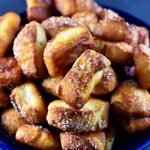 Print Recipe
Pretzel Bites Recipe
Pretzel bites make a delicious snack or appetizer. With just a few simple steps, these delicious pretzel bites are perfect for your next party or for snacking!
Prepare

soft pretzel dough

following the recipe through step 7.

Preheat oven to 400º F.

Spray parchment paper lined rimmed baking sheets with nonstick cooking spray. Once dough has risen, remove dough from the bowl and divide into 8 - 12 even pieces using a bench scraper or knife. Roll into about 24 inch logs. Using your bench scraper or knife, cut pieces of the dough into 1 1/2 - 2 inch lengths, repeating until all dough has been cut.

Add baking soda to water in a 4-quart saucepan over medium low heat. Bring to a simmer. Add pretzel pieces, about 10 at a time to the water. They will initially sink to the bottom and rise as it is ready to be removed. Using a slotted spoon, remove the pretzel bites from the saucepan and place on the parchment lined baking sheet to dry completely, about 5 minutes. Repeat until all pretzel bites have been bathed in the baking soda water.

Brush with butter, sprinkle generously with sea salt and bake 7-10 minutes, until golden brown.

Remove from the oven and allow to rest until easy to handle. Serve warm.