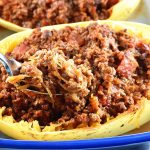 Print Recipe
Stuffed Spaghetti Squash Recipe
This stuffed spaghetti squash recipe makes a delicious grain-free, paleo friendly meal! So full of flavor, this dish will quickly become a weeknight favorite!
Prepare spaghetti squash using your favorite of the three methods (slow cooker, oven, or microwave), making sure to cut into halves and scoop out seeds when cooked.

Preheat oven to 350º F.

Place cooked spaghetti squash with insides facing up onto a rimmed baking sheet. Use a fork and shred the spaghetti squash, leaving about 1/4 of an inch around the shell of the squash for stability. Remove the spaghetti squash strands to a bowl to be used later in the meat mixture. Set aside while preparing the stuffing mixture.

Cook ground beef or turkey, in a large skillet over medium heat. Drain meat and then add garlic, basil, oregano and diced tomatoes and tomato paste to the meat, stirring to combine well. Simmer until sauce has thickened, about 20 minutes.

Mix the spaghetti squash strands with the meat mixture and spoon about half of the meat sauce into each of the spaghetti squash shells, making sure to fill the spaghetti squash completely.

Place in preheated oven and bake for 10-12 minutes, until heated throughout. Remove from the oven and allow to stand about 3-5 minutes before serving.