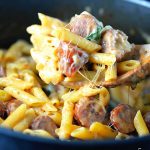 Print Recipe
One Pot Penne Pasta Recipe
This One Pot Penne Pasta recipe is made with sausage, red peppers, and spinach and ready in 15 minutes, making this pasta recipe a weeknight favorite recipe!
Add sausage, onions, garlic, and mushrooms to a medium pot over medium heat. Cook until onions are slightly tender, stirring often. Add in penne pasta, chicken stock, roasted red peppers, along with the liquid from the jar. Stir to combine and cover for about 5-8 minutes. Remove lid, stir and continue to cook until penne pasta is al dente or at the amount of tenderness you prefer.

Stir in the cheeses and fresh spinach until well combined and the spinach is tender. Serve.