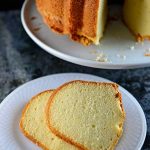 Print Recipe
Classic Pound Cake Recipe
A classic pound cake recipe makes one of the most versatile cakes for all occasions. This pound cake recipe is an heirloom cake recipe handed down from my grandmother.
Servings:
1
bundt or 3 loaf pans
Preheat oven to 300º F. Prepare large bundt pan or three loaf pans with nonstick baking spray. Set aside.

Cream together butter, vegetable shortening and granulated sugar until light and fluffy, about 6-10 minutes. Add eggs one at a time, making sure each is fully incorporated before adding another. Reduce speed of mixer to low and add flour and milk alternately, making sure to combine well but not to overmix. Stir in vanilla extract.

Pour batter into prepared bundt pan and bake 1 1/2 hours or in loaf pans for 30 minutes, until a skewer inserted in the center comes out clean. Remove from oven and allow to cool for about 10 - 15 minutes on a wire rack before turning the cake out onto a wire rack to cool completely.