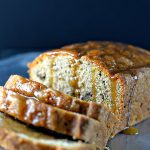 Print Recipe
Salted Caramel Zucchini Bread Recipe
Zucchini bread makes a favorite bread recipe and with the twist of this salted caramel version, it will surely become a favorite way to enjoy your zucchini!
Preheat oven to 325º F. Prepare two loaf pans with butter or shortening and lightly flouring. Set aside.

Beat egg whites with an electric mixer until stiff, set aside.

Add coconut oil, sugar, caramel sauce, zucchini, vanilla to egg yolks in large mixing bowl and beat until well-combined.

Add flour, salt, baking soda, and baking powder to mixing bowl. Beat well.

Add pecans if using and combine.

Fold in egg whites.

Bake for about 1 hour or until toothpick comes out clean when inserted into the center. Allow zucchini bread to cool in the pans for about five minutes before turning out onto a serving tray. Pour additional caramel sauce over bread, if you choose to do so.