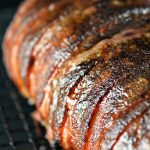 Print Recipe
Bacon Wrapped Meatloaf Recipe
This simple bacon wrapped meatloaf recipe makes a moist, tender meatloaf that everyone loves! A favorite, updated classic recipe in my house!
Preheat oven to 375º F.

Add ground beef, green pepper, onion, garlic, worcestershire sauce, salt, black pepper, egg, and oats to a large bowl. Mix together until well combined. Shape meat into a rectangular shaped loaf and place on a broil pan that has been sprayed with nonstick cooking spray or lightly greased with olive oil for easy cleanup. Spread ketchup on top of loaf and place bacon slices on top, tucking edges underneath. Sprinkle liberally with spicy brown sugar dry rub. Bake for 1 hour, until internal temperature registers 155º F - 165º F, based on your preference. Remove from oven and allow to rest about 10 minutes before slicing and serving.