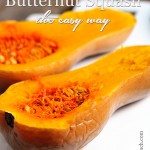 Print Recipe
How to Cook Butternut Squash
Learning How to Cook Butternut Squash the easy way makes life so simple. Get these easy tips for cooking butternut squash.
Wrap butternut squash with aluminum foil and place inside the slow cooker insert. Cook on high for 4 hours or low for 6 hours.

Remove from slow cooker and allow to cool for about 15 minutes before trying to handle.

Unwrap butternut squash, slice it in half with a knife, and then scoop out the seeds and membrane from the inside of the butternut squash and discard.

Scoop out the soft butternut squash flesh with a large spoon and place into an airtight container for later use.

Keep refrigerated up to one week in an airtight container.