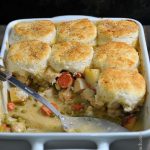 Print Recipe
Chicken Pot Pie with Biscuits Recipe
Chicken Pot Pie with Biscuits makes a perfect, comforting family meal. Get this family favorite chicken pot pie with biscuits recipe.
Preheat oven to 475º F.

Cut chicken into 1-inch pieces. Drizzle olive oil into large, heavy-bottomed Dutch oven over medium heat. Add chicken and cook until lightly browned and no longer pink. Remove from Dutch oven to a bowl using a slotted spoon. Set aside.

Add potatoes, carrots, celery, onions, garlic and chicken stock to Dutch oven. Stir consistently. Cook until the potatoes and carrots are fork tender. Reduce heat to medium-low and add back chicken.

Melt butter in 3-quart saucepan over medium-low heat. Whisk in flour until smooth and then slowly pour in milk, whisking constantly. Remove from heat and add salt and pepper. Pour into Dutch oven with chicken and vegetables. Add in English peas, stirring til well-combined. Pour into a 9x13 baking dish and set aside.

Prepare Southern Buttermilk Biscuits and place on top of chicken pot pie mixture in baking dish. Sprinkle with freshly ground black pepper on top of biscuits.

Bake 12-15 minutes until biscuits are golden brown and cooked through.

Remove from oven and allow to rest for about 3 minutes. Serve warm.