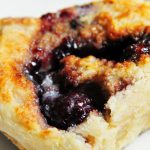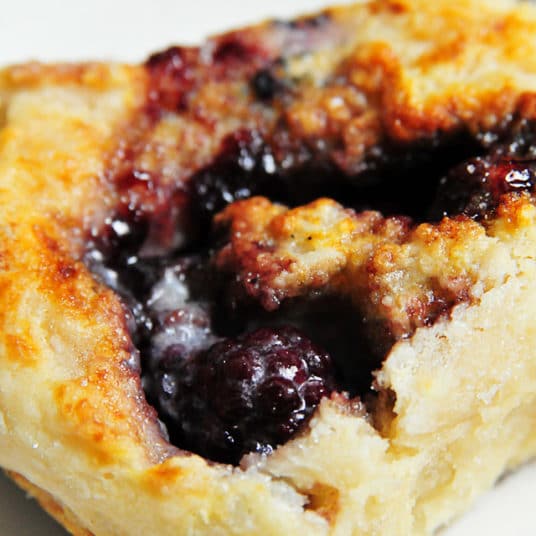 Print Recipe
Blackberry Breakfast Cobbler Recipe
Blackberry Breakfast Cobbler is easy to make for a quick-fix breakfast.
For the Dough:
2 1/4

cups

self-rising flour

2

pinches

salt

1

pinch

sugar

3

tablespoons

shortening

1

tablespoon

cold butter

1

cup

half-and-half

1

teaspoon

distilled white vinegar
For the Filling:
1/4

cup

blackberry jam

1/2

cup

fresh blackberries
For the Topping:
3

tablespoons

melted butter

1

tablespoon

sugar
Preheat oven to 475º F.

Butter a 10-inch skillet or round cake pan. Set aside.

For the dough:

Add flour, salt, sugar, shortening, and cold butter to a medium bowl. Cut together with a pastry blender or two forks until the flour mixture resembles coarse crumbs.

Add half-and-half and vinegar to the dough and gently mix together.

Pour onto a floured surface and knead together two or three times until the dough holds together well. Gently press into a rectangle about 1/2-inch thick.

For the filling:

Spread jam onto dough with the back of a spoon. Top with fresh blackberries.

For rolling:

Begin with one long edge of the dough and gently roll the dough so the jam and fruit are in the center.

Cut into 2-inch slices and place into the buttered skillet.

For the topping:

Spoon melted butter over the rolls and then sprinkle with sugar.

For baking:

Bake rolls for 10-12 minutes, or until lightly browned and cooked through. Do not overbake.