Blackberry Breakfast Cobbler is easy to make for a quick-fix breakfast. A delicious blackberry cobbler on top of a light and flaky crust!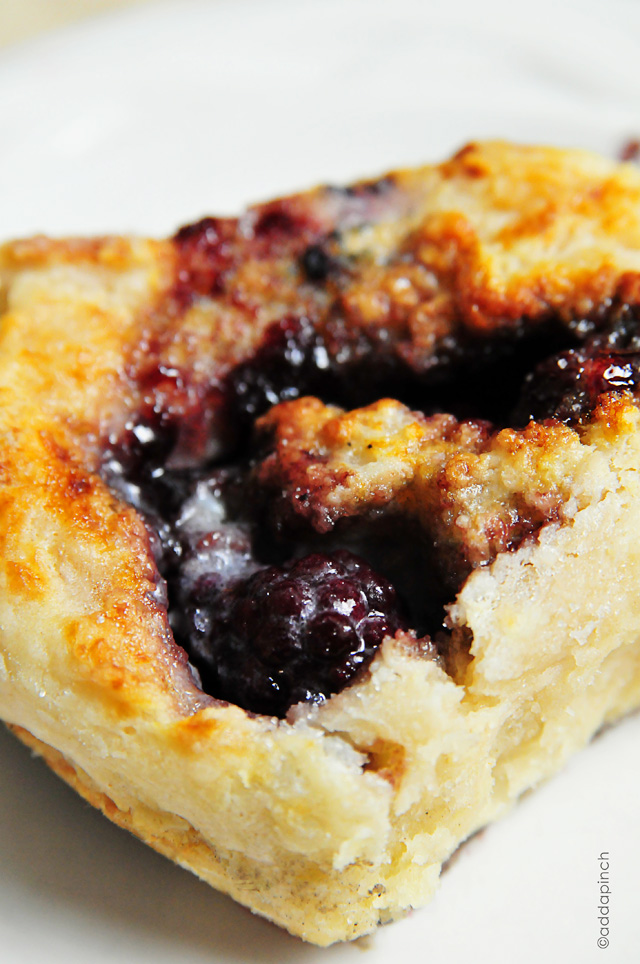 Oh mercy! This blackberry breakfast cobbler is an absolute must-make! Seriously!
I've been thinking about making this for some time and finally got around to it this past weekend.
Why did I wait so long?!
It's not like it is hard to make or anything. Actually, it's fairly simple.
Let me show  you.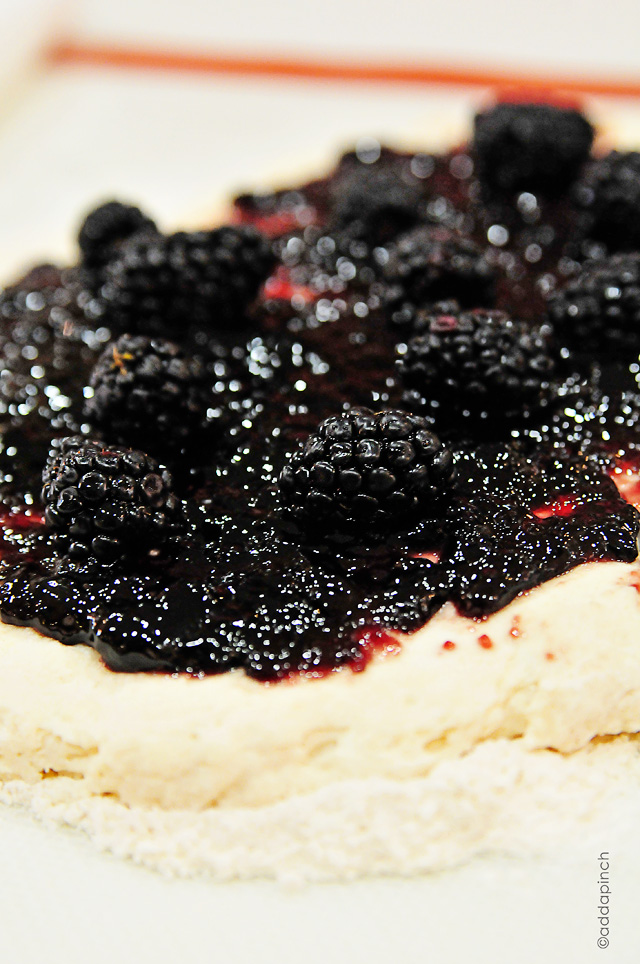 You mix up your biscuit dough, knead it with a little flour, and then gently pat into a rectangle about 1/2-inch thick.
Spread on blackberry jam and then sprinkle on fresh blackberries.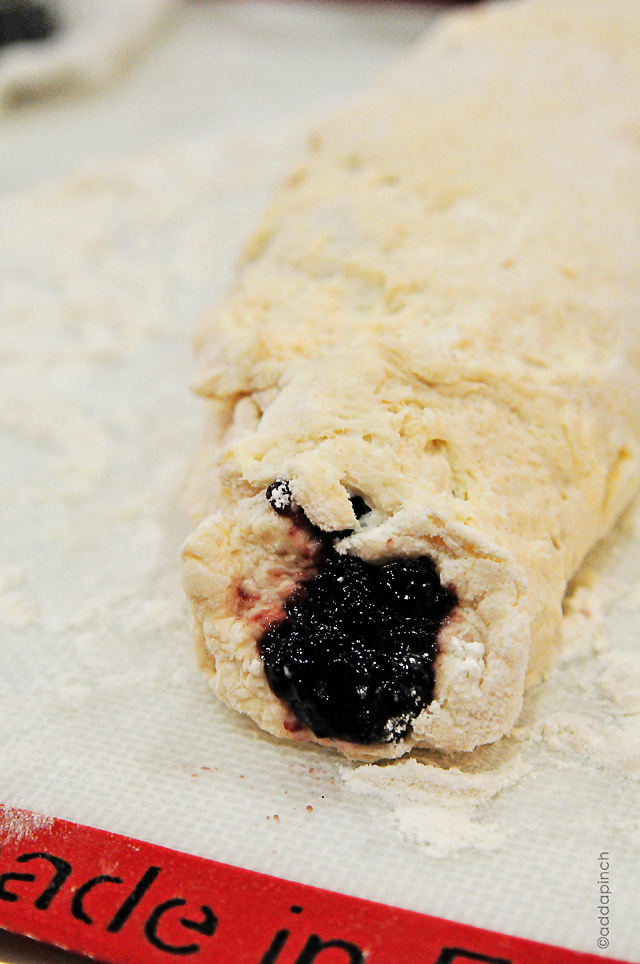 Roll your dough around the jam and blackberries. You don't have to be extra careful at this point. The end result looks really rustic anyway. This blackberry breakfast cobbler is more about the taste than looking like a perfectly rolled dish anyway.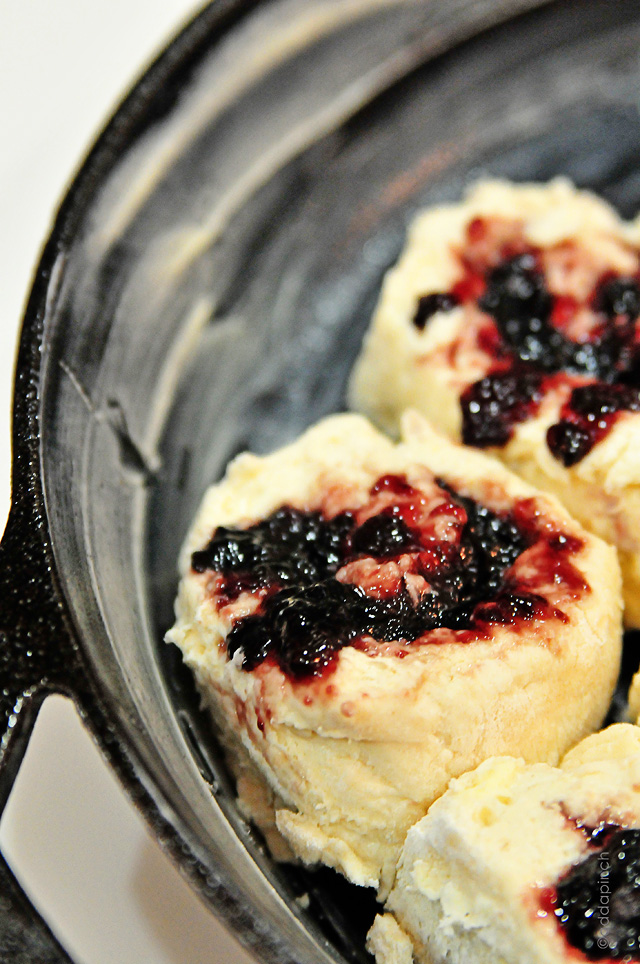 Slice your roll into about 2-inch slices and place into a buttered skillet or cake pan.
Drizzle with melted butter and a sprinkle on a little sugar.
Pop them into the preheated oven.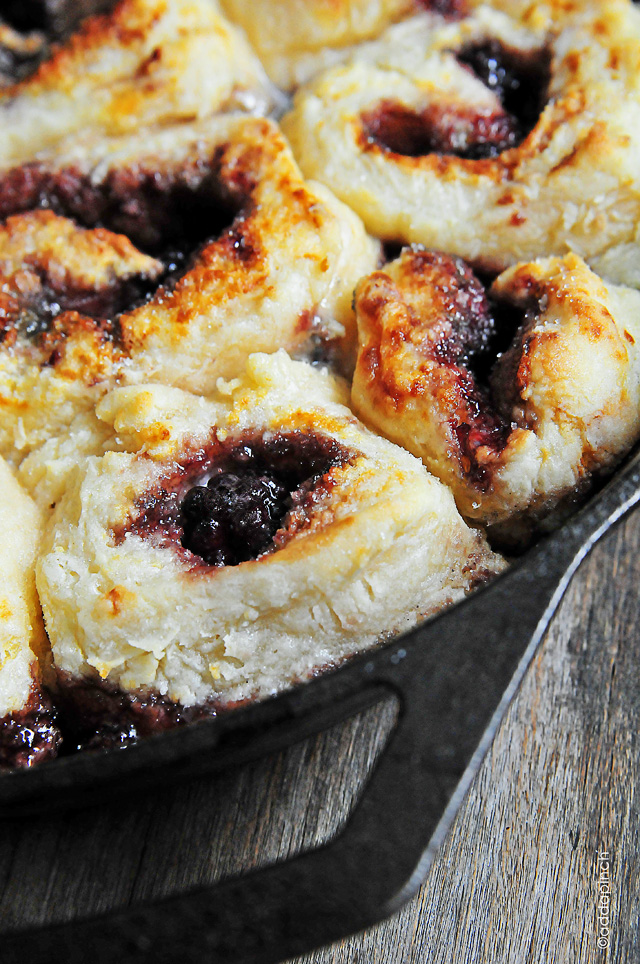 They'll be done in just a few minutes and I like to serve them straight out of the skillet.
As in, watch out for forks coming at you from all directions from your family trying to sneak a bite of this cobbler before you can get pieces on their plate.
For real.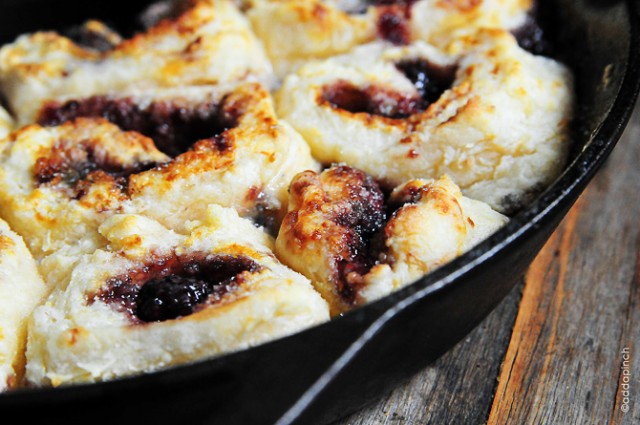 But, I have to admit that I may be the one that started it.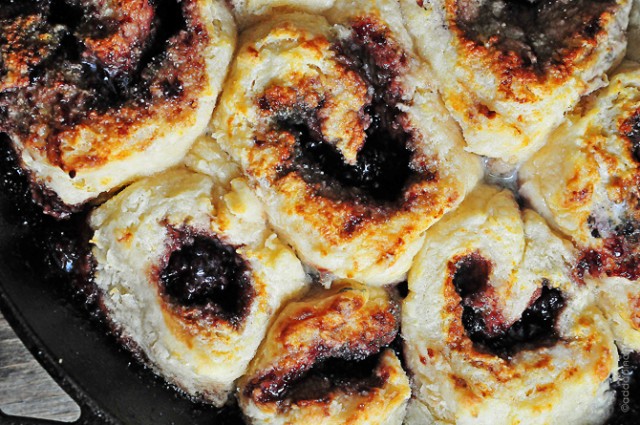 But who can resist?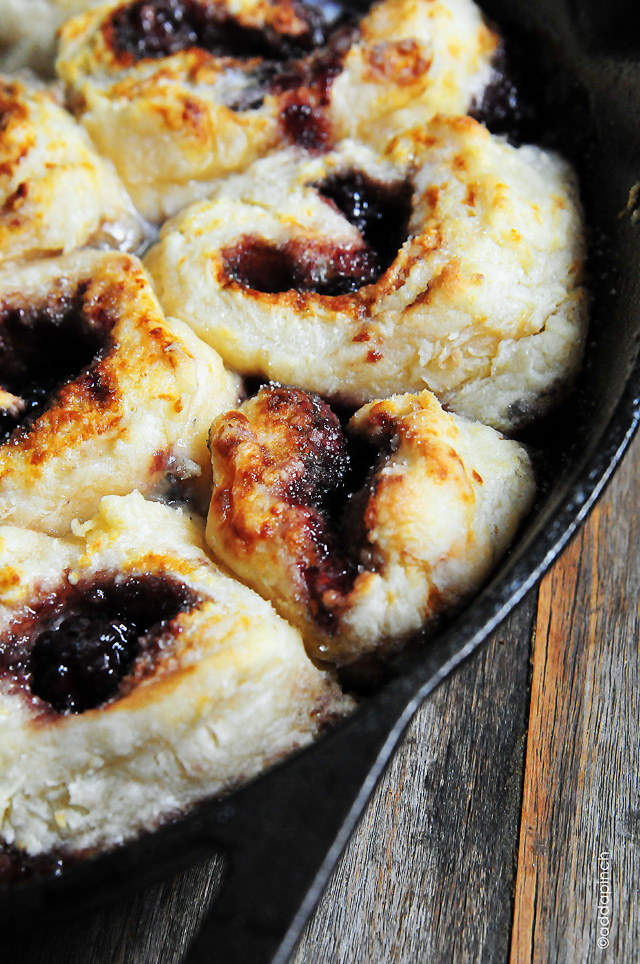 Certainly not me.
Here's the recipe for my Blackberry Breakfast Cobbler.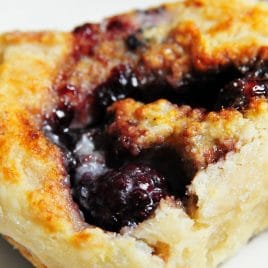 Blackberry Breakfast Cobbler Recipe
Blackberry Breakfast Cobbler is easy to make for a quick-fix breakfast.
Ingredients
For the Dough:
2 1/4

cups

self-rising flour

2

pinches

salt

1

pinch

sugar

3

tablespoons

shortening

1

tablespoon

cold butter

1

cup

half-and-half

1

teaspoon

distilled white vinegar
For the Filling:
1/4

cup

blackberry jam

1/2

cup

fresh blackberries
For the Topping:
3

tablespoons

melted butter

1

tablespoon

sugar
Instructions
Preheat oven to 475º F.

Butter a 10-inch skillet or round cake pan. Set aside.

For the dough:

Add flour, salt, sugar, shortening, and cold butter to a medium bowl. Cut together with a pastry blender or two forks until the flour mixture resembles coarse crumbs.

Add half-and-half and vinegar to the dough and gently mix together.

Pour onto a floured surface and knead together two or three times until the dough holds together well. Gently press into a rectangle about 1/2-inch thick.

For the filling:

Spread jam onto dough with the back of a spoon. Top with fresh blackberries.

For rolling:

Begin with one long edge of the dough and gently roll the dough so the jam and fruit are in the center.

Cut into 2-inch slices and place into the buttered skillet.

For the topping:

Spoon melted butter over the rolls and then sprinkle with sugar.

For baking:

Bake rolls for 10-12 minutes, or until lightly browned and cooked through. Do not overbake.
While this cobbler is delicious anytime, I highly recommend my Grandmother's Southern Blackberry Cobbler as a dessert cobbler. It's just hard to beat!
Enjoy!
Robyn xoxo