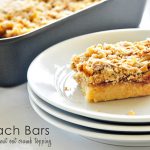 Print Recipe
Peach Bars Recipe | Add a Pinch
Peach bars make a wonderful make-ahead breakfast, delicious snack, or an amazing dessert. Made with shortbread and a oat crumble, these peach bars are a favorite!
For the Crust:
For the Crumb Topping:
1/4

cup

all-purpose flour

1/4

cup

brown sugar

packed

3

tablespoons

butter

1/4

cup

quick-cooking oats

1/4

cup

chopped walnuts

pinch

salt
For the Topping:
Combine flour, sugar, and butter in a medium bowl with a pastry blender or fork. Stir in oats, walnuts and salt.

Spread crumb topping evenly over filling.

Bake at 350 degrees for 15-20 minutes until the top is lightly browned.

Remove from the oven and allow to cool completely before cutting, about 45 minutes to an hour.

Cut in equal rows of 3 x 3 or 4 x 4 depending on how large you would like your bars.

Cover tightly with plastic wrap, under a cake dome or store in an airtight container.