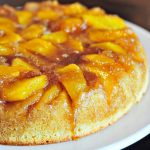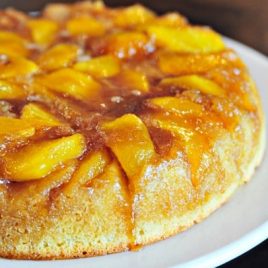 Print Recipe
Nectarine Upside Down Cake Recipe
Upside Down Cakes are such simple and classic desserts. Get this recipe for a beautiful nectarine upside down cake that you are sure to love.
Preheat oven to 350º.

Pour 1/2 of melted butter into cast iron skillet or round cake pan.

Swirl pan until bottom and sides are well-coated with butter to prevent cake from sticking.

Sprinkle brown sugar evenly over the melted butter in the skillet or cake pan.

Place nectarine slices on top of the brown sugar.

In a separate bowl, combine buttermilk, the remainder of your melted butter, eggs, sugar, flour, baking soda, and salt.

Whisk together until well-combined.

Pour evenly over the pineapple, cherry, and brown sugar layer in the skillet or cake pan.

Place in the oven and bake for approximately 45 minutes to 1 hour or until toothpick or skewer inserted in the center comes our clean.

Allow to stand for about 5-10 minutes before transferring to a cake stand.

When ready to transfer, place cake stand on top of skillet then carefully flip to where the pineapple upside down cake comes out onto the cake stand.