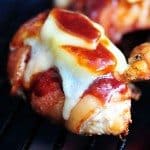 Print Recipe
BBQ Chicken with Bacon and Cheddar Recipe
BBQ Chicken with Bacon and Cheddar makes the perfect addition to your weeknight or weekend menu. BBQ chicken meets the perfect companions of bacon and cheddar in this family-favorite recipe.
Preheat grill to 350º F degrees.

Wrap each chicken breast with a slice of bacon, stretching it to ensure wrapped tightly. If needed, secure with a toothpick. Place chicken onto grill and grill until cooked throughout. Chicken should register 165º F when measured with an internal meat probe.

Once chicken registers 165º F, spoon on peach BBQ sauce and lightly spread to cover. Then place three to four slices of Cheddar cheese on top of bbq sauce. Then, drizzle more bbq sauce on top of Cheddar cheese. Cook on grill about 3-5 more minutes to allow cheese to begin to melt.

Remove from grill and serve immediately.