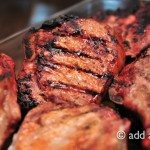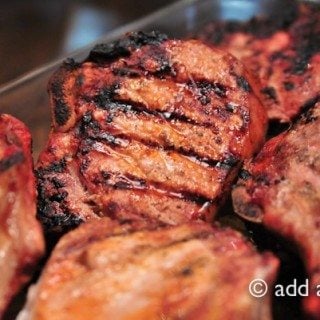 Print Recipe
500 Pork Chops Recipe
A delicious recipe for big, thick pork chops you'll turn to time and again.
6

thick cut pork chops

about 2 inches thick with the bone in

sea salt

fresh ground black pepper

Worcestershire sauce
Place pork chops in a shallow baking dish. Add a few dashes of Worcestershire sauce and sprinkle on sea salt and black pepper. Cover with plastic wrap and refrigerate for one hour to overnight.

Remove pork chops from the refrigerator and allow to rest at room temperature for about 30 minutes before cooking.

Place on a grill or grill pan that has been preheated to high heat or about 400 degrees and lightly brushed with olive oil or non-stick grill spray.

Sear pork chops on each side for about 2-3 minutes to get defined grill marks. Reduce heat to 350 degrees or medium heat and cook until the internal temperature of the pork chop reaches 145 degrees. The thermometer should be inserted into the side of the pork chop away from the bone.

Remove the pork chops from the grill and place into a shallow baking dish. Cover with aluminum foil and allow to rest for about 5 minutes to allow the juices to settle before serving.