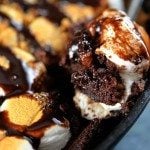 Print Recipe
Skillet Brownies S'mores Recipe
Skillet Brownies S'mores make a delicious brownie dessert everyone loves.
Mix brownie batter together according to brownies recipe and spread into skillet. Bake according to directions. While brownies are baking, melt butter in a small skillet on the stove over medium heat. Add graham cracker crumbs and cook until lightly toasted, stirring to make sure they are toasted consistently. Turn off heat and set aside while brownies are baking.

As soon as brownies are cooked, arrange marshmallows on top of the brownies. Turn oven heat to broil and return the skillet with the brownies and marshmallows to the oven until the marshmallows toast. Remove from the oven and top with the graham cracker crumbs and drizzle on chocolate syrup. Serve warm.