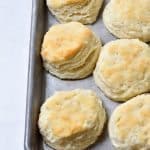 Print Recipe
Make Ahead Biscuits Recipe
Make Ahead Biscuits Recipe - Make and bake biscuits ahead of time for quick and easy mornings! In less than 30 minutes, you'll have a week's worth of breakfast ready to grab, reheat and go!
Prepare and bake buttermilk biscuits according to recipe instructions. Allow to cool completely.

If including sausage, cheese, or other additions, prepare those accordingly. Once the biscuits have cooled completely, split some of the biscuits open and insert sausage or cheese, if using.

Wrap each biscuit individually with freezer paper and then store in a sealable freezer bag clearly marked with the date and the contents.

Store in the freezer for up to 3 months.

To Reheat and Serve:

Remove the number of biscuits you plan to serve. Reheat in the microwave until heated throughout, about 30 seconds.