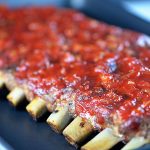 Print Recipe
Simple BBQ Ribs Recipe
BBQ Ribs make an all-time favorite recipe. This recipe for simple BBQ ribs always makes fall off the bone, lip smacking ribs!
Preheat oven to 350º F.

Sprinkle ribs with 1 teaspoon salt and 1/2 teaspoon black pepper. Wrap in foil and place in roasting pan. Bake 1 1/2 hours.

Prepare sauce: Melt butter in medium sauce pan over medium heat. Saute onions 4 minutes, add garlic and saute 1 minute. Stir in other ingredients. Bring to boil, then simmer for 5 minutes.

Drain ribs. Grill 10 minutes. Baste with sauce. Continue grilling 10 minutes. Cut into individual ribs.

Reheat sauce and brush on ribs.